Sun Surveyor (Sun & Moon), an app from Adam Ratana, is available for US$6.49 at Google Play.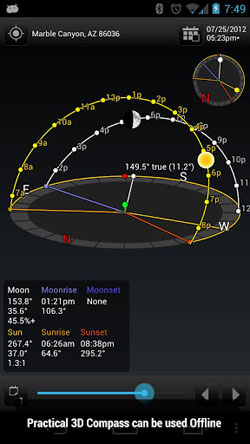 There's a tool out there that you may not have known you needed.
Writing a statement like that make me think I should have gone into the marketingbusiness — but wait.
Gardeners, photographers, outdoors enthusiasts, outdoor events organizers, architects — you nameit — will all benefit from this miracle tool made possible by the magic that is the magnetic-compass enabled smartphone.
What is this extraordinary thing, you may ask?
Sun Surveyor (Sun & Moon) predicts the position of sun and moon for any place andtime. It provides live on-screen visualization of the track of the sun or moon within thesmartphone environment.
This is an incredibly useful bit of functionality if you are a gardener, because it meansyou can predict sun and shade for a spot in your yard over the course of the year. Use itin conjunction with a gardener's bible like Sunset's Westsern Garden Book, which tells you suntolerances and requirements for particular plants, and I'll bet you'll see results. Planting avineyard?
Photographers can plan shots, including shadows, for the golden hour — that time just beforesunset or just after sunrise that can generate superior tones in pictures.
Architects can orient buildings to a climatically friendly spot.
Testing the App
My use for this app, which I've been testing over the summer and can recommendfor your next-spring app arsenal is slightly less high-brow. I've been using it forboondocking.
"Boondocking," if you're unfamiliar with the term, is a camping activity here in theWest where you legally set up primitive camp on wide-open public land. About 42 percent ofCalifornia's total area is publicly accessible land — hence, a 42,000,000-acre windybut generally sunny backyard.
A problem that I used to regularly encounter while weekend boondocking — an issue that Sun Surveyor corrects — was how to set up a rickety pop-up four-sided shade canopy, with one hook-and-looped canvas side wall, to maximize shade and view — without having to keep moving the side wall to chase the sun.
Sun Surveyor allows you to arrive at your prospective campsite day or night and set upcamp for optimal shade, view and vehicle position the next day, using the app's suntrajectory view. No guesswork.
A Stellar Contribution
I found that it worked every time I took the trouble to use it. On the one occasion Ieyeballed the trajectory — too lazy to whip out my tablet — I got it wrong and spent much of anafternoon in 95-degree full sun, which insidiously wormed its way under myshade canopy through a non-walled side.
Fixing the problem would have meant moving an entrenched vehicle that the canopy wastied to for wind abatement purposes, and associated hassle.
How Much Would You Pay?
Expensive, dedicated tools and laptop software that do a similar, though less heavily featured job have been available and are used commonly in the cash-rich film industry.However, Sun Surveyor is $6.49 in the Play store.
But wait — there's more.
Publisher Adam Ratana has built a superb, useful set of interfaces. A 3D compass withmap view lets you add sun and sun path to your position. Dawn and dusk projections andothers are included.
For outdoor events like mine — or any summer picnic or other activity — 3D is the mostuseful view, because you can see exactly where the sun will rise or set. This view canbe projected out over time. So pop-up canopy positions — or a performing stage for theambitious, for example — can be planned in advance of the actual event.
An augmented reality view lets you use the device's camera to actually see sunprojections, or pinpoint the time the sun will be at a specific point.
Any location or any time can be specified with a time machine slider control, and Ican see the AR view as being highly useful in a location scout role. In fact, there'sa trajectory screenshot-to-share function too, for sending findings back to Scorsese orwhomever.
In Conclusion: Sun Surveyor is a Chop-O-Matic of an app — a five out of five, and I don't say that very often.