SwitchPro Widget, an app from Droid Shogun, is available for US$0.99 at Google Play.If you're a regular reader of this column, you may remember that I recently took a lookat Cloud TV's HD Widgets, an app for creating your own elegant, translucent widgets toreplace ugly stock widgets that appear to permeate today's Android phones — Motorola,I'm referring to you mainly.
I've had a few months of sybaritic graphic enjoyment from HD Widgets' glassy, elegantswitches, and in particular its HTC Sense-like clock installed on my Motorola Photon.
However, I recently stumbled across SwitchPro.
SwitchPro allows you to create similar looking pretty, translucent switches and widgets;however, its feature set is slightly different — it includes some unique toggles.
Data Switch, Rebooting
First, a data connection switch actually toggles the 3G radio off and on, instead of, as isthe case with HD Widgets, simply opening the Android-native mobile network settingsscreen where you then have to check or uncheck 3G or data options.
Second, rooted users — and I've written about rooting before — are presented with a rebootswitch in SwitchPro. Press the simple switch and the device reboots.
Power users can use this switch to refresh the device, or boot into recovery or bootloader.
I'm using it a lot. I find it much quicker to just press the reboot switch rather than peer atthe phone, locate the hardware power button, allow the device to power down, verify ithas powered down, and then locate the power switch again and power up.
I'm using the reboot switch in lieu of a task killer now too. Why not? Perform oneswitch press, just like Advanced Task Killer, and I kill everything. No question whether Icaught every running task.
Non-LED Flashlight
Another unique toggle is a flashlight switch, which in my case didn't utilize the cameraflash LED as I expected, it just created a white screen — good enough if you ever find theLED-as-flashlight troublesome.
I find Android Play Store app Picolyl's LED Light shuts down the older Motorola Photonafter a few minutes — it's not, in fact, supported on that phone, according to Picolyl.
Other Notable Toggles
Other, neat toggles include an Unlock Pattern control, and a Mount Storage toggle — super useful for locating on a home screen if you want to prepare or unmount your SDcard safely.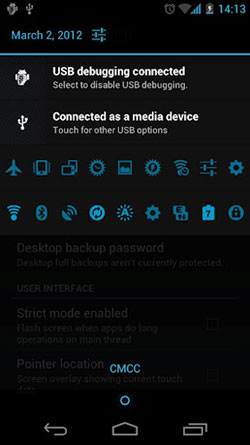 I usually can't be bothered to do this properly. In native Android, you need to openscreens to get to the card-mount options. This SwitchPro feature may now save me frompossible future corrupted data.
Rounding out the available toggles: WiFi; Bluetooth; Brightness; GPS; Auto-sync; Auto-Rotate; Screen Always On; Airplane Mode; Reload SD; Vibration/Silent; 3G-2G shortcut; Battery; Speaker Mode;Auto-Screen Lock; 4G (tested by the developer on the HTC EVO only); WiFi Hotspot;USB Tether; Lock Screen; WiFi Sleep Policy; Volume; and Task Manager.
Look and Feel
Icon colors and switch background colors can be infinitely adjusted within the 216hexadecimal color palette range — that's using the color code that comprises a series ofsix letters and numbers: For example, hex code #FFFFFF representing white.
Switch customizing did not allow for multiple adjustments to opacity, but I didn't findthis a problem. SwitchPro's designer had chosen a sound, readable opacity level for thetranslucent option that will work fine on all densities of wallpaper.
Indicator — that's the strip within the switch that tells you if the switch is on or off — colors can be customized, as can the divider.
In Conclusion
Overall, I've enjoyed creating and, more importantly, looking at SwitchPro toggles. Whileit doesn't have the entire HTC Sense look and feel — as HD Widgets does, with its Senseclocks and weather icons — SwitchPro looks good, is visually stimulating, and has someuniquely functional toggles.
The reboot toggle alone makes it a keeper.