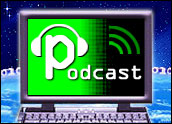 Things got a little heated at the South by Southwest conference in Austin. During Facebook founder Mark Zuckerberg's keynote, in which he was interviewed by Business Week writer Sarah Lacy, the crowd became frustrated with the way the discussion was going — or not going.
Audience members turned to Twitter to express their frustration at Lacy's interviewing style, and ultimately became a little raucous, demanding to ask Zuckerberg questions themselves.
The day after the meltdown, Zuckerberg made his way to a Facebook developers' event, where he took questions and discussed the company's developer strategy.
Sarah Lacy was nowhere to be seen, except on Twitter.
---

Listen to the podcast (13:08 minutes).
---
iPhone SDK Proves Popular
Even when all he's doing is presenting a software development kit, Steve Jobs manages to draw a huge crowd. Granted, in this case we're talking about the iPhone SDK, so legions of drooling fanboys are pretty much a given.
The official video of the SDK and iPhone 2.0 software has drawn more than a million views since last week. The audience also included legions of drooling software developers — this will be the first time outsiders will be able to create software that will run natively on the iPhone, and it looks like we're going to be drowning in iPhone apps by late summer.
Apple has reported over 100-thousand downloads of its SDK beta. Of course, the company will have complete control over exactly which programs are offered to the masses, so maybe it's more accurate to say that a handful of application reviewers in Cupertino will soon be drowning in iPhone apps.
Gettin' a Little Rough
I guess when you're dealing with the people who created the Grand Theft Auto franchise, you might need to get a little hostile in order to make your point.
That's what Electronic Arts discovered in its bid to take over Take-Two Software, the house that brought GTA to the masses and is getting ready to release the fourth installment in the franchise. EA previously made a $2 billion offer to Take-Two's board but was summarily rejected.
The board said the US$26-per-share offer significantly undervalued its business. Now, EA has decided to offer the deal to the company's shareholders.
Take-Two has asked its shareholders to hold off on making any decisions, though, until after the board has a chance to fully review the offer. Right now, Take-Two is so busy preparing for the April 29 launch of GTA 4, any dealmaking is likely to occupy a back burner.
Guitar Dissonance
The Guitar Hero video game series has turned a lot of gamers into rock gods, and in the process Activision has taken in about a billion dollars in North American retail sales. One of its partners for the series is guitar maker Gibson.
The Guitar Hero controllers are modeled after famous Gibson models like the Les Paul, the SG and the Flying V. But now Gibson has claimed that the whole concept of "Guitar Hero" actually rips off an idea that Gibson patented back in 1999 for a sort of rock concert simulator.
Activision denies it, and now it wants a court in California to settle the dispute. Legal experts contacted by ECT News say Activision has the advantage here. They questioned why Gibson would wait so long to make this complaint, especially since the companies have worked together since the first version of Guitar Hero came out in 2005.
Easy Does It
If — and that's a big if — Microsoft succeeds in acquiring Yahoo, the software giant would take its time with Web advertising system integration, according to Chief Software Architect Ray Ozzie.
Microsoft would take a measured approach to help avoid the problems that technology companies sometimes encounter when they try to mesh back-end systems together too quickly, Ozzie said. Just smashing things together would be reckless, Ozzie told the Financial Times, because Yahoo has a a distinct culture, as well as a variety of technologies that would need to be integrated.
Both Microsoft and Yahoo have spent tens of millions of dollars to develop Web advertising platforms in an effort to match rival Google. Yahoo's Panama system debuted last year after years in development, and Microsoft's AdCenter rolled out about six months earlier.
A slowed-down integration process could be welcome news in the Yahoo camp, where there is widespread concern about job losses and the cultural clash that would likely ensue when — and if — Microsoft pulls Yahoo under its umbrella.
Not Dialup Anymore
AOL: You've got Bebo. The Time Warner subsidiary is buying the social network for $850 million in cash, acquiring a worldwide user base of 40 million as well as a developer-friendly platform.
Although Bebo was known to be shopping for a buyer, the move came as something of a surprise because the site already has a relationship with Yahoo, which won a contract last fall to deliver ads to it. Nevertheless, AOL expects Bebo to fit well with its instant messaging and communications platforms — AIM and ICQ.
Bebo will also offer AOL a sizable new piece of real estate for placing various types of ads. Bebo's no MySpace or Facebook — it ranks as the third most popular social net in the U.S. behind those powerhouses. However, Bebo has grown rapidly lately, particularly in overseas locations such as the United Kingdom. Plus, it's the top social network in Ireland and New Zealand.
Hulu Makes Debut
Though we've enjoyed making fun of its ridiculous name, Hulu appears dead serious about putting real, prime-time TV shows on the Web.
It's finally launched into general availability after several months as an invitation-only beta. Hulu is the spawn of News Corp. and NBC Universal, both of which are making some of their most popular content available for free as online streaming video. The site has also signed deals with Warner brothers, Lionsgate, the NBA and the NHL.
Hulu isn't so much a threat to YouTube and other amateur-night video-sharing sites as it is to services like iTunes that sell TV shows. But making things free will mean convincing advertisers to buy in. Gartner's Andrew Frank told us, "Traditional brand advertisers are still wary of some of the uncontrolled social environments that characterize much of the Internet, and for them, the safety of professional traffic will be attractive."
TiVo's New Stream
TiVo is embracing video 2.0 by striking a deal with Google that will let users watch Web-based YouTube videos on their TV sets.
The service will be available later this year to consumers who own TiVo's Series 3 devices connected to the Internet through a broadband link. With the service, users will be able to use their remotes to search, browse and watch YouTube videos on their TV sets through the TiVo interface.
They'll also be able to access their Web-based favorites lists and preprogrammed channels. TiVo did not say whether Google would serve ads alongside the YouTube videos. That would give Google an expanded foothold in the video advertising marketplace that goes beyond the Internet.
Data Shadow Follows Us All
When Peter Pan's shadow followed him around, it was kinda cute. But a recent study says each of us has another shadow that follows us around, and it's not so lovable. IDC studied the amount of data that's associated with each of us and found two types.
One is the data footprint, which is everything we create ourselves — such as photos, e-mails and our Facebook profiles. Then there's the data shadow. That includes all the data other people are creating about you — stuff like your image captured by surveillance cameras, your credit report and all those tracking cookies that Google and Yahoo like to collect.
The study found that there were about 281-billion gigabytes — or 281 exabytes — in the digital universe in 2007, exceeding original estimates by about 10 percent. With a compound annual growth rate of almost 60 percent, meanwhile, the digital universe is also growing faster than was previously thought. It's projected to increase tenfold over the next five years to reach nearly 1.8 zettabytes — that's 18-hundred exabytes — in 2011.
It's a big shadow indeed, and IDC says it will take a lot of disk space to store all of that. Did I mention that the study was commissioned by EMC, which makes storage hardware?
Restricted View
The Department of Defense has put the kibosh on Google Street View's access to military bases.
The restriction surfaced after a Google street mapping team took photos on the grounds of Fort Sam Houston in Texas and posted them to the site.
U.S. Air Force Gen. Gene Renuart, chief of the U.S. Northern Command, reportedly said the images compromised security by showing the location of guards, details about barrier operation and building portals. Google removed the images at the DoD's request.
Negroponte Knows His Limits
As intelligent and informed and intellectual as Nicholas Negroponte no doubt is, he makes a lousy CEO.
The leader of the One Laptop Per Child project admitted in a BusinessWeek interview that he's pretty weak in areas like management and administration details. And every so often he'll say something just a little crazy, like the way he likened his organization to a terrorist group.
What he probably meant by that was that it's a widely distributed, cell-like effort. Still, throwing that term around doesn't do much to polish your worldwide public image.
Even though Negroponte by his own admission is ill-suited for the task of being a CEO, at least he's sane enough to know he needs to look for someone who can do a better job. He wants to find a CEO for OLPC and stay onboard as chairman, sort of a right brain, left brain arrangement. In fact, he actually pointed out Microsoft as a good example of how he'd like OLPC to be run.
We would point out here that Bill Gates will soon be out of a job, and he is big on philanthropy, but he's already said he thinks things like vaccines are probably more helpful to the world's poorest kids than laptop computers.
Smart As a 4-Year-Old
A guy named Eddie who's making an appearance in Second Life has people talking. In Second Life, Eddie isn't an avatar, because an avatar, by definition, is a digital representation of the person controlling it.
While Eddie is controlling his avatar, he isn't a person. He's a program.
Developed by researchers at Rensselaer Polytechnic Institute, Eddie is an artificial intelligence program that has the reasoning skills of a 4-year-old child. The Second Life demonstration shows his ability to reason and learn. The project that led to Eddie's creation has greater goals in mind that include creating programs to train soldiers in dealing with cultural and religious differences.
Another possibility is detective work, to allow investigators to create scenarios to help recreate the crimes they're trying to solve.
Also in this episode: News Corp. steps aside, police raid CeBIT booths, Brits debut new T-ray camera technology.