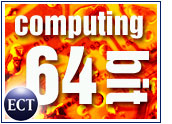 Symantec yesterday captured what the company believes to be the first known virus to attack 64-bit Windows executables on IA64 systems. The virus, called W64.Rugrat, is what Symantec is calling "a fairly simple proof-of-concept virus."
Apparently, W64.Rugrat uses a handful of Win64 APIs from three different libraries: NTDLL.DLL, SFC_OS.DLL and KERNEL32, respectively.
From NTDLL.DLL, the viruses uses the following three functions: LdrGetDllHandle(), RtlAddVectoredExceptionHandler() and RtlRemoveVectoredExceptionHandler(). The virus supports vectored exception handling to avoid crashing during infections.
The SfcIsFileProtected() function of SFC_OS.DLL is used to avoid infecting executables that are protected by the System File Checker.
The W64.Rugrat virus uses the following 16 functions from KERNEL32.DLL to implement a standard file infection of an IA64 Portable Executable image:
CreateFileMappingA()
CreateFileW()
CloseHandle()
FindFirstFileW()
FindNextFileW
FindClose()
GetFullPathNameW()
GetTickCount()
GlobalAlloc()
GlobalFree()
LoadLibraryA()
MapViewOfFile()
SetCurrentDirectoryW()
SetFileAttributesW()
SetFileTime()
UnmapViewOfFile()
W64.Rugrat carries the following string within itself which is never displayed: "Shrug — roy g biv." The file infection routine is standard, according to Symantec. The last section of the executable is marked as executable, the virus body is inserted into the last section and a random number of bytes are appended to the end of the virus body.
The W64.Rugrat virus author is apparently also the author of several other proof-of-concept viruses, collected under the name W32.Chiton.gen. Symantec Security Response encourages all users and administrators to adhere to the following basic security best practices:
Turn off and remove unneeded services. By default, many operating systems install auxiliary services that are not critical, such as an FTP server, telnet and a Web server. These services are avenues of attack. If they are removed, blended threats have less avenues of attack and you have fewer services to maintain through patch updates.
If a blended threat exploits one or more network services, disable or block access to those services until a patch is applied.
Always keep your patch levels up to date, especially on computers that host public services and are accessible through the firewall, such as HTTP, FTP, mail and DNS services.
Enforce a password policy. Complex passwords make it difficult to crack password files on compromised computers. This helps to prevent or limit damage when a computer is compromised.
Configure your e-mail server to block or remove e-mail that contains file attachments that are commonly used to spread viruses, such as .vbs, .bat, .exe, .pif and .scr files.
Isolate infected computers quickly to prevent further compromising your organization. Perform a forensic analysis and restore the computers using trusted media.
Train employees not to open attachments unless they are expecting them. Also, do not execute software that is downloaded from the Internet unless it has been scanned for viruses. Simply visiting a compromised Web site can cause infection if certain browser vulnerabilities are not patched.
The W64.Rugrat virus does not appear to be designed to spread, but is a "direct-action infector," meaning that it stops running immediately after infecting files, Symantec said.