No Love for VLC on iPad
MacNewsWorld

VLC Media Player, an app from VideoLAN, is available for free at the App Store.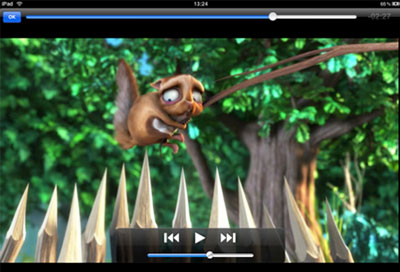 In recent days, Apple has shown signs of relaxing its hand on what kinds of apps it will allow into its iTunes store.
The first sign of the change occurred when the company opened up its review policies for public scrutiny.
Another sign has been the appearance in the store of programs that were previously barred from admission, most notably some Google Voice apps.
It's also hung out the welcome sign to categories of apps that have previously been taboo at the store. One of those kinds of apps recently arrived at the shop, VLC Media Player.
The player was created by a non-profit organization called VideoLAN. It's open source software and has versions that play across a number of platforms, including computers running OS X.
Good New, Bad News
The VLC player's greatest strength -- other than its free price -- is its support of almost every video codec under the sun, as well as a number of streaming formats, including Adobe Flash. What's more, it can even play back damaged video files.
That's the good news.
The bad news is that VLC may be too much software for the iPad. By that I mean it wants to take the tablet to a place better left to more muscular machines.
Watching video in the player isn't very pleasant, especially compared to viewing it in streaming apps like ABC's TV app or Major League Baseball's live TV feature. Both those apps support HD video, which really shines on the iPad, unless you try watching it on VLC.
iTunes Needed as Middle Man
When you launch the program, it immediately tells you to hook up the iPad to a computer in order to access iTunes. That's because files can't be downloaded into the program directly. They first have to travel through iTunes.
Once iTunes and the iPad are talking to each other, you access your iPad. You do that by clicking on the iPad icon in the Devices section in the navigation pane on the left side of the screen.
That will display a window into your iPad to the right of the navigation pane. At the top of that window are menu items. You can see all the books on your iPad, for instance, or all your TV shows.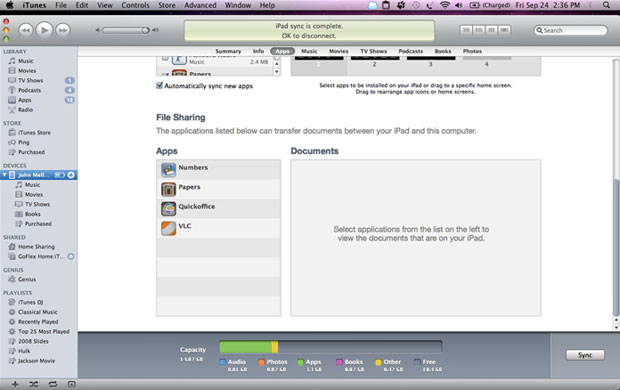 Loading VLC
There's also an item for Apps. When you click that, icons for all your iPad apps will appear. If you scroll below the apps section, you'll see a File Sharing area.
That area lists all the programs on the iPad that can share files with the computer iTunes is running on. VLC will be listed there.
Your iPad's Too Slow
When you click on VLC, a directory tree will appear in a pane beside the apps list. Transferring files into VLC is as simple as selecting a file on the tree and clicking choose.
I transferred a couple of files to VLC on my iPad. One was a QuickTime file (MOV) and the other a TV episode in HD video purchased from the iTunes store.
After the transfer, I opened up VLC on my iPad. The two files were there, sitting on a shelf a la iBooks, with the animated "working" symbol circling, circling, circling in the blank gray tiles representing the files. The symbol never stops circling.
I poked the TV episode in 1280 x 720 HD. Up popped a warning: "Your iPad is probably too slow to play this movie correctly." Along with the warning, I had two choices "Cancel" and "Try anyway." A gambler by nature, I tapped "Try anyway." All that appeared was a blank, black screen.
I had better success with my QuickTime movie, which was in 720 x 540 HD. It displayed adequately, but the motion was choppy and the app stopped running abruptly in the middle of it.
No doubt iPad jocks with a yen to play a variety of video formats unsupported by Apple on their iPad will find VLC a useful toy for that purpose. Most users, though, will find that they can live perfectly well without the software.