iPad 2 Smart Cover: Softcore Armor Lets the Sexy Shine Through
MacNewsWorld

Apple's new iPad Smart Cover for the iPad 2 took the tech geek world by storm when Apple first announced it and posted a fancy video of it in action on its Smart Cover site.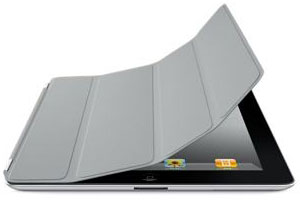 The iPad 2 Smart Cover
I saw a lot of positive feedback for it online -- first impressions -- so when I was up at 2 a.m. ordering a brand-spankin' new iPad 2 on launch day, I ordered a Smart Cover, too. The last thing I wanted was to have a new iPad 2 and have zero access to cases and covers. Any cover is better than no cover, and besides, that video takes a bendy piece of polyurethane and some magnets, adds a splash of color to a dose of Apple marketing magic, and boom, instant desire for something undeniably cool.
On the downside, the cover is a bit spendy -- US$39 for the polyurethane and $69 for the leather. Because the cost is out of no-brainer range for most consumers and there are very competitively priced other case options from other manufacturers, it drops my overall rating down to a very respectable 4 out of 5 stars.
Well-Engineered Minimalism
There's lots to like about the Smart Cover. It has a surprisingly sturdy, thin design. It uses strategically placed magnets to attach to the left side of the iPad 2, aligning itself perfectly with all edges, all the time, without error or adjustment needed. Its presence not only protects the screen from scratches and such, it helps give the iPad 2 a more solid feel in your hand, giving you a small measure of carrying confidence, if not a bit of increased carrying ability.
Better yet, the magnets increase the speed of waking -- instead of finding and pushing the home button, then sliding the bottom bar on the screen, opening the Smart Cover instantly wakes the iPad 2. Was that fast? Yes, it's fast. And that feature, by the way, is awesome.
The Smart Cover also doubles as a stand. You can fold it upon itself to create a triangle, upon which the iPad 2 has a readable incline that also lets you type just a bit more easily. It's sturdy. Tip the iPad 2 and triangle a bit more, and it'll stand upright, suitable for watching video or using FaceTime for a video chat.
In actual use, it's easy to pull the Smart Cover off completely, and because reattaching it also easy -- and comes with a pleasant clicking connection noise when the magnets find one another -- there's no disincentive to pull it off due to fiddling or alignment. It's just a really fast solution.
If you don't want to tear it off, you can easily fold it around the backside. Around the back, only the side magnets keep it in place. In future iteration, it would be great if the whole cover was magnetically sticky to the backside, too. Still, if you want to shoot some video or take a picture, the Smart Cover folds in half and reveals the backside camera lens.
Apple Wants to Show Off
Apple definitely would prefer that everyone run around with iPads that are clearly identified as iPads. The same goes with iPhones, iPods, etc. An iPad all wrapped up in a big case not only hides the fact that a person is using an iPad, but it also covers up all that painstaking and wonderful industrial design. The Smart Cover provides some protection while letting the brilliance of the iPad 2 design shine through. In fact, in Apple's marketing materials, the company notes, "The slim yet sturdy Smart Cover protects your iPad screen without covering up its durable aluminum back. So your iPad still looks and feels like an iPad -- just with a little extra protection."
But really, that's only what you get -- a little extra protection. I'm sure the back cover is quite durable, but how durable? I'm not willing to test it. A scratch on the backside would suck, but it wouldn't be devastating. The same goes for lots of scratches. Not perfect, but if you put your gadgets to work, you expect a few nicks and dings. But what about a fall? What about some twisting pressure? What about being slipped into a backpack and the backpack getting tossed or dropped or stumbled over in the dark? Will the Smart Cover protect from those sorts of things?
Maybe.
Probably not.
That's my take, anyway: probably not.
I Prefer More Durable Protection
Personally, I've got too much of an investment in not only the out-of-pocket cash but in the use of the iPad 2 itself. If I break it, I'm out of hundreds of dollars. Worse, I lose access to applications I've come to enjoy and depend on. So that's worth protecting. And that means, to me, while Apple touts the Smart Cover as being "genius," I think we're really talking near-genius here. (Maybe if Apple posts a video showing how strong the back cover of the iPad 2 is, you know, with a kid stepping on it, and then maybe a kid elephant stepping on it, I might reconsider.)
If you've got extra cash available for replacements, I wouldn't cover the brilliant design any more than with the Smart Cover. But if you're like me, what to do? >[? For a while there, I was seriously thinking I had made a mistake. Personally, I just want more protection over showing off the sweet design. There's edge-to-edge glass, and in my experience, I break glass. I even briefly considered using some duct tape to protect the edges, along with the back. I mean really, am I really trying to impress anyone with my iPad 2? Not me. But, on the extremely remote chance that I stumbled across Steve Jobs or Jonathan Ive while toting a duct-taped iPad 2, I'd sure hate to break their hearts.
Case Options
Suddenly, then, I found myself online, desperately searching for available cases in all their polycarbonate and leather glory, looking over poor-quality photos that don't reveal enough detail, all the while mulling over pros and cons. Leather portfolio cases jump to the lead because they're easy, durable, and some are even foldable to act as stands. But I'm not sold there yet. I took a look at hard case options because I like the idea of a bit more rigid structure. The odds of my iPad 2 getting stepped on are slim -- a 1-in-365 chance -- but potentially devastating: a 1-in-5 chance of survival.
I even had a light-bulb moment: What if I could find a hard case that would work with my existing Smart Cover? Wouldn't that be awesome. The best of both worlds, right, the ease of the Smart Cover with the rigidity of a hard backside case. I searched. I found a few options. I considered availability and cost and the need to modify the covers with a saw or Dremel grinder. I figured I might have to use spray adhesive or double-sided sticky tape, too, to affix the back case in the event that my modifications affected the case's ability to stay put.
And then I found Marware's MicroShell iPad 2 case. It actually works with the Apple iPad 2 Smart Cover! At $39, it looks like a pretty decent deal. Of course, would it be smart to buy both a Smart Cover and a Marware case instead of a different cover altogether? I'm not sure. But I already have the Smart Cover, so I definitely need someone with more protection. I fired off a late-night email to Marware about getting a review unit in, but I haven't heard back. Marware? As for ordering, the covers are not yet available, and you can pre-order only.
Go Big or Go Home
Right now, I think the Smart Cover paired with the Marware MicroShell iPad 2 case seems like a pretty good compromise. I can get most of the benefits of the Smart Cover (tear it off, use it as a stand) along with the benefits of a bit more durability. And it's still slim, still pretty lightweight.
My other inclination is to do a complete 360 and go the Otter Box route with the company's highly durable iPad Defender Series Case. While I do like slim and trim and elegant, the hardcore OtterBox protection probably fits my personality better. After all, I'm never going to try to slip my iPad 2 into the pocket of my jeans. Alas, the version for the iPad 2 is not yet ready to ship, though OtterBox will kindly take your email and send you a note when they are ready to buy.
Oh, and by the way, I'm still waiting for my screen protector to arrive in the mail. As much as I like Gorilla Glass, I like screen protectors more. So I'm still being very very gentle with my iPad 2.