It's been difficult in recent years for many people and small businesses to get the loans they need from banks and other traditional lenders, but there are a variety of alternative models.
One is person-to-person lending, offered by companies like Prosper, which essentially lets individual people become lenders.
"We look at Prosper as a new way of banking," Chris Larsen, Prosper's CEO and cofounder, told the E-Commerce Times. "We're enabling credit-worthy borrowers to make loan listings, and we're letting retail investors and institutional investors invest directly in those loans."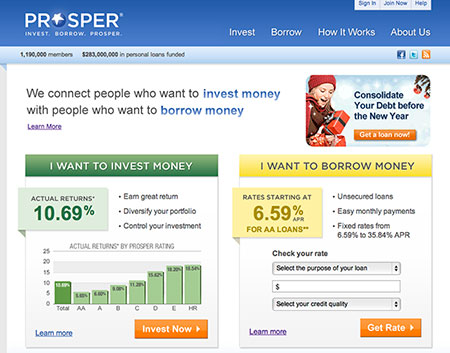 Both individual people and institutions can lend through Prosper, choosing from a variety of borrowers who post their listings on the site.
"It's a good time in the industry," said Larsen. "It's a credit-starved world. At the same time, people aren't making any money on their savings accounts. On both sides of our market, we're a solution."
Prosper's services are available in 47 states for borrowers, and 28 states for lenders. Borrowers must apply for loans and post information about themselves and why they want to borrow the money, and lenders can pick and choose which borrowers they want to fund. These loans can be spread out among numerous borrowers, in order to mitigate risk.
People as Banks
The key to the success of the person-to-person lending model is that it changes the nature of the lending and borrowing relationship.
"We're enabling the average person or institution to essentially be a bank, without having to own all the technology and processes," said Larsen. "We enable them to have all those tools at their fingertips. They get to profit like a bank. A person now can say I want my money to go to that business, that person."
With this model, there's a directness and a transparency to the loan-making and borrowing process.
"That's the radical part of peer-to-peer lending," explained Larsen. "It lets you take banks out of the banking process. With technology, you don't really need a bank in the middle anymore. It's good for the lender, and it's also good for the borrower."
The Microfinancing Approach
The microfinance industry offers another lending model, with small business loans offered by nonprofit organizations to borrowers who might have difficulty getting loans through traditional means. The nonprofit organization ACCION, for instance, works with institutions that provide microloans to people and small businesses both in the U.S. and abroad.
"We offer an alternative lending methodology," Bruce MacDonald, ACCION's senior VP for communications, told the E-Commerce Times.
ACCION invests in and provides technical assistance to microfinance institutions for the poor in the developing world, and it also provides loans to small businesses in the U.S.

"There are about 2.7 billion people in the world who could benefit from access to financial services," said MacDonald. "These are people who have the wherewithal to start their own businesses and raise their standard of living if they had access to capital. The problem is that banks are really only for the elite, so they have been shut out of all those financial services that we take for granted. It's a major tool to help people raise their standard of living."
Institutions working with ACCION in other countries make small loans — an average of US$750 — to small business owners who need help. These small business owners include people who make lace in northern Peru, run a general store on the slopes of Mt. Kilimanjaro, sell food in Tanzania, and many others. The money for ACCION's microfinancing comes from a combination of grants, philanthropy, fees, and interest it gets on its loans.
In the U.S., ACCION offers loans to a variety of small businesses that might have difficulty securing affordable credit elsewhere. Businesses can apply online, on the phone or in person, and the loans average around $9,000 each, though they can range from $300 to $300,000. Unlike traditional lenders, ACCION can take into account many factors related to a business's potential for success.
"Borrowing with ACCION is more than just a loan," Laura Kozien, director of marketing and communications for ACCION's U.S. network, told the E-Commerce Times. "It's a relationship. Our requirements are more flexible than what you would find at the bank. We are able to make loans that the bank would not. We're able to look at alternative indicators of success."
Lending to Main Street
ACCION provides loans in 24 states, and its businesses include dry cleaners, delis, retailers, grocery stores, and many other small businesses.
"If you take a walk down Main Street in any small town, any of the businesses on that block could be a business that we serve," said Kozien.
Last year, ACCION made around $42 million in loans in the U.S., and the rates for those loans typically range from 10 to 19 percent.
"They're significantly better than other options, like credit cards," said Kozien.
Kozien emphasizes that ACCION's loans are for businesses that are doing well but need financial help to do even better.
"We're not a lender of last resort," said Kozien. "If a small business is going under, we're not the lender for them. We are the lender for a small business that's in solid financial state and has the potential."
Many of ACCION's loans go to brick-and-mortar businesses, but they're increasingly going to online retailers, as well.
"We're seeing a lot more online businesses," said Kozien. "We have a ton of clients who are artisans and craftsmen selling online."
Other microfinance organizations, such as Opportunity Finance Network (OFN), provide similar help to people and small businesses that might not find help any other way. A national network of community development financial institutions (CDFIs), OFN is "dedicated to delivering responsible, affordable lending to help low-income, low-wealth, and other disadvantaged people and communities join the economic mainstream."
"We're helping people who are in communities that are just outside the economic mainstream take hold of opportunities that are in the economic mainstream," Mark Pinsky, president and CEO of Opportunity Finance Network, told the E-Commerce Times.

Microfinance organizations have been able to step in just as traditional lenders have stepped back, he said.
"We've been serving an increasing market as banks have pulled back from the services they provide," said Pinsky.
Businesses that obtain loans through Opportunity Finance Network create much-needed jobs, as well, he noted. "They're good fundamental jobs that allow people to live in communities and feed their families."