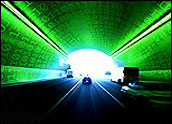 January saw not only the usual annual rush to tax-related Web sites, but also an unexpected jump in traffic to several Internet travel companies, according to data released Wednesday by Jupiter Media Metrix (Nasdaq: JMXI).
In fact, four travel-related sites ranked among the fastest-growing sites in terms of traffic during the month.
Travelocity (Nasdaq: TVLY) saw a 45 percent jump in traffic; Expedia (Nasdaq: EXPE) saw traffic grow 37 percent; and AA.com — the Web site of American Airlines — posted a 33 percent gain.
In fact, AA.com recently said it recorded 1 million visitors per day twice during January, setting new single-day traffic marks.
Because the traffic surges came without major promotions, such as the one-day airfare sales that several airlines sponsored last fall, they may signal a robust 2002 for online travel, which has rebounded in the aftermath of the September 11th terrorist attacks.
Financial, Physical Health
Tax preparation and online diet and health sites joined travel sites as big gainers.
"Similar to previous years, the annual rush to seek tax information online has hit full stride during January," said Charles Buchwalter, vice president of media research at New York-based Jupiter Media Metrix.
The biggest gainer overall was Irs.gov, the official Web site of the Internal Revenue Service, which saw a 275 percent increase in traffic over the previous month following a redesign early in the year.
"It appears that some governmental sites, such as Irs.gov, have been preparing for the anticipated onslaught of inquiries by offering more features and making their Web sites more user-friendly," Buchwalter said.
New Year's resolutions also drove surfers to health and diet sites, with 35 percent of all Internet users visiting a site in that category, compared with 22 percent in December.
Back to Work
Overall, Jupiter found, Web use in January increased from December levels as the holidays ended. The number of unique visitors in the month rose 3 percent to 110 million, with the number of daily users up 11 percent to 55.5 million. The average user spent 7 percent more time on the Web in January than in December.
The resolution-fueled quest for health information steered traffic to several specialty sites, including Ediets.com, WeightWatchers.com and WebMD.com, which posted a 48 percent gain.
Portals also benefited from resolution-related traffic. AOL saw a 68 percent jump in traffic for the month, and traffic to the health sections of both Yahoo! and MSN also rose sharply.
Another e-commerce property that saw traffic grow was Homestore.com, which saw a 70 percent spike in traffic to 13.7 million visitors.
Homestore made headlines in late December and early January after revealing that it overstated 2001 revenue figures, disciplining several employees and shaking up management.
New Kids
Jupiter's newcomer site list included several e-mail marketing firms as well as consumer food sites, such as Wishbone.com.
There was much less change at the top, where AOL, MSN and Yahoo! held the top three spots. Amazon, at sixth overall, and EBay, in seventh place, were the most-trafficked e-commerce sites.