While it takes years of training, determination and really good geneseven to get a chance to compete in the Olympic Games, the differencebetween making the podium or not can come down to milliseconds in someevents. At this year's Winter Olympics in Sochi, Russia, new advancesin fabrics, materials and designs are giving the athletes an edge asthey go for the gold.
It isn't just sporting goods manufacturers that are nowdeveloping the technology being used by the competitors. Auto makerssuch as BMW and aerospace pioneers including Lockheed Martin havehelped design equipment that is lighter, faster and more streamlined.
High-Tech Fabrics
Speed skaters for years have relied on skintight uniforms to reduce drag. For the 2014 games, Team USA partnered with apparelmaker Under Armour and Lockheed Martin to create a skinsuit that couldhelp skaters get to the finish line just a little faster.
The Mach 39was developed by Under Armour with the aid of high-speed cameras thatcaptured skaters' movements and positions. The development team thenturned to Lockheed Martin engineers to analyze the air flow.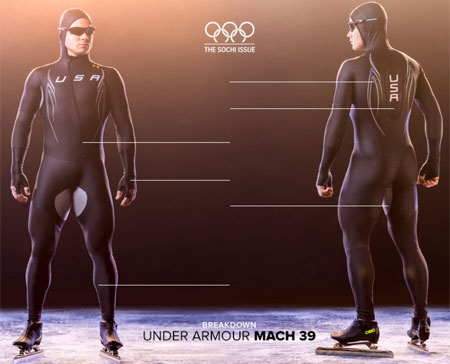 Under Armour Mach 39
It was found that a single type of fabric didn't work all that wellwhen it came to air flow, so the developers opted to use differentmaterials for different parts of the body. The new suits also utilize"flow molding." Though it seems counterintuitive, aerodynamic shapes and bumps attached to just the right spots to disrupt the air flow can enable faster speeds.
"The technology and resources that Under Armour put into this suit areunprecedented and can be felt from the very first moment you put onthe suit," Patrick Meek, an American Long Track speed skater who is competing in Sochi, told TechNewsWorld.
"It sounds weird, but you just feel fast. I expect this suit to be a game changer," he said.
"What is revolutionary is that we were able to devote so manyresources into one suit," Meek added. "There have been no technologybreakthroughs that came about because of this suit. The wheel was notreinvented. But what UA was able to do was combine the latesttechnology in aerodynamics, compression, fluid dynamics, humanphysiology and biomechanics all in one suit."
In addition to clothing that will help reduce drag, athletes are usingcompression apparel on the slopes. For the 2014 Olympics, many competitors will don the latest in 2XU'scompression tights and socks.
The clothing's usefulness isn't limited to competition, however. Someathletes took advantage of it prior to their arrival in Sochi, as it has been shown thatcompression can improve circulation during long travel times.
"Athletes at this level of competition understand the importance ofutilizing compression in their training, recovery and injuryrehabilitation," Fred Hernandez, 2XU director of marketing, toldTechNewsWorld.
Super Sleds
While the American bobsled and skeleton competitors will be donningUnder Armour skinsuits, they'll also have the advantage of advanced sleds developed with help from several corporate giants.
The United States hasn't won a gold medal in bobsled racing since 1936.For the 2014 games, the team turned to BMW, which helped design a new bobsledthat is made of carbon fiber. Developed for its electric cars, thisadvanced composite polymer has been proven to be far stronger and much lighter than the fiberglass shells used just four years ago.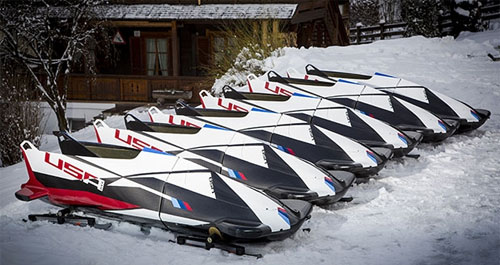 Team USA Bobsled
BMW's engineers provided adjustments to the sled'saerodynamics and weight distribution through included computer-aided modeling, computational fluid dynamics (CFD), full-size wind tunnel testing, on-track testing, and even athlete scanning.
"We were truly excited by the opportunity to work with the UnitedStates Bobsled and Skeleton Federation and saw it as a natural fit totransfer our approach, technology, and design resources to thedevelopment of the two-man bobsled," Michael Scully, creative directorof global design for BMW Group DesignworksUSA, told TechNewsWorld.
"The two-year development process in collaboration with Team USA hasbeen an intense, exciting and rewarding one, and we're all lookingforward to Sochi," he said.
The same level of commitment went into the development of theluge. Dow Chemical re-engineered the single-person sledbodies and incorporated lighter materials and design features thatimproved performance, while Saint Gobain workedwith U.S. Steel to completely redesign the sled's runners.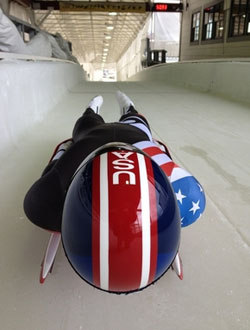 Team USA Luge
"Previously, Team USA bought the runners from an Austrian firm," said BradJohnson, vice president at Saint Gobain.
"The teamnever felt they were getting the most consistent steel, so we workedthem to develop a recipe that U.S. Steel than produced," he told TechNewsWorld.
"Saint Gobain also provides some of the most advanced coated abrasivesto polish the runners, but this isn't the typical sandpaper you'd findin a hardware store," added Johnson.
"This is actually used in theproduction of automobile and aerospace technologies, and this can beused to polish and shape even hard steel," he explained.
This is important, because just as athletes are drug-tested after theycompete, the luge sled is tested for consistency.
"The temperature has to be within a range, or the effort was all fornothing," Johnson noted.
Head Above the Rest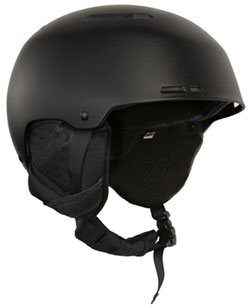 Giro's Combyn Helmet
For snowboarders, it isn't just speed that matters. A new snowboarding helmet developed by Giro could help prevent concussions and other head injuries.
"The Combyn is designed and built to better manage low-energy impacts,while still able to manage high-speed impacts like traditional EPS(expanded polystyrene)," Giro spokesperson Benny Cruickshank toldTechNewsWorld.
"This is achieved with Giro's patent-pending liner madewith dual-density Vinyl Nitrile and the flexible outer-shell material.VN differs from EPS in that it is able rebound after an impact," he pointed out.
"For the rider, the VN liner provides a more durable helmet that canbetter manage those low- and high-energy impacts, while the flexibleouter shell allows the helmet to be more comfortable by flexing to fityour head," Cruickshank added.
Skiing Without Snow
Russia's goal in bringing the games to Sochi was in part to transformwhat was typically viewed as a summer resort town into a winter destination.That presented challenges, because many of the slopes are completely new and thus unproven.
Skiers must train year round, even when there isn'tsnow. SkyTechSport's virtual training technology addressesboth issues. The company, which has created snow sports simulators fora number of teams, allows athletes to experience being on the slopeseven during the off-season months.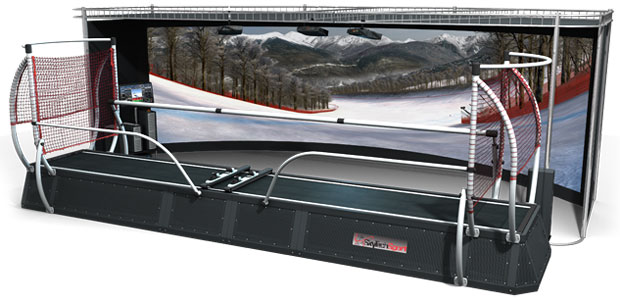 SkyTechSport Trainer
"Skiers and snowboarders mostly run and do other exercises in theoff-season," Alex Golunov, project manager at SkyTechSport, toldTechNewsWorld. "Our machines replicate the experience on the slopes.We draw on the physics they would experience and recreate the exactterrain."
For the 2014 games, SkyTechSport completely recreatedthe courses even as the runs were built and then provided them to theteams, allowing them to get a feel for Sochi before everarriving there.
"There are three parts to this: the machine that simulates being onthe slopes; the virtual reality system where the scanning technologyrecreates the terrain; and the physics," said Golunov. "This allowsthe user to get the feel of heading down the mountain in Sochi."