This App's Best-Laid Floor Plans Oft Go Pretty Well
MacNewsWorld

MagicPlan, an app from Sensopia, is available for free at the App Store. An upgrade to its professional version is US$4.99.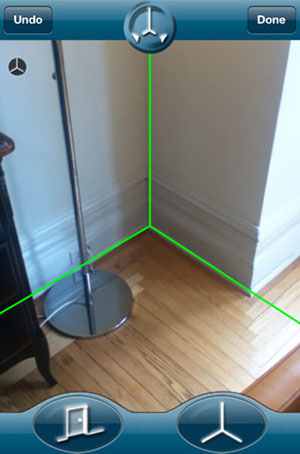 MagicPlan
A floor plan of your home might not be something you use every day. But having one can come very much in handy in situations like selling your house, renting out a property, working with a contractor, buying furniture, figuring out which stuff is going to fit in which room as you get ready to move into a new place, and at least a dozen other scenarios.
With MagicPlan, you can put away the graph paper -- though you'll probably want to hang on to the measuring tape. The app works on the iPhone 4 and the fourth-gen iPod touch. It creates room plans not by making you draw them out with set of lightweight, CAD-style tools, but rather by having you aim the phone at the room's corners and doors. Room plans can be stitched together to create a plan of the entire home, complete with graphics for sinks, countertops, furnaces, stairs, etc. It works even if there's a lot of furniture in the room covering up corners.
MagicPlan can be used to quickly create "close-enough" floorplans that provide a nice-looking general outline of a home's layout. For situations in which an inch or two makes a big difference, MagicPlan has the features to handle post-survey tweaking, though it will probably take some extra time.
Initial Survey
Once you've started a new floor plan, you can select the type of room you want to map out first as well as the floor on which that room is found. It uses the British/Euro system for floor numbering -- the ground floor and the first floor are two separate stories. The app's also set to metric measurements by default but can be switched to feet in the Settings menu.
The app makes use of the iPhone 4's built-in gyroscope to tell exactly which direction it's pointing. To get started, you stand in the middle of the room so that you can see all its corners. The screen will show a camera viewfinder with unique controls and a bright green three-bar cross hair. Center the cross hairs on any corner, right were the walls meet the floor, and hit the button with the three lines on it. Keep standing at the same spot in the room, rotate your body, and capture each corner the same way until you've come back around.
You'll have some survey tools at your disposal. One button lets you mark the presence of a door. A little zoom window can be used for extra accuracy in far-away corners. And another button lets you expand the cross hairs so that they span the entire screen. As you aim the camera to capture the next corner, these cross hairs shift around to aid your alignment and help you accurately guess the position of a corner that happens to be hidden by a piece of furniture.
But my explanation probably won't be enough to get you started. Instead, the app's built-in tutorials do a good job of really showing you the basics. Still, you might find yourself on your own when it comes to oddly shaped rooms. Some trial and error will be in order before you really train yourself in how to approach any room using MagicPlan to map it out.
Clean Up Your Room
Once you've laid out your first room, you'll need to calibrate the app. It'll give you its estimates for each wall's length; you'll need to whip out the tape measure and tell it the actual dimensions. This only needs to be done once.
After I'd tried MagicPlan in three or four rooms, I'd gotten the hang of it enough to whip up floor plans that were accurate to within two or three inches per wall. But if that's just not close enough for your purposes, you can get into a room editing feature that lets you adjust wall length and placement, as well as door width, using various one- and two-finger gestures. It even lets you tweak angles on non-rectangular rooms.
The edit screen also lets you add fixtures and structural elements like staircases, corner landings, water tanks, toilets, tubs, counters, sinks, etc.
Room edits can be done either in landscape or portrait orientation, but when the user holds the phone in landscape mode and calls up the larger fixture menu, it extends beyond the screen -- likely just a design oversight.
The bigger drawback is that this kind of work can get a little tedious on a small-screen format. MagicPlan is crying out for an iPad version. The iPad 2 two has a camera and a gyroscope, and the editing process would be 10 times smoother with more screen space. Who knows, maybe Sensopia's getting ready with an iPad 2 version any day now.
Putting It Together
After you have multiple rooms surveyed, edited and ready to go, you can stick them together in the app's floor edit screen. It uses a sort of snap-to method that aligns rooms very smoothly but may distort wall measurements somewhat if they weren't very carefully surveyed or edited. Not a big deal if you're just giving someone the house's broad strokes, but it really depends on what you're using the floor plan for. There's also an alignment tool that will line walls up if they happen to be a few inches off kilter, but the same distortion may result.
A finished floor plan need not stay locked into the phone. You can export it via several different methods. Upon trying to export my creation, though, I ran into a minor annoyance. Since I'd originally declined to let the app use my phone's location services, I was told that I MUST first specify at least a valid city and country "so your plan can be geolocalized."
That's kind of pushy. What if I really don't want my house plan to be marked on a map, even if it is as general as the name of my city? Personally I don't much care, but geolocation might be a touchy subject for some users, especially when it comes to one's home. So I lied and told it I was in Miami. That worked.
The first time you export, you'll be told that the exported plan will contain watermarks, and that you'll need to buy a $4.99 upgrade in order to publish plans without watermarks for commercial use. The upgrade gives you the unlimited ability to send plans as PDFs, export to iTunes as PDF, save a plan as a JPG and print using AirPrint.
Bottom Line
In some professions, floor plans are Very Serious Business, and those users will have to take MagicPlan for their own test drive (it's free, at least) to find out whether it's up to their standards.
But as someone using it for non-professional purposes, I find MagicPlan to be efficient and actually kind of fun. It's surprisingly accurate, and even when it doesn't hit the mark just right, it has tools that make it possible to fine-tune your results.
But that fine-tuning can get a little tiresome on a 3.5-inch screen, so hopefully Sensopia has an iPad 2 version in the works.