Crackle: A Useful Piece of the Mobile Streaming Patchwork Quilt
MacNewsWorld

Crackle, an app from the company of the same name, is available for free at the App Store.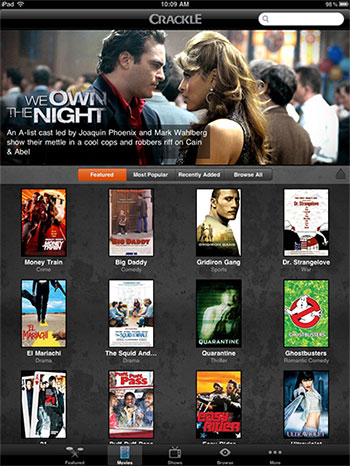 Crackle for iPad
For iPhone and iPad owners who are willing to be hunters and gathers of free, high-quality movies and TV shows, there's a newly updated app available: Crackle. All you've got to do is keep your expectations low and keep looking. Let me explain.
First, Hollywood movies and big-budget television shows are available all over for digital consumption in various ways. To get those onto your iPhone or iPad, you've got to be willing to look. ABC Player, for instance, lets you watch full-length TV shows from the ABC broadcast network -- shows like "Castle," "Dancing with The Stars," "Grey's Anatomy," "Modern Family," and "20/20." It's a slick app, and it's gorgeous on an iPad 2, but it doesn't offer TV shows from, say, CBS. No, you've got to go to TV.com for shows like "CSI: Crime Scene Investigation."
Where ABC and TV.com are obviously strong for new television shows, Crackle is remarkably weak. For instance, I forgot that 1995's "News Radio" even existed. If you want old or fringe TV, Crackle might excel for you. On the other hand, there are a few gems hidden in Crackle's movie library, which, it turns out, gets to tap the vast library of Sony Pictures Entertainment -- because Crackle is a division of Sony Pictures Entertainment. This means you can watch movies from studios like Columbia Pictures, Tri-Star, Screen Gems and Sony Pictures Classics.
Old With Slightly Newer
While there are dozens of movie options in Crackle, they don't seem to represent Sony's full library -- indeed, Crackle even warns you that some movies will disappear as options by the end of the current month, replaced by a new batch. So you might watch some great older movies like "Flatliners" (Keifer Sutherland was young once) or the excellent "Snatch." There's also "The Da Vinci Code," "21," and "We Own the Night." Some good stuff, and for sure, totally edible, but none of it is particularly fresh.
So how does the Crackle app shake out? It's good. A nice dark interface, it's responsive on my iPhone 4, and the iPad version looks great too, with an even better interface. You can view by what's Featured, Movies, Shows or Browse all the available content by Movies, Television, Originals, Genres or Collections -- Collections, for instance, gives you options like "Awesome '80s" or "Before They Were Famous" or "Blockbusters." Odds are, I'm pretty sure most people will find at least a couple of movies they could watch to kill some time over any given month.
Unfortunately, Crackle doesn't let you stream content to your Apple TV via AirPlay.
If you sign in and are a member of the website version, Crackle.com, you can create a queue of shows to watch, too.
As for quality, it's pretty good over an AT&T 3G connection -- at least as good as Netflix, on average. One small quibble is that, as I was watching "21," I realized I could not zoom in. So the display is the cinema landscape mode, and you don't get an option to cut off the edges in order to make the middle larger and easier to view on your iPhone. Minor quibble, really. I like the feature in other apps but hate losing the cinematic feel of the shots.
What About Ads?
Oh, there are advertisements that pull you out of the moment. If you start a movie, for instance, then pause it and close the app, when you return to resume it, you're hit with an ad. And at predetermined points throughout your stream, you'll get jerked away to watch an ad. I've seen an ad for the "Battlefield 3" game quite a bit, so much so that I'm ready to buy it whether I need it or not. (That's a half-joke. The game actually looks like fun.)
Of course, it should be said that while you can stream full-length movies free with Crackle, you should be aware of your connection and your data plan. If you connect via WiFi, no problem. Watch at will. If you're on a limited data plan, you'll want to pay attention. I'm on an unlimited data plan with AT&T, so no worries for me. If you're not, you could end up paying a heckuva lot more to your service carrier than you would had you simply rented a movie or two from iTunes.
Speaking of iTunes, if a movie is available in iTunes, there's a button to the movie on iTunes that will take you to movie in the iTunes app. So, if you want to buy or rent, you can easily enough. More likely, though, you might just want to look for the Rotten Tomatoes movie rating to glean whether the movie is worth your time. If it is or isn't, Crackle has the requisite abilities for you share your interest through the usual email, Facebook or Twitter options.
All in all, it's a solid app, offering up a selection of content designed to keep you coming back each month. It's not perfect, not complete, but it is something you ought to add to your page of apps used for gathering up high-quality free movies and video.