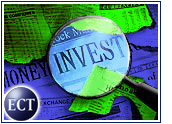 Wall Street has battered tech stocks for more than a year, so one might think the Nasdaq would be littered with bargains. But recent gains in the tech sector have wiped away many of the best opportunities, and few stocks are still undervalued, according to analysts, who suggested that even over the long term, tech is unlikely to pay dividends.
"Tech, overall, is not an attractive place to make money," Giga Information Group analyst Andrew Bartels told the E-Commerce Times. He cited a low rate of revenue growth and an unhealthy forecast for near-term tech spending as factors in his negative forecast.
Morningstar.com analyst Todd Bernier agreed, telling the E-Commerce Times, "Few [stocks] are undervalued. We had that huge snapback, and now they're all grossly overvalued. People still have the belief that tech is going to lead the way out, and I'm not sure that will be the case."
Even so, some gems still sparkle amid the wreckage in software, semiconductors and even telecom.
Software Exceptions
AMD head of investment research Mark Gomes told the E-Commerce Times that there are several pockets of tech strength, such as supply chain execution and business knowledge. In addition, he said, there are a couple of broad trends that could help investors find undervalued stocks.
For example, Gomes said that software vendors with substantial scale and accounting control are likely to improve their bottom lines with revenue gains. Specifically, he cited SAP, Peoplesoft, J.D. Edwards and Lawson Software as promising prospects.
"The clear choices there are the ERP (enterprise resource planning) vendors," he noted. "They understand that building new apps for their installed base is a good thing. In this environment, getting new customers is extremely difficult."
Value Vendors
Based on other factors, such as level of competition, Gomes also pointed to call center software maker Chordiant and international trade logistics specialist Vastera, which have been hit hard but may pose opportunities for seasoned investors able to shoulder some risk.
Gomes noted that based on pure venture value, E.piphany, MatrixOne and Technology Solutions Company also have the potential to attain profitability and solid cash positions.
More generally, he said, companies involved in delivering tangible ROI through optimization of warehousing or planning, such as Manhattan Associates, represent a better value proposition than forecasting-focused vendors, such as Manugistics or i2.
Software Sinker
For his part, Bartels pointed to the software sector as a potential hunting ground for undervalued tech stocks, but he warned that new technologies and trends, particularly Web services, could dim companies' prospects in the long term.
"Beyond 2003 [and] 2004, there are dramatic changes that could continue to make the sector overall not look great," he said. "Web services has the potential for radically transforming how software is delivered and sold."
In short, it seems that investors must be stout of heart and strong of purpose in order to pick stocks in this challenging economy. Those who choose wisely may reap rewards, but the risks also run high — and that is not likely to change for some time.