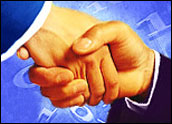 The planned acquisition of Lycos, Inc. by Spain's Terra Networks (Nasdaq: TRRA) is set to close this month with Lycos shares valued at $65 (US$) apiece, the companies said Tuesday.
After a strong start, Lycos shares ended up falling $1 for the day to 38 5/8. The shares are trading below the mid-70 range seen when word of the proposed merger surfaced in May, and well below their 52-week high of 93 5/8.
Strong Finances
The new company, Terra Lycos, will have operations in 40 countries and, with about $3 billion in cash, will be among the best capitalized Internet companies in the world, the companies said.
Terra, a leading provider of Internet access and interactive content and services to the Spanish- and Portuguese-speaking world, will be the first foreign company to enter the U.S. portal market.
Shareholders of Waltham, Massachusetts-based Lycos will receive 2.15 Terra Networks shares for each of their shares. Shareholders will have the option of receiving Terra ordinary shares or American depositary shares. Terra ADSs fell $2 to 21 3/8 Tuesday.
"The exchange ratio offers Lycos shareholders a substantial premium," said Lycos president and chief executive officer Bob Davis. "But of equal importance is the global powerhouse we are creating with Terra Lycos."
Telefonica Voices Support
Spanish phone company Telefonica, Terra Networks' biggest shareholder, said it will make the new company its principal channel for developing Internet business.
"The merger with Lycos will create a company positioned to play the convergence of telecommunications, media and Internet, because of its strong partnerships with Bertelsmann, Sumitomo, Singapore Telecom and Bell Canada, among others, the scope of its multinational sales force and its broad international footprint," Telefonica said.
Shareholder Vote Set
Lycos shareholders will vote on the merger October 27th. The company's largest shareholder, CMGI, Inc., is in favor of the plan, which the companies said has cleared all required regulatory approvals.
Lycos competitor America Online (NYSE: AOL) is also planning a merger, with U.S.-based media giant Time Warner, Inc.
The Lycos network reaches nearly half of all U.S. Internet users, the company says. The portal ranked fourth on the Media Metrix list of top 50 Internet properties for August, with 32.9 million unique visitors.
The site ranked behind AOL, which saw 62.7 million unique visitors, Yahoo!, and sites owned by Microsoft.