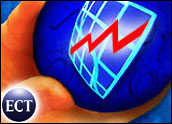 Terra Lycos (Nasdaq: TRLY) was up 7/16 at 11 early Tuesday after the companysaid its Lycos portal saw traffic this holiday shopping season that was morethan double that of last year's "very successful" holiday period.
Referrals from the Lycos network generated more than 250 percent morerevenue than the 1999 holiday season, while unique visitors to Lycos Shoptotaled 580 percent of the level seen in the week before Christmas in 1999,the company said.
"The 2000 holiday shopping season was a tremendous success for Lycos Shop,"said Kim Boucher, vice president of e-commerce for Terra Lycos. "The seasonstarted approximately a week later than last year, but also ran a weeklater, right up into the last week before Christmas."
Added Boucher: "Lycos Shop enjoyed consistently strong consumer traffic and correspondinglystrong revenue to merchants through the third week of December."
Jeffrey Blue, director of e-commerce and auctions for Lycos Shop, said theportal "extended the online shopping season by focusing the front-doormerchandising on stores that were best able to satisfy the needs oflast-minute shoppers."
Noted Blue, "Last year we saw traffic drop off as we got closer to Christmas, and thisyear we were able to actually grow traffic in that last week by focusing oncustomer service."
The Lycos network was acquired by Spain's Terra Networks last October. TerraLycos operates in 41 countries and 19 languages.
Two days after Christmas, Lycos rival Yahoo! sawits shares soar after issuing a similar announcement about strongholiday sales. Order volume for shopping properties outside the UnitedStates was more than six times last year's level, while U.S. holiday salesnearly doubled from the 1999 holiday season, Yahoo! said.