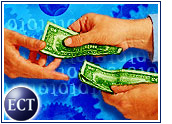 Outsourcing IT services — or, for that matter, any business function, such as billing, procurement, human resources or even research and development — has become the cost-control method of choice for many companies as they grapple with tight budgets and flatlining revenues.
There is a certain logic to this business model. Vendors have the size and overhead to provide the service in question and the economies of scale to offer it at a competitive but profitable price. For their part, companies just have to worry about a monthly bill that can be much lower than if the service were generated in-house.
Aberdeen Group research director Stephen Lane told CRM Buyer Magazine that companies in some industries are realizing cost savings of 30 to 60 percent as a result of outsourcing.
In spite of these clear advantages, many companies exhibit reluctance to cede control to an outsourcer — especially over anything customer-related.
Corporate Jewels
"Outsourcing more complex projects that involve databases with sensitive customer information may make a lot of sense, but it can be psychologically challenging to take that leap and hand it over to someone else," Jim Scurlock, senior manager with Cap Gemini Ernst & Young's financial services sector, told CRM Buyer.
It can be downright impossible if a customer service operation or customer data is considered the corporate crown jewels, he added.
For procurement or IT executives pitching an outsourcing proposal, the argument ultimately comes down to bottom-line factors. "Budgeting for outsourcing has to be done on a unit-cost basis," Scurlock said. "It must be clear that it can be provided for less cost than what a company can do in-house. Also, it helps if the outsourcer can offer a value-add component."
Once cost issues have been nailed down, though, there are three other arguments an IT executive can make in order to win budgetary approval for an outsourced CRM project:
1. 'Our Competitors Are Doing It'
Marc Benioff, CEO of Salesforce.com and self-appointed evangelist of the online CRM business model, suggests that executives point to other successes in their particular industry, specifically competitors that have outsourced their CRM and sales force automation processes using an online service provider. More and more enterprise-size companies are using online CRM services, making the business strategy a competitive factor, especially for small and mid-size companies that are trying to compete in the same space, he told CRM Buyer.
"Online CRM aligns the risk with the reward," he said. "Companies do not have to spend US$10 million up front, not knowing if they will ever get a return on their investment. You might as well go to Las Vegas."
2. 'Others Can Do It Better'
Outsourcing allows a company to concentrate on its core competency. It also means a company does not have to maintain in-house hardware or software or, for that matter, a large IT staff.
Nextel chief service officer Kathy Bradley told CRM Buyer that the decision to outsource customer service was based more on core competencies — of the outsourcer — than on cost. "We could have spent a long time sorting through the technology, sorting through vendors and deploying a system," Bradley said. "But [outsourcing] has allowed us to leap the learning curve."
3. 'It Can Be Temporary'
More than one company has fallen back on the reasoning that outsourcing is not necessarily a permanent solution, especially during recessionary or tight economic times. Also, an outsourcer can be tapped to handle certain projects on a mid-term basis. Scurlock tells of one client that retained an outsourcer knowing full well it would not renew the contract when it came up again.
"It had four to six CRM systems that it wanted to pull together. A vendor low-balled the project and offered to run it on an outsourced basis. It took a year for the outsourcer to clean up the databases. About 18 months after that — when the contract was up — the outsourcer wanted to renew it for five years, but the company said, 'No, we want our CRM database back.'
"The outsourcer made a huge assumption that because it did good work, the client would want to retain them. But because the client thought of their CRM operation as their crown jewels, they did not want to leave it in the hands of others — not to mention the fact that cleaning up the databases would have been cost-prohibitive and the company did not have the in-house capabilities for the job."
To be fair, a company should be open with the outsourcer about this from the onset. "These arrangements need to be a win-win for both sides," Scurlock said.