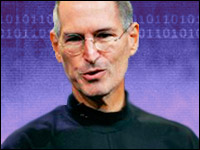 Steve Jobs' long battle with cancer came to a sad end Wednesday. The Apple cofounder, chairman and former CEO started his company from a garage, revolutionized the technology industry many times over, got fired from his own business, then came back years later to turn it into the most valuable publicly traded company in the world, all in just over a quarter of a century.
Nearly every personal computer sold today — even if it's not made by Apple — has been influenced on some level by what Jobs accomplished. The businesses he started made the computer less icky and repulsive, more interesting and fun. They looked at complex machines that were built to crunch numbers all day and asked, what are some of the other things people might want to use this for? What can be done to make it easier to use? And who says it has to be so incredibly bland and ugly?
In the mid-'80s, Jobs' vision for the original Mac computer and its user interface gave the industry one of the biggest shakes it had ever had. But personality clashes and power struggles within Apple led to Jobs' ouster just a year later.
So for his second act, Jobs took on the movie industry, presiding over Pixar, a company that's made some of the most consistently acclaimed animated movies of all time.
---

Listen to the podcast (11:14 minutes).
---
He also started another computer company — NeXT. You don't hear much about NeXT anymore, but that's because it was bought by Apple, and some of its technologies became the basis of OS X, Apple's current line of operating systems. At the time, Apple had been beaten down to a shadow of its former self, and the purchase of NeXT opened the door for one of the most successful comebacks the business world's ever seen — both for Jobs personally and for Apple as a company.
Jobs was given the chance to return in 1997, and as CEO he made drastic changes that steadily revived the company and put it in a position to practically dictate the direction of entire industries. There were missteps along the way, but they're heavily outnumbered by the hit products Jobs' company launched in the last decade and a half of his life: iMac, OS X, iPod, iTunes, MacBook, iPhone, iPad. Their reach extended way beyond just computers — the music industry, TV, movies, books, and the way people communicate.
Those products weren't necessarily the first of their kind, but they did what they did in a way that told people, "It's easy, it's safe, it works." Not everyone fell in love with Apple products, but the concepts they embodied were powerful enough that when Apple came out and said "this is the way we're going," the rest of the industry would often follow along.
Unfortunately, just as Jobs' company was beginning the upswing that's still carrying on today, his own health began its decline. The kind of cancer that afflicted Jobs normally kills very quickly, but advanced medical treatments allowed him to keep running Apple for years. It was only in August that he officially stepped down as CEO, leaving the position to Tim Cook, his long-time second-in-command.
When word of his death was made public, many people learned about it through a device Jobs had played some role in creating. Words of condolence rolled in from Apple fans all over the world, not to mention industry leaders, personal friends, and even some of his biggest rivals. Jobs packed a tremendous life into his 56 years, and it seems he definitely managed to put a ding in our corner of the universe.
Nobody Puts Beni in a Corner
Salesforce.com CEO Marc Benioff was slotted to make a keynote appearance at Oracle's OpenWorld this week. That wasn't unusual — OpenWorld hosts keynotes from executives at a lot of different companies, Benioff had been a headliner before, and besides, he used to be a very large presence at Oracle before he went off to start his own company.
In fact, Benioff at one time was a protege of CEO Larry Ellison himself. When Benioff was at Oracle, he earned "rookie of the year" status and even secured seed money from Ellison to start up Salesforce.com.
Now Salesforce is big, it's growing, and its founder has become a regular speaker at the conference his former company hosts. But this year, things went haywire. Late on Tuesday, Benioff tweeted that Oracle officials had moved the time slot of his speech from a cushy 10:30 on Wednesday morning to 8 AM on Thursday — the absolute tail end of the show, when lots of people would have gone home — or might be sleeping in after a late-night Sting and Tom Petty concert Oracle had put together.
So rather than face a room of empty chairs and hungover, half-deaf hangers-on, Benioff spoke at his original Wednesday morning time slot. Only he did it in a hotel restaurant across the street from the Moscone Center, where OpenWorld was being held. Naturally, that managed to draw a lot of attendees and no small amount of media attention — possibly much more than Benioff would have drawn had the speech gone as originally planned.
Exactly why the schedule change was made isn't clear. There were rumors that it was because a few Salesforce execs crashed a CIO event Oracle hosted. But Oracle denied that, stating only that the change was due to "overwhelming attendance." Whatever the real reason for it, this kind of conspicuous elbow to the ribs is something Larry Ellison's well known for, though it's usually how he treats his most dispised competitors. So at least it's pretty clear now how Salesforce and Oracle stand.
Yahoo on the Block?
Yahoo's been making a lot of choking sounds lately, and to some companies, that sounds like a mating call. Rumors once again started flaring up that buyers are on the hunt to snap up the once-dominant search provider, and Microsoft's name is getting passed around.
Reports have been going in all sorts of different directions. One story's anonymous source says one thing, another's says the opposite, and Microsoft is reportedly denying it's into Yahoo at all. It's already been down this road before – several years ago Microsoft tried to buy Yahoo for $47 billion, but it was turned down and had to settle for a much lower-key deal that melded the back ends of their search engines.
If Microsoft is honestly not interested, other possibilities exist. Rumored potential buyers include Silver Lake, Russia's Digital Sky Technologies, and China's Alibaba Group, in which Yahoo already owns a 40 percent stake.
This time around, of course, Microsoft or anyone else wouldn't pay anything close to $47 billion for Yahoo. Even back when Microsoft made that offer, Yahoo was in decline, but now that roll downhill has been worsened by competition with companies like Facebook. Google's grown stronger, Yahoo's lost search market share to Bing, and it just finished firing its own CEO, so there's no permanent leadership currently in place. Social networking, cloud services and mobile have passed it by, a few apps notwithstanding.
Unless Yahoo can land a one-in-a-billion visionary CEO with huge ideas and the ability to get its board to swallow big risks, a sale might be the only way to keep the Yahoo brand going.
Whatever deal comes along still might involve some amputations, though. Lots of Yahoo's holdings are in Asia, and that tentacle might prove to be too difficult for a U.S.-based buyer work into its plans. Depending on who that buyer is, if any, Yahoo might end up lopping that part off and sending it to China.
Is It Really What's Inside That Counts?
Apple has finally revealed its fifth-generation iPhone, but don't call it an iPhone 5. Its real name is "iPhone 4S," and from the outside it looks just like the phone Apple already has on the market, the iPhone 4. That's almost the same situation we saw a couple of years ago when the 3GS replaced the 3G — similar on the outside but different guts underneath the hood.
For the 4S edition, Apple's included an improved processor: the A5, a dual-core chip that's also found in the iPad 2. The phone also features significantly improved graphics, which the company emphasized with some gaming demos.
The camera's also received a big boost up to 8 megapixels, putting it on par with some of the highest-res camera phones around. And the video camera shoots 1080p movies now.
Apple signed on Sprint as the iPhone's newest U.S. carrier. And in terms of wireless capabilities, the iPhone took a step up by including HSDPA, a technology that might not be quite as speedy as 4G LTE but which technically does have an edge over the networks to which previous iPhones have been restricted. Of course that only applies if you happen to be using a carrier that supports HSDPA and you happen to be standing in a place with coverage.
Then there's a new feature that sprouted from Apple's purchase of voice-recognition provider Siri last year. The Siri service on iPhone lets you control an impressive list of features using natural voice commands. Ask it what the weather's going to be like, and it'll tell you. Tell it to wake you up at 6 in the morning tomorrow, and it'll set your alarm for you. Tell it you want it to remind you to pick up milk on your way home from work, and when it senses you've left work — via GPS, I suppose — it'll buzz you. It'll be interesting to see just how much Siri can do outside of what was demoed onstage.
Finally, Apple's bumped up the line's available storage space. Now you can get an iPhone that holds 64 GB, rather than just 32. That extra memory's going to cost you big, though — with a contract, it's $400 for the 64 GB verion. The 32 GB model goes for $300 and the 16 for $200, which is comparable to past models.
Apple also reshuffled prices for a bunch of older iPhones, so a certain version of the iPhone 4 will soon be priced at $100, and an iPhone 3GS will be available for free with a two-year service agreement.
But for all its new features and hardware, the iPhone 4S was not met with universal drooling. Chip boosts, wireless improvements and a better camera — not to mention an iOS upgrade around the corner — apparently weren't enough to satisfy everyone. Perhaps it was because the phone's design remains nearly identical to last year's model, and maybe those who left disappointed felt that way because they wanted something thinner with a bigger screen.
On the day iPhone 4S was introduced — a day when the Dow and tech stocks in particular saw a bit of a climb — Apple shares lost a half a percent of value. That alone doesn't necessarily mean anything; AAPL shares have fared much worse on days when some of the company's most popular products of all time have been revealed. But when Cook and company wrapped up the show, they still hadn't uttered the words everyone seemed to want to hear: "iPhone 5."