Part 1 of this two-part series discusses the difference between a multichannel marketing approach and a cross-channel marketing approach.
Moving from a multiple marketing channel strategy to implementing a cross-channel marketing strategy can be accomplished following a three-pronged approach involving process, technology and people.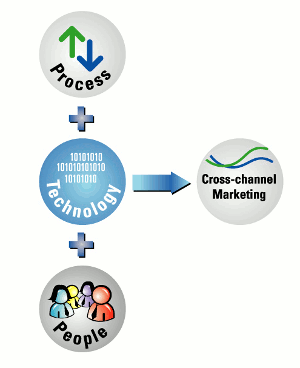 (click image to enlarge)
Process
The shift from multiple channel marketing to cross-channel marketing cannot be haphazard. In a cross-channel marketing environment, since the marketing messages need to be orchestrated over time and channels, unplanned cross-channel marketing can cause more harm than good. The customer may receive inconsistent marketing messages leading to customer fatigue. Hence it becomes imperative to plan and define a set of processes:
Provide a uniform Customer buying experience across all channels —
identical return policies
consistent channel fatigue rules
interchangeable online and offline promotions
Ensure linkages between core channels. It is important that the marketing process is designed so that the core channels have some point of crossover. For example, guidelines should be set for when a communication should shift from passive to active (print advertisement to outbound calling).
Calculate ROI. Marketing costs and customer revenue should be split across channels to provide a clear monetization view of each marketing activity. Having such a process in place will greatly help the organization to directly correlate the marketing spend and the revenue generated from each channel.
Technology
To implement a cross-channel marketing strategy, the marketing applications should help marketers in making quick and informed decisions via cross-channel planning, communication, arbitration and reporting by enabling the following:
Centralized marketing data mart. For different marketing processes to refer data from all channels, it is necessary to have centralized data storage for across all channels. Customer data, transactional data, product affinity models, etc., should be stored on these data marts so that any single or cross-channel campaign can refer/update them.
Online-offline interoperability. Technological ability to weave campaigns in online and offline mode becomes important in this marketing strategy. For example, technology should allow customers to opt in for an offer via mobile, print a coupon from the website at home, and redeem the coupon at a store. More complex scenarios arise as the strategy reaches a mature stage. Having a one-dimensional capability of only online or only offline participation hinders the marketer's options. With emergence of technologically advanced communication products like the iPad, the cross-channel marketing arena has become far more exciting.
Unified customer communication history. With various customer points of contact driving different messages, it becomes of utmost importance to maintain a record of all these interactions across channels. A competent relational database management system can store this data, but the technical challenge is to represent it meaningfully and make it usable. Evolution of marketing applications over the years has been more toward this capability for building a unified view of customer interaction history across channels. Many new age CRM applications today give such 360-degree views of customers.
Mobile and digital marketing. With the ubiquity of mobile phones, the customer is just an SMS away, and with the advent of GPS-based phones, location-based programs can be run. WiFi, mobile triangulation and mobile wallet applications are some of the tools that are progressively enabling marketers to engage customers in close to real-time scenarios. For example, retailers and mobile companies are coming up with joint offerings that deliver mobile coupons, loyalty platforms and payment systems.
Analytical tools. Analytical tools can help identify linkages between events in one channel and the resultant benefits in another. Advanced analytical techniques such as customer-experience modeling, autonomic computing and probabilistic estimation are showing strong potential to help organizations improve channel efficiencies, consumer value and satisfaction.
People
The key enablers of any strategic shift are the people who drive it; hence it becomes essential to focus on the following human resource management aspects for successfully implementing the cross-channel marketing strategy:
Realignment of accountability and philosophy. Individual accountabilities of the team need to be realigned to the goals of a cross-channel strategy. While multiple channel marketing is all about the message that "one" channel carries, people in a cross-channel marketing team should focus on giving the customer a uniform experience across channels.
Change in performance measurement approach. Change in expectations set by different roles alone is not enough, but it is essential that the performance measurement framework undergo a parallel change to accommodate this change in expectations. For example, in a multiple channel marketing scenario, if a channel manager was evaluated on the ROI of his channel, the same role might then need to show higher channel utilization.
Change in organization hierarchy. With changing role definitions, the teams need to be aligned along products, geographies or customer segments rather than channels to ensure that channels do not become the basis of work distribution but are only the means to fulfillment.
Periodic updates to staff. All the personnel who man different channels should be aware of the campaigns running in other channels. This requires organization-wide periodic communication through such means as meetings, mailers and newsletters.
As the number of channels increases — Internet, email, mobile telephones, social media — technology is playing a vital role as an effective enabler. However, technology alone cannot salvage the situation.
Impetus in the areas of people and processes will go a long way toward adapting to the dynamic marketing scenario. Organizations need to adopt the cross-channel marketing strategy with a holistic view, and with equal attention to all three aspects of change. Singling out technology as the sole driver could be catastrophic!
---
Aniruddha Bhattacharya
is a lead consultant with enterprise solutions at
Infosys Technologies Limited
and has more than nine years experience in consulting and project management across domains, particularly in CRM systems.
Laukik Desai is a consultant with enterprise solutions atInfosys Technologies Limited and has more than six years experience in CRM consulting with a keen interest in SaaS. His domain expertise lies in the banking sector.