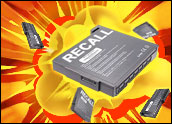 Another day, another battery recall.
That seems to be a disturbing trend in the mobile electronics industry, but some companies are moving to address the volatile situation.
Those companies are either modifying the design of lithium ion batteries to reduce their risks of bursting into flame and sometimes exploding, or deserting lithium ion technology entirely.
Phosphate Cathodes
One approach to safer batteries is to replace the cobalt oxide system used in the cathodes of existing lithium ion batteries with a safer substance. At Valence Technology, of Austin, Texas, that substance is magnesium iron phosphate.
Lithium ion cobalt is unstable and, in some conditions, can release oxygen inside a battery cell, Valence CEO Jim Akridge explained to TechNewsWorld.
That oxygen release causes decomposition of the cell's organic electrolyte and the release of additional heat, he continued. The heat, within a few milliseconds, can lead to thermal runaway, disassembly of the cell and battery pack, and often fire.
Twice as Stable as Li Ion
Phosphate-based chemistry, as used in Valence's Saphion products, is stable to 700 degrees Celsius, he maintained, whereas cobalt-based oxide systems begin to show decomposition at 70 degrees Celsius, and by 135 degrees Celsius, the cathode integrity of the molecule is seriously compromised.
"The cell containing Saphion I chemistry cannot self-heat via internal shorting to temperatures that can decompose the cathode and release oxygen, which feeds a fire," Akridge claimed.
"The thermal behavior and stability of lithium cobalt oxide has been understood since discovery now approaching 25 years," he asserted. "Valence Saphion I will not result in decomposition and thermal runaway because the phosphate system is at minimum twice as stable at the molecular level to decomposition."
Nickel Manganese Substitute
Another cobalt oxiode substitute is being advanced by 3M Company, of St. Paul, Minn. Within the next few months, it expects to be offering batteries with nickel manganese cobalt cathodes.
"These type of materials offer higher thermal stability than the current industry standard," 3M Business Manager Nagraj Koneripalli told TechNewsWorld. "They offer a higher threshold for battery safety."
An advantage that nickel manganese has over phosphate systems is better energy density, he maintained. The higher the energy density, the more power that can be produced from the battery and the longer it can power a device.
"Iron phosphate-type materials operate at a lower voltage and typically have lower energy so you have to make the batteries bigger," Koneripalli contended.
Another benefit of nickel manganese batteries is that they're cheaper to manufacture.
"Cobalt is expensive," he explained. "What we've done is take expensive cobalt and substituted something cheaper, nickel and manganese."
Improving Anodes, Electrolytes
In addition to improving the cathode element in batteries, 3M is also working on the anode and electrolyte components, too.
It has developed a metal alloy substitute for the graphite now used in anodes. "It has a significant improvement in thermal stability over graphite," Koneripalli claimed.
Moreover, he contended that the technology can improve battery run times by as much as 30 percent.
He also noted that the company is using its fluoro-chemical technology to improve electrolytes in batteries.
"Some of our fluoro chemicals are non-flammable and we are trying to develop new electrolyte systems based on those chemistries and technologies," he noted.
Silver Zinc Alternative
Another approach to battery safety is to forget about lithium ion batteries entirely and move to something more stable, like silver zinc batteries.
Those batteries have been around for some time, but their performance doesn't compare favorably with lithium ion batteries.
"Lithium ion batteries can last five years; silver zinc about a year and a half," observed Albert Himy, a consultant in University Park, Md. and an author whose books include Silver-Zinc Battery: Best Practices, Facts and Reflections and Silver-Zinc Battery: Phenomena and Design Principles.
A lithium ion battery can be recharged about 500 times, he added, while a silver zinc one only 50 to 60 times.
"Silver zinc has the potential mainly for military applications, not commercial applications," he asserted.
Problems Licked
However, a company in Camarillo, Calif., called Zinc Matrix Power, believes its licked the liabilities associated with silver zinc batteries.
According to Zinc Matrix President and CEO Ross Dueber, his company's silver zinc batteries can be recharged "several hundred times."
Moreover, they can provide more energy than the competing technology. "They can offer as much as twice the energy density that lithium ion can," he told TechNewsWorld.
Recycling Program
The company also has a solution to another nagging concern about silver zinc batteries: the high cost of silver.
Along with the introduction of its batteries next year, it will launch a recycling program to recover the silver in them.
"We expect our recovery yields to be very high — in excess of 95 percent," Dueber said.
Inherently Safer
He added that silver zinc batteries are safer than their lithium ion counterparts.
"Silver zinc batteries use a water-based electrolyte," he explained. "Lithium ion uses a highly flammable organic liquid.
"Even though alternative cathode materials have been looked at, you still haven't addressed the fundamental issue of the flammable electrolytes," he contended. "That's really where the fire hazard lies.
"Until you address that issue of a flammable electrolyte, you don't have a solution that is inherently safe."