Tiny Core Linux 8.0, released last week, is a minimalist Linux OS built from scratch with a focus on being as small as possible.
That means you should be able to run this Linux distro on a wide range of legacy machines. The tradeoff for ultra smallness, however, often is a not-so-powerful OS that can leave you longing for better options.
The Core Project is based on a highly modular system with community build extensions or applications. This is more a set of building blocks than a finely tuned distro. The Core Project does not provide a complete desktop out of the box. You have to put the working pieces together to make the OS contain what you want. This Linux brew has some advantages — but it also has a few shortcomings.
Tiny Core is not a good choice for users who are new to Linux. Also, it does not support all hardware completely. It provides only the core components needed to boot into a very minimal X desktop, typically with wired Internet access. It is not very pretty.
It also boasts a few points in its favor, though. It gives the user complete control over which applications and hardware are part of the OS. Another plus is that you can use it quite flexibly for a desktop computer, a netbook, an appliance or a server. A third strong point is that all the software you need is available from the project's online repositories.
If you are not intimidated by basic compiling tasks, you can go even further to add almost anything you need using the system tools provided. Going beyond the built-in software package manager, however, is not required to get a lot of use out of Tiny Core Linux.
Skinny Linux Family
The Tiny Core Linux family provides a variety of lightweight desktops. How much choice you get, however, depends on which of the three versions you download.
In all cases, the desktop component is very bare. It is comprised of a moderately functional dock bar along the bottom. Otherwise, you see no signs of an existing interface.
You'll see little besides the Dock Bar — the look and feel of this distro is one step away from a blank screen. With the Openbox desktop, a panel bar stretches across the top of the screen. By default, it holds four virtual desktops displayed in a switcher applet. It also displays the date and time along with open applications.
However, the other lightweight desktops barely have anything other than the Dock Bar. A few of them let you right-click the mouse anywhere on the screen to pop open a simple applications and system tools menu.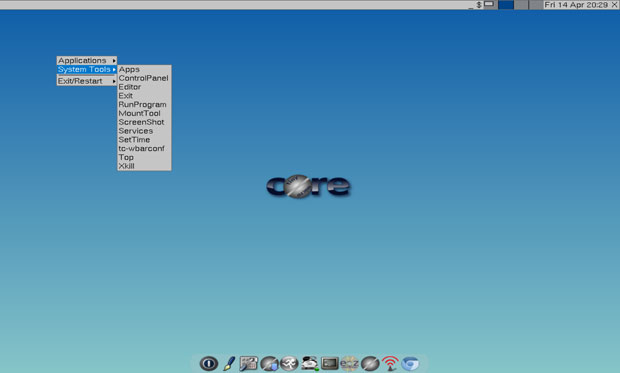 One of the best desktopoptions in the Tiny Core offerings provides the Dock bar on the bottom, aworkspace-configured panel at the top, and a popup-anywhere menu.
Due to Tiny Core's very small footprint, it loads into memory. This give the distro seemingly unbridled performance speed. However, without a persistent memory feature, you must install it from a writable CD or USB drive so you can save configuration changes. Otherwise, your next session will be plain Jane bare-bones Linux again.
Four Ways to Go
The Core Project is not a turnkey desktop distribution in its own right. Rather, it consists of the core components to get the OS booted. After that, you add the applications and services you want.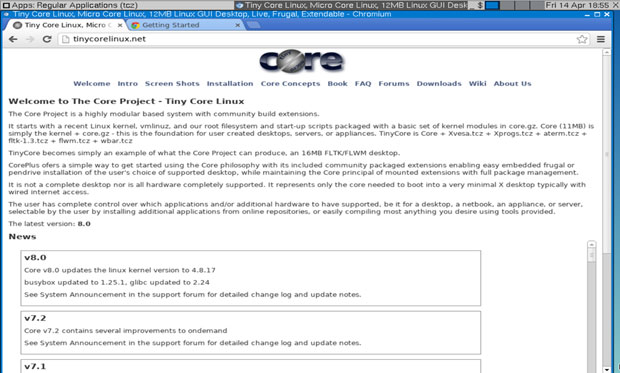 The Chromium Web browserpacks a lot of power in Tiny Core. It provides access to the entire GoogleChrome infrastructure.
Three different x86 cores get you started: Core, TinyCore and Tiny Core Pure 64. Core Plus is the installation image.
Core (11 MB) is the base system. It provides only a command line interface aimed at experienced Linux users. Command line tools are provided so you can add applications. This lets you create a system with a graphical desktop environment. This level of Tiny Core is ideal for servers, appliances and custom desktops.
TinyCore (16 MB) is a bare bones Linux OS that does not work out-of-the-box. You have to do some fiddling to get basic system tools working. It provides a wired network connection along with the base Core system plus X/GUI extensions for a dynamic FLTK/FLWM basic graphical desktop environment.
TinyCorePure64-8.0 (25.0MB) includes flwm only — but it could be all the desktop you need, thanks to some additional tools provided.
CorePlus (106 MB) is the closest you will get to a working Linux desktop for portable use. If you are looking for something that approaches an otherwise traditional Linux desktop OS, start with this ISO download.
It has an installation image that allows you to go from live session to frugal installation to a hard drive or USB/other storage card. It is less bare-bones than the 16-MB ISO file, but it is still extremely minimalist in appearance. It includes flwm, JWM, IceWM, Fluxbox, Hackedbox and Openbox.
For the typical user looking for a fully functional Linux OS to run on-the-go, or to use in aging computers with minimum resources, CorePlus is the version to get. It includes the base Core System and installation tools and a choice of seven very lightweight windows managers.
These are all in one place. You select the environment option at bootup. You also can select wireless support via many firmware files and ndiswrapper, as well as non-U.S. keyboard support and a remastering tool.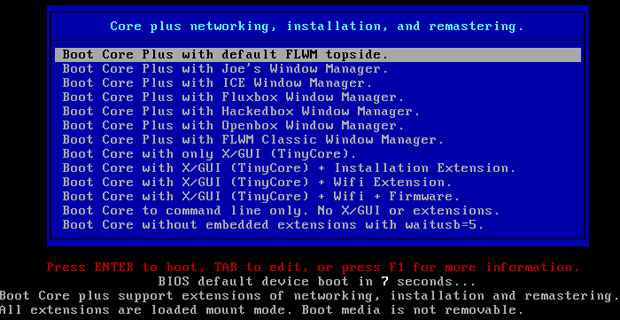 Depending on the ISO versionselected, the boot-up screen offers a litany of choices for what Tiny CoreLinux loads into memory.
First Things First
Use the package manager to download applications. It will include needed dependencies automatically. Finding what you need is your first problem — everything is in alphabetical order. The software tool lacks even basic category groupings of application titles.
Click on the menu icon in the main TinyCore toolbar. Then click on the APPS button in the top left corner and select Cloud (Remote) to see a list of all applications in the repository.
Program names are cryptic. Select a name in the left column to see basic application details and a slim description in the right column.
Click on the desired package and select how you want to integrate the application. You have four choices:
OnBoot installs so the application runs automatically following boot.
OnDemand installs so the application is run only when you manually launch it.
Download + Run installs the application and runs it once installed.
Download Only downloads the package but does not install it.
Click the GO button. The window on the bottom right edge of the software manager window frame shows the progress and displays OK when the package is successfully installed.
Must Install
Unlike other frugal Linux distros like Puppy Linux, Tiny Core Linux lacks persistent memory options if running in live mode from the CD. In order to preserve your added applications and program data, you must use the distribution's launching tool from the live environment.
The installer is waiting on the dock bar. It reads the location of the core live session, most likely a CD. You select your desired installation method. The choices are: Frugal on the existing hard drive, an external USB-HDD drive, or a USB/ZIP drive. You also can select the whole disk or an existing partition.
Two other options are marking the partition active/bootable and installing a boot loader. That will make dual booting more suitable if you install Tiny Core to a computer with an existing OS.
Caution: Dual booting is possible, but it can be highly problematic. A better option is the frugal installation.
Bottom Line
Tiny Core comes in a few architectures. It is available for ARM, x86 and x86_64 processors.
Tiny Core Linux may not have all the bells and whistles you get from a more functional Linux distro. However, if you prefer telling your OS what to do rather than the other way around, Tiny Core Linux could be an interesting alternative for you.
I was impressed with Tiny Core's speed and simplicity. It is a Linux variant that can let you work without desktop distractions. It is also a handy and tiny OS very suitable for tinkering. It is an ideal OS option to familiarize users with a hefty collection of lightweight classic desktop environments.
Want to Suggest a Review?
Is there a Linux software application or distro you'd like to suggest for review? Something you love or would like to get to know?
Please email your ideas to me, and I'll consider them for a future Linux Picks and Pans column.
And use the Reader Comments feature below to provide your input!