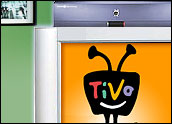 Amazon.com began offering users of the TiVo digital video recorder the opportunity to purchase and download movies directly from their television sets, a move that takes the personal computer out of the Web-based download equation for the first time.
TiVo and Amazon first announced a partnership in March of this year, when they gave TiVo users the ability to have movies from Amazon's digital download service, known as "Unbox," sent to their digital video recorder (DVR). Those movie purchases had to be made online at the Amazon Unbox Web site.
Starting Tuesday, owners of TiVo Series 2 and Series 3 boxes who connect to the Internet via a high-speed broadband connection will be able to download movies directly, using only their remote controls.
Alongside Other Content
Rentals or purchases can be paid for through Amazon's 1-Click checkout process, and TiVo has added a customer PIN for each download, a security measure meant to minimize unauthorized purchases or rentals.
After the movie or TV show has downloaded to the TiVo box, it will appear alongside other content recorded through more traditional means in the "Now Playing" list and the consumer can watch it as often as they'd like.
The move comes as technology companies, entertainment firms and content owners test a variety of approaches for getting more on-demand content to users.
The Apple TV device, which lets Internet content be transferred to some TVs, launched recently; last year Wal-Mart said it would begin testing direct video downloads, selling them alongside packaged DVDs; and Microsoft sells content for viewing on TVs through the Video Marketplace on the Xbox 360 platform.
Measuring Success
Getting content found online — where the selection is typically far greater than most video-on-demand services from cable companies or satellite TV services can offer — onto the TV has been seen as the last mile in the digital content distribution chain.
Fewer than 10 percent of households with broadband connections express interest in downloading movies to their PCs, while 40 percent say they would consider a download service that linked directly to their television sets, said Yankee Group analyst Michael Goodman.
"That bridge over the final gap has been absolutely critical," he told the E-Commerce Times.
Whether TiVo becomes that key link remains to be seen. While TiVo has a couple million users, only about 600,000 have their DVRs hooked up to a broadband connection. Another sizable chunk are DirecTV subscribers who cannot use the Amazon link.
TiVo, however, faces the monumental task of repositioning its core product. With cheaper alternatives flooding the market, TiVo is trying to move into the role of distribution platform, a role that plenty of others have their eyes on, Goodman added.
"TiVo owned the DVR market for a time, but now it is trying to find another hook," he said.
In fact, for TiVo — which earlier this year recorded its first-ever profit — the Amazon hook-up may be a competitive leg up on rivals who are offering less expensive alternatives, such as cable companies who now offer DVRs built in to set-top boxes.
Transfer Station
Shares of TiVo were up nearly 4 percent to $6.14 in afternoon trading Tuesday on the news and on a note from Bear Stearns analyst Kunal Madhukar, who predicted that more companies are considering buying targeted ads that TiVo displays on users' DVRs. Amazon stock, meanwhile, was caught in a downdraft affecting retailers of all stripes after a dire warning from Sears, and gave up 2.6 percent to trade at $70.15.
Amazon needed to find a way to get Unbox content onto devices other than personal computers, which very few people use to watch feature-length video or film, JupiterResearch analyst Michael Gartenberg told the E-Commerce Times.
Unbox suffers because content cannot be transferred to the iPod and was held back by the lack of a way to get shows onto a television set. "The amount of video content available on the Internet has exploded over the past year or so, but a large portion of the public doesn't want to view it on their PCs," Gartenberg said. The service still makes more sense for movie rentals than as an alternative to buying DVDs, since movies will take up precious hard-drive space on a DVR if kept long-term, he noted.
It appears Amazon's Unbox could use the boost that remote-driven traffic might bring it as well.
Research firm Compete.com recently said its analysis of Web traffic showed the digital download offering from Netflix, known as "Watch Now," gaining far more Internet visitors than Amazon Unbox each month. In terms of traffic, Unbox also ranked behind sites such as Vongo.com and CinemaNow, Compete.com said.