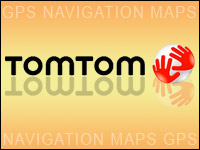 Netherlands-based navigation device maker TomTom saw its shares shoot up Tuesday after news broke that it will supply map data to Apple, according to the Associated Press.
TomTom was sparse with details on what exactly its collaboration with Apple would entail. PhoneArena.com declared the announcement one of the shortest press releases in history. But among the 22 words on the announcement was the phrase "signed a global agreement with Apple for maps and related information."
Whatever that means, investors seemed to take it as good news. In Amsterdam trading Tuesday, TomTom shares shot up 14 percent, to 3.73 euros (US$4.76), according to MarketWatch.com.
Apple announced Monday that it will replace Google Maps with its own map application on the iOS 6 mobile operating system, which will be available this fall. The iOS 6 map app will reportedly be equipped with turn-by-turn directions — enter TomTom.
In the first quarter this year, TomTom http://techcrunch.com/2012/06/11/apple-announces-ios-6-wwdc/ of 1.5 million euros ($1.9 million).
UK Pins Responsibility on Sites
New government proposals in Britain would force websites to identify people who post defamatory messages online, according to the BBC.
The proposal comes days after a British woman won a court order which will force Facebook to reveal users who harassed her. Facebook will hand over the IP addresses of the harassers, who will presumably be prosecuted.
While Facebook did not fight the court order, the proposal is designed to offer legal protection to websites that comply with requests to identify abusers. Currently, websites are liable for defamation.
Privacy International, a privacy advocate, has voiced concern that the proposal could lead to censorship of online materials.
Alibaba Opens the Wallet
Chinese e-commerce company Alibaba is trying to boost online sales by subsidizing its vendors, according to Bloomberg.
The company, which operates in a similar way to sites like eBay, will spend nearly $50 million this summer on promotions for everything from iPhones to air conditioners.
Bloomberg quotes a researcher who says that Alibaba is essentially spending money to lure shoppers away from rivals such as 360Buy.com and Tencent.
Alibaba's "Tmall" accounted for 37 percent of Chinese e-commerce in the first quarter of this year, according to the research company Analysys. 360Buy.com came in No. 2 at 17 percent.
Boston Consulting Group predicts that China's e-commerce market could triple to more than $350 billion by 2015.
Alibaba recently announced that it would buy back half of Yahoo's stake in Alibaba for $17.1 billion.
Spyware Video Games in South Korea
It sounds like something out of a video game: Secretly collecting data … using videogames.
That may be what a 39-year-old game distributor was doing earlier this month, according to Naked Security.
South Korean police reportedly arrested the man on suspicion that he was in cahoots with North Korea developing video games infected with spyware, according to the article. When used on computers, the games would be able to cull personal information (to say nothing of potentially ruining the computer).
The man met with North Korean spies who had established a base in Shenyang in northeastern China, according to the report. South Korean police believe the suspect set up a server to launch DDoS attacks against South Korean networks.
Apple Features Show Chinese Importance
Apple's Worldwide Developers Conference, which began Monday, illustrates the company's emphasis on the Chinese market, according to The New York Times.
A Times blogger at the event said that new features — improved recognition of Chinese characters, a new Chinese dictionary, a Siri upgrade that understands Mandarin — show that Apple is paying evermore attention to China.
During the fiscal second quarter, Apple's Chinese revenue totaled $7.9 billion — some 20 percent of the company's total revenue.