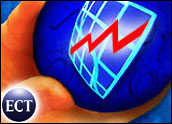 In a forecast that will be music to the ears of technology firms and investors alike, a leading trade group has predicted continued sales growth for semiconductors for the next three years, with the industry on track this year to break previous sales records.
The Semiconductor Industry Association said the emergence of a broad range of consumer devices that use flash memory and other chips — from digital cameras and MP3 players to smart phones and digital television sets — as well as continued economic expansion, will keep the industry growing.
"The robust long-term outlook for chip sales reflects the growing pervasiveness of semiconductors in a very broad range of products," SIA President George Scalise said.
Significant Change in Forecast
The SIA said growth for 2006 is expected to be around 6 percent, which would result in record worldwide sales of US$226 billion.
That's a significant improvement over the group's earlier forecast that chip sales would show little or no growth over 2004 levels and reflects a number of factors, including stronger-than-expected cell phone sales in recent quarters and continued demand for high-end consumer electronics.
The group is even more bullish going forward, saying that chip sales will expand at an annual rate of 9.8 percent through 2008, when the market will be worth $309 billion.
"Worldwide sales of semiconductors have been stronger than expected through the first quarter of 2005," Scalise added. "Our cautious forecast … was based on concerns that high energy prices and lingering excess inventories in a few segments of the industry would dampen sales in 2005. Those fears have not materialized, and economic growth — especially in the United States — has remained strong."
Broad Horizons
The forecast underscores the sea-change that the chip industry has seen in recent years. Once, its fortunes were tied almost exclusively to the demand for chips that went into PCs and higher-end computing products, such as servers.
Now, however, chipmakers rely as much on consumer goods as they do computers to provide end markets. Fueling growth for chipmakers now are items such as digital TVs. The group expects demand in that area to grow 65 percent this year.
The forecast projects growth in all markets around the world, with the Asia-Pacific area holding onto the title as the fastest-growing market, one that will control some 46 percent of worldwide sales by 2008.
By contrast, not all product categories will see the same levels of growth, with some more mature segments seeing stagnant sales.
So-called discrete products, such as power transistors, will grow just 0.5 percent and analog chips, which are most commonly found in industrial applications, will be flat this year. However, so-called optoelectronics devices, which make their way into camera phones and digital cameras, will see a 13.5 percent jump in demand, while microprocessor and microcontroller sales will both grow by at least 11 percent and flash memory will expand by 7.6 percent, the group said.
Smarter Companies?
Scalise said the industry also responded quickly and effectively to signs of an inventory glut that first appeared in 2004. High inventories are anathema to the industry, as they can often represent weaker-than-expected demand for end-use products and are often dealt with by offering sharp price cuts that eat into profits. Those gluts are also a big reason why the chip industry is so highly cyclical, producing at peak rates when demand is high and then abruptly slowing production to let inventory dissipate.
"In 2004, semiconductor producers and their customers responded quickly to rationalize supply and demand, with the result that excess inventories never got above $1.5 billion," one-tenth of the levels they reached at the end of 2000, a glut that took some three years to work down, Scalise said. "By the end of the first quarter of this year, excess inventories had been largely worked off and are no longer a factor in our outlook."
Mercury Research analyst Dean McCarron told the E-Commerce Times that companies, including Intel and AMD, have gotten better at being more lean and agile and therefore are able to respond to changes in demand more quickly than in the past.
"The landscape has become more competitive" thanks to AMD's resurgence led by its early arrival in the 64-bit chip marketplace, McCarron said. "The chip producers have recognized the need to be able to react to changes in demand and in the competitive marketplace."
The SIA forecast came just hours before the closely watched mid-quarter update from Intel, which was due after stock markets close today. As the largest maker of chips, Intel is seen an important bellwether of demand for a range of technology and consumer electronics.