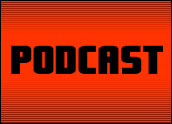 Technology has become the newest foundation of family values. According to a study by the Pew Internet and American Life Project, families that use technology tend to have better communication.
Where once they gathered 'round the old Westinghouse to listen to one of FDR's fireside chats, families now bond over YouTube videos. Kids no longer have the excuse that they weren't anywhere near a phone if they come home past curfew. That was one of my favorites, actually.
Here are some of the study's key findings: Nearly 90 percent of households surveyed owned several cell phones or mobile devices; 66 percent had high-speed broadband Web access; 42 percent of the surveyed parents used cell phones to stay in touch with their kids; and 52 percent of the families gathered around the PC screen several times a week.
Now if you'll excuse me, I'm off to check Grandma's Twitter feed.
---

Listen to the podcast (13:02 minutes).
---
For Inconvenient Truths
Nothing says "I care but forgot to send a card in the mail" more than an e-card. And nothing says "I might have given you an STD and now I'm afraid to face you" quite like an e-card from inSpot, a Web-based system developed by the nonprofit Internet Sexuality Information Services and the San Francisco Department of Public Health.
Now, this seems like a really good idea if you're legitimately worried about having shared a social disease, but the potential for abuse is mind-boggling. What a way to prank someone, if you're feeling especially cruel.
Or, as one commenter on our site suggested, it could be a way to gauge your partner's fidelity: Simply send one of these e-cards to your significant other and watch the reaction. Now that's cold.
The people who run InSpot say they've received very few complaints. In fact, nearly 49-thousand notices have gone out to 30-thousand people. Hold on while I do a little finger math, but I think that means that more than half of those recipients got more than one e-card.
Fun With X-Rays
You know how when you bite a Wint-o-Green Life Saver, it makes a spark? That's because of a phenomenon known as "triboluminescence" — the same trick of nature that creates a little light when you peel open the packaging on a Band-Aid.
Triboluminescence has another interesting function, besides making tiny lightning flashes. It kicks off X-rays — enough to actually produce a hospital-like image of a UCLA researcher's finger.
Now, before you go and wrap yourself in lead, don't worry. In order to work, the process has to take place in a vacuum — air makes the X-rays' strength deteriorate extremely fast.
So relax, and put down that tape dispenser.
Emergency Secrecy
Microsoft declared a security emergency and rushed out a patch for a flaw that exposes nearly all of the billion PCs running Windows operating systems to potentially serious hack attacks.
For example, someone exploiting the flaw could remotely install a hacked version of Windows that could monitor your keystrokes and look for credit card information on your PC. That data could then be used for illicit purposes.
We'd like to tell you a lot more about this dangerous security problem, but a funny thing happened on the way to the live Microsoft webcast explaining it all. Although we attempted to register several hours in advance of the scheduled show, we were shut out. No kidding.
Is it possible Microsoft doesn't have the bandwidth to accommodate all the press that want to attend its online events? We didn't think so, so we called the company's PR firm. Heidi Peterson over at Waggener Edstrom confirmed that Microsoft had barred the doors, and she refused to crack them open for us — well, really for the millions of readers we could have better informed. Way to go, Redmond.
Ballmer Pines for Yahoo
Only Steve Ballmer knows what Steve Ballmer really meant when he commented recently that Microsoft purchasing Yahoo would "still make economic sense."
It didn't take long before Microsoft's PR people began the backpedaling, saying that Microsoft has no interest in Yahoo anymore — really, none — and the two companies are not in talks.
Well, Ballmer sure is talking. And his comments got other people thinking that maybe this whole Microhoo thing isn't such a bad idea after all. Yahoo's share price is in the dumpster, online advertising is soft, Yahoo's ad agreement with Google still hasn't been approved, and Microsoft can't make a decent operating system. OK, that last one is just my observation, but you get the idea. Anyway, Yahoo rode the news to an increase in its share price and little else has been said since.
One thing's for sure, though: Steve Ballmer still has the gift of FUD.
A New Stream
Who buys Blu-ray players? Mostly people who don't mind paying top dollar to watch big-budget Hollywood releases on their giant, high-definition TVs, for which they also paid a pretty penny.
Living the Blu-ray life is not cheap, but a couple of new Blu-ray players from Samsung will offer a decidedly thriftier entertainment option — once you've already shelled out for the player, of course.
If they're hooked up to a broadband Internet connection, and if the owner happens to be a Netflix subscriber, they'll be able to play a limitless stream of videos from Netflix's somewhat limited online library. Netflix has made similar deals with other companies recently — the Xbox 360 will do this, a few LG players will do this, and Roku has made a small set-top box just for streaming Netflix online videos.
However, it all comes in at standard definition, not HD, and the catalog you can pick from is much smaller than the catalog of actual DVDs that Netflix will send you through the mail. Also, a large chunk of it is B-grade stuff — not that there's anything wrong with that. Still, Netflix sees a big future for online distribution, and they apparently figure best to make friends sooner rather than later.
Be My Friend?
Motorola is beginning to look like a company that was really cool all the way back in high school but hasn't done squat with itself ever since.
For a while, its Razr phone was the most stylish phone on the market, but once they started making it in shades of pink, you could kind of tell it was the beginning of the end. No problem — just come out with a strong follow-up, right?
Apparently that wasn't so easy. Motorola's offerings since then have fallen pretty flat. Nothing has escaped Razr's shadow — not even the Razr II.
That's why the company may be looking to the open source Android mobile operating system for salvation. It's reportedly trying to recruit an army of Android developers, and there are rumors a new Android-based smartphone will be built around the concept of social networking. That's nice, because if anyone needs a good friend, it's Motorola.
Shanghai Surprise
If you think Microsoft is out there every day fighting software piracy with everything it's got, well, you're mistaken. There's one day a year, apparently, when Microsoft really takes on piracy: Global Antipiracy Day.
This year, Microsoft marked the occasion by introducing Windows Genuine Advantage in China. Remember WGA? It's the same system that famously labeled hundreds of legitimate U.S. users as pirates a while back, and crippled their operating systems. Microsoft corrected that little bug.
This time, the vast majority of the pirates the system identified in China were most likely really using counterfeit versions of Windows, but the move nonetheless triggered a lot of indignation. One guy even filed a legal complaint, accusing Microsoft of hacking his computer.
Apparently, the Chinese don't take to kindly to invasiveness on the part of American corporations. They'll take a little spying from their own government, maybe — but not from Microsoft.
Crooked Halo
September's video game sales slump can be explained in one word: Halo.
The game "Halo 3" launched in September of '07, and it was a huge hit. September '08 had some decent releases, but none were blockbusters on the same scale, so what you got was a year-over-year dip. If you factor out "Halo 3," it would appear that sales have actually grown.
But to do that is to ignore reality and pretend something didn't happen — the fact of the matter is, September was the first time in over two years that the industry saw a year-over-year decrease. All three categories — consoles, games and accessories — took a hit.
The economy has spooked a lot of consumers, which could mean bad things for the upcoming holiday selling season. Still, it could be worse. The gaming industry is likely to feel less impact from the economy than other consumer industries, according to Michael Cai, an analyst with Parks Associates.
"Consumers still need to be entertained," he told us, "and if they decide to cut down on travel, that means more gaming hours at home."
Be a Jedi
With a long string of hit titles in the video game realm, the "Star Wars" franchise will soon move deeper into the world of massively multiplayer online PC games, in which thousands of players share a huge online environment. "Star Wars: The Old Republic" is set roughly 3,600 years before the events of the "Star Wars" films, so don't expect to rub shoulders with Luke, Leia and Han.
The game's timeframe is an as-yet unexplored period in the franchise's lore. That lets developers create a new realm for fans to discover. Players will be able to play as a Jedi, a Sith or a variety of other classic Star Wars characters.
They'll be able to define their own personal story and choose the light or dark side of the Force. Gamers will have the option to befriend companions who will fight at their side — or possibly betray them, depending on their actions in the game. Star Wars meets Survivor, I guess. The tribe has spoken. Put out your light saber and leave the galaxy immediately.
Paint With Google
Feeling like getting creative? Google has rolled out a new feature, canvas view, which lets you paint your own iGoogle home page — to an extent.
It basically lets you select and rearrange little gadgets, dropping them wherever you want. The gadgets are miniature, modular applications that provide news feeds, comics, Gmail access, games, weather, movie listings, that sort of thing — all in one handy place that you don't have to leave unless you really have a mind to.
The new iGoogle functionality allows you to access more than a little snippet of information — in some cases, quite a lot more. In the case of the New York Times gadget, for example, invoking canvas view gets you an entire front page of the electronic version.
Click on a headline, though, and you'll be taken directly to the New York Times Web site, where you can read the article that caught your eye.
Also in this week's podcast: Samsung stops trying to take SanDisk to the dance; eBay shows the elephants some love; Maybe the third time will be the charm for Lala.com.