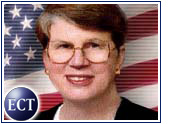 U.S. Attorney General Janet Reno said Thursday that the Department of Justice (DOJ) is in the process of selecting a panel of scientists and experts from a major university to scrutinize "Carnivore," the FBI's controversial e-mail surveillance system. The DOJ plans to make the panel's report on the system available to the public.
"The university review team will have total access to any information they need to conduct their review," Attorney General Janet Reno said at a news conference.
Heads Up
The head of the FBI's laboratory division will be part of the panel, as well as four DOJ officials, including its chief privacy officer and head of science and technology.
"As much as possible will be made public and we will get as much input from outside as possible," said U.S. Assistant Attorney General Steve Colgate.
Despite government assurances, privacy groups are protesting the review panel process.
"This is not a truly independent review," ACLU attorney Barry Steinhardt told reporters. "The fox doesn't get to choose who guards the henhouse."
Devil in the Details
Carnivore is an electronic surveillance system designed to help the FBI catch cyber-criminals. The DOJ claims the system is able to separate the e-mails of persons being criminally investigated and the e-mails of law abiding citizens. However, electronic privacy groups and other advocates say only the FBI truly knows the system's capability, and that Carnivore may violate privacy rights.
Even the Internet Service Providers (ISPs), who must allow the FBI to set up Carnivore on their networks, are being kept in the dark, advocates say.
Last month, the FBI told Congress that Carnivore has been used 25 times, involving 10 cases of national security and six domestic criminal cases. Since none of the cases have gone to trial, the details of the system have not been revealed.
Secret Code
The DOJ has already contacted the Massachusetts Institute of Technology, Purdue University and the University of California at San Diego about reviewing Carnivore. DOJ officials said they planned to talk with six more universities and hope to choose one to analyze Carnivore within 10 days.
After the academic examination is completed, a team of department officials will consult with privacy and law enforcement experts, as well as taking public comments into consideration, before making final recommendations to Reno by December 1st.
It is unlikely, however, the source code of the system will be made public because it is considered a trade secret owned by the company that wrote the software.
Systematic Review
The civil liberty groups protesting Carnivore maintain that widespread testing is the only way to fully understand the system.
The Electronic Privacy Information Center (EPIC) and the ACLU have called for the FBI to immediately stop using Carnivore while independent judiciary or Congressional committees study the question of whether Carnivore complies with the Fourth Amendment ban on unreasonable searches. After EPIC filed a Freedom of Information request to obtain records of the system, including its computer source code, the advocacy group went to court in early August to enforce the request. The court gave the FBI until August 16th to provide a timetable for turning over documents. "There is no substitute for a full and open public review of the Carnivore system," said EPIC attorney David Sobel, "The only way that the privacy questions can be resolved is for the FBI to release all relevant information, both legal and technical."