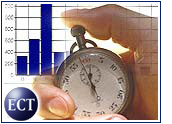 Continuing a raucous week in the online music sector, subscription music download service EMusic (Nasdaq: EMUS) announced Thursday that it has signed a non-binding letter of intent to be acquired by a "major publicly held media company," in an all-cash transaction worth approximately US$24 million.
Although Redwood City, California-based EMusic did not identify its potential suitor, there is speculation that one of the major record labels could be acquiring the company for integration into one of two subscription-based music services under development, Duet or MusicNet.
Whoever acquires EMusic will acquire a company with a wealth of experience in the digital download sector. Webnoize researcher Greg Rohda told the E-Commerce Times that EMusic would be a desirable candidate for the record labels because of its 10,000 paying customers, its deals with independent record labels, and its experience in offering legitimate digital downloads.
The Candidates
Rohda believes that Duet's backers, Sony and Vivendi Universal, could be behind the deal in the wake of plans for Duet to launch sometime this summer as a streaming music service. Eventually, Duet is set to evolve into a digital download service to rival Napster.
EMusic is "potentially a very good acquisition for Duet," according to Rohda, because it would give Duet immediate access to a digital download infrastructure.
Adding credence to this theory is a report in Thursday's Washington Post, citing unnamed sources as saying that Vivendi Universal plans to buy EMusic to launch Duet's subscription-based digital download service.
Plausible Alternatives
However, an acquisition by one of MusicNet's backers — AOL Time Warner, Bertelsmann AG, and EMI Group — is another possibility, according to Rohda. Such a move would give MusicNet, which was announced Monday as a subscription-based digital download service, access to EMusic's large catalog of music by independent labels.
"It would advance the percentage of content they can deliver," Rohda said.
Yahoo! is also a potential suitor, Rohda said. He pointed out that even though the Internet portal announced an "alliance" with Duet on Thursday to present and market Duet's services, the deal does not say that Duet will be integrated into Yahoo's service and does not preclude Yahoo! from offering other online subscription music services.
Bargain Play?
The proposed deal calls for the unidentified suitor to pay 57 cents for each share of EMusic stock.
EMusic said that it had agreed to a "short period of exclusive negotiations," during which it would not enter into discussions with any other potential suitors. The company also made it clear that it was not releasing any additional details until "a final outcome has been reached."
Brian Alger, an analyst with Pacific Growth Equities, believes that EMusic's potential buyer is getting a real bargain. He said that even though the company is currently trading at 31 cents per share, it ended the quarter with $10.9 million in cash on hand. Additionally, EMusic boasts increasing revenues from its subscription music services and has long-term exclusive deals with numerous independent record companies.
These deals could prove valuable in the "post-Napster" era, according to Alger, as could the Emusic's Rollingstone.com Web site and its exclusive license to use Rolling Stone cover art and images.
Preliminary Results
EMusic, which laid off about a third of its staff in January, also said that it expects to report revenues for the quarter ended March 31 of about $4.2 million.
Preliminary figures indicate that music revenues grew from $1.7 million in the prior quarter to $2.2 million, EMusic said. However, advertising revenue fell during the period from $3 million in the prior quarter to $2 million.
The company also reported that its subscription base had more than doubled in the past three months, growing from 4,500 at the end of December to the current 10,000.
EMusic said that it expects to receive a delisting notification from Nasdaq for failing to comply with the minimum bid price requirement, and that it has no assurance that the Nasdaq will grant the company's request for continued listing.
EMusic closed at 34 cents Thursday, up 13 cents.