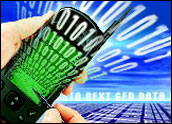 Wireless technology is everywhere. Consumers, professionals and businesses are finding they can no longer survive without having wireless access in some form or another — whether through PDAs, mobile phones, BlackBerries or laptops. One industry that really stands out when it comes to getting real value from advances in wireless technology is transportation.
While wireless applications in the form of GPS locators, satellite, RFID tagging and scanning have been used to manage inventory and long-haul trucking operations for some time, it is only recently that organizations with delivery fleets have been truly capitalizing on the technology's benefits.
Previously, fleet operators could only optimize their delivery operations and gain insight into activities on the road by purchasing proprietary technology, but even then, the processes were not ideal. Capturing information in the field may have entailed installing hardware devices in vehicles and using antiquated batch process to upload data. Since routing and tracking applications were generally not designed to operate in real-time, delivery plans could be outdated as soon as there was a truck breakdown, delivery delay, or a new order or pickup inserted into the schedule.
Operators have always known that the ability to capture data from the field in real-time could provide visibility across an entire delivery operation and greatly enhance the decision making process. Until wireless technology moved into the mainstream however, this level of functionality was unfortunately out of reach for most budgets, and the installations too complex to even consider.
An Evolving Wireless Market
With the pervasiveness of the Internet, the widespread availability and lower price point of wireless devices, and the intelligence of technology and applications supporting the logistics market, this is all changing. Wireless technology especially has played a huge role in bringing this about.
Whereas drivers reporting to the head office once reported intermittently (if at all) during the day using walkie-talkies or rudimentary cell phones, today's handheld devices not only facilitate voice communications with field service personnel and dispatch, many now provide a broad base of field data capture features that include web browsing, GPS, mapping technology, electronic signature capture and bar code scanning. Trucks themselves can be equipped with "black box" monitoring devices that automatically download detailed engine diagnostics and other vital information throughout the day.
The wireless part of the equation is not enough to drive the real business value however. The key to turning these capabilities into a viable business proposition for fleet operators has been the availability of Web-based, on demand logistics management solutions. Combined with today's wireless technology, these solutions can provide all the functionality of sophisticated in-house applications, at a fraction of the cost and in a fraction of the time. What operators have now is an incredibly powerful — and affordable — business tool for last mile delivery operations management.
Real-Time Information
With advances in technology, the fleet operators that once relied on call-ins from drivers and batch processing applications with very limited functionality can now monitor and manage their delivery processes in real-time. They can actually pinpoint the exact location of that couch that was ordered on the weekend at any time during the day and what time it will arrive at the customer's house. They know immediately if a delivery truck is taking longer than it should to reach a destination, and can immediately adjust routing schedules if a driver gets caught in a traffic jam or held up at a loading bay. They can collect real-time data and slice and dice it to compare performance by minute, by day or by month.
So what does all this capability mean in terms of business value and bottom line results? There is no question that the ability to communicate information in real-time can deliver significant benefits in terms of productivity, long-term planning and improved customer service.
When combined with on demand logistics management solutions, wireless technology drives value by reducing operating costs, improving customer service and decreasing complexity. Costs are reduced through better route economics (shorter drive times and fewer miles driven), improved driver performance (more stops in one day), service consistency, visibility into slack times and waiting times and reduced manual data entry. Drivers can input changes and exceptions directly into the wireless device and update delivery information in real time. This information can then be used by dispatchers to update delivery schedules and estimated times of arrival as these changes happen.
Customer service can be improved with more accurate delivery times, shorter delivery windows, proactive exception management and notification of order status based on real time information. Because services are Web-based, customers and/or call center personnel can simply log in to the site to find out the most up to date information on the delivery in question.
Complexity is reduced through the automation of manual and labor intensive processes, more accurate data capture, universal access to data from any person in the field or in the office and all the benefits of a hosted and managed environment. Devices can be configured to capture routine data for downloading to central operations, run multiple applications during delivery routes and be used to interact more effectively with customers.
Selecting the Right Wireless Device
Of course, not all wireless technologies are created equal. There are countless technologies available that offer varying levels of functionality. Deciding which device to deploy in the field is ultimately driven by application requirements, functionality and network compatibility.
Users must also consider the technology and applications that support these devices. A Web-based logistics management solution can often provide the fastest time to value, because it delivers full-featured logistics functionality on demand through a subscription-based model, while eliminating the cost of purchasing, integrating, maintaining and supporting in-house applications. A subscription model also means operators only pay for what they use, providing them with flexibility to meet seasonal needs.
The Bottom Line
The combination of wireless technologies with on demand logistics capabilities enables organizations to easily and affordably gain visibility into the entire delivery process — from sequencing routes for optimal efficiency and tracking drivers in real time, to analyzing and applying historical data to boost operational performance.
Because Web-based solutions can interact directly with wireless devices, they can easily be integrated with an existing technology infrastructure to provide easy access for multiple authorized users within the supply chain.
Improving last mile delivery is not just about getting the latest technology on board. It's about managing a business process. By combining the power of wireless technology with the flexibility and convenience of Web-based logistics applications, fleet operators can now make the last mile delivery as efficient as the rest of their supply chain operations.
---
Nicole German
is vice president of marketing for
Cube Route
, a leading provider of managed logistics services.
---