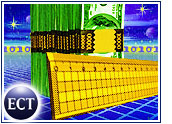 Buoyed by a rising stock market and a rash of mergers-and-acquisitions activity, venture capitalists seemed eager to back startups and fledgling companies in the first quarter, a trend observers say is poised to continue for the next three months.
In fact, investors even seemed eager to back emerging companies in the technology and Internet sectors in the first quarter. They funded scores of software companies and pumped cash into two startups whose sole business is to help people sell goods on eBay.
"We saw investors start to come back late in 2003, and there's a lot of evidence that they're continuing that trend," National Venture Capital Association president Mark Heesen told the E-Commerce Times. "There's better visibility for companies that are in the later stages, and that helps true startups as well."
Previously, many investors had taken to culling their portfolios and focusing on the companies best positioned to provide an exit in the mid- to near-term. But many first-round investments were announced in the first quarter. "First rounds are an expression of long-term optimism in a company and an idea," Heesen said.
The NVCA has not yet finished compiling data on the first quarter, but the funding news that is available from the first three months of 2004 seems to point to increasing optimism, following a strong fourth quarter of 2003 that saw funding reach an 18-month high.
Not only are fresh startups getting funding, but more venture firms seem to be dishing out funds again.
Turnover Driving Gains
PricewaterhouseCoopers global managing partner Tracy Lefteroff said the return of the stock market and the frantic pace of mergers and acquisitions helped spark a venture-funding resurgence by giving investors additional capital to work with.
For example, the first quarter saw a slew of venture-backed software firms scooped up by large tech companies, such as Hewlett-Packard and IBM. Each of those acquisitions represented a successful exit strategy for one or more early-stage investors, Lefteroff noted.
"That turnover at the other end helps to spur new investment," he said in an interview with the E-Commerce Times. "Having acquisitions and IPOs back in play just opens things up that much more."
The Big Draws
Venture capitalists said life sciences likely will remain the biggest draw for venture funds for some time, with nanotechnology viewed by many as an emerging sector that could overtake both traditional tech and biotech in the next few years. For now, though, software, hardware and Internet firms continue to draw their share of investments.
Some of the quarter's largest funding rounds included a whopping US$42 million doled out to e-mail security provider CipherTrust, with blue-chip investors Greylock and Battery Ventures leading the pack of firms backing the Alpharetta, Georgia-based company.
On the hardware side, one of the larger deals went to Open-Silicon, a semiconductor developer that landed $11 million from Norwest Venture Partners, Sequoia Capital and InterWest Partners.
Interwest partner Tom Rosch said the Open-Silicon investment was attractive because fabless semiconductor makers — those that do not operate their own chipmaking plants — help drive innovation in other sectors and because they are flexible and research-driven, enabling them to remain on the cutting edge of technology as it shifts.
"Fabless chipmakers have been cores engines of innovation," Rosch told the E-Commerce Times, adding that Open-Silicon's open-source approach will help ensure continued innovation.
Funding Roundup
Overall, funding during the quarter was broadly distributed. Highlights included:
Dueling funding for two firms that provide eBay-listing services. Both NuMarkets and Auction Drop won first-round funding from investors. NuMarkets, which intends to franchise its storefront drop-off idea acrossthe United States, did not disclose how much it raised, while Auction Drop pocketed $6.5 million from Silicon Valley stalwarts Mobius Ventures and Draper Associates.
Software remains a favorite target of investors. Boston-based CRM software maker Salesnet scored a $10 million second round during the quarter, while business process management software concern RulesPower landed a $6.7 million second round from Core Capital and Kodiak Venture Partners. True startup HomeSphere, which makes software for the homebuilding industry, landed a $1 million starter round.
Hardware and chip firms also got cash infusions. Colubris Networks, which makes wireless access hardware, landed $13 million, while fabless semiconductor maker Astute Networks closed a $15 million round aimed at bringing the company's product to market.
Telecommunications returned to the funding scene in a big way, with Seattle-based Speakeasy landing a $24 million round that it plans to use to expand the reach of its business-focused DSL services.
In Hong Kong, business-to-business portal Alibaba.com landed a whopping $82 million in funding from Web pioneer Softbank, among others.
Tomorrow's Blue Chips
Greg Stanger, who recently joined Technology Crossover Ventures after a lengthy stint at travel site Expedia, said he has seen the renewed optimism firsthand during the first quarter, especially in the Internet sector, which still is suffering from relatively paltry funding compared with other tech niches.
"We're coming across more competition for deals and seeing more people interested in deals in general," Stanger told the E-Commerce Times.
"The people who believe in the Internet and technology sectors know that there was a bubble and that there were a lot of pieces to be picked up," he said. "But they also know there are a lot of firms that are just starting out that are going to become tomorrow's blue-chip companies."