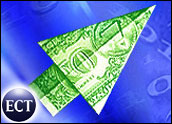 VeriSign (Nasdaq: VRSN) rose US$5.86 to $52.08 in morning trading Friday, after reporting a 526 percent year-over-year revenue increase and a jump in pro forma earnings for the first quarter ended March 31st.
Thomas Wiesel Partners reportedly upgraded VeriSign, an Internet security software provider and registrar of domain names, to strong buy from buy after the report.
VeriSign also said that directors authorized the repurchase of up to $350 million of common stock in the open market.
"Under current market conditions, we have an opportunity to buy back our shares at what we believe are attractive levels," Sclavos said. "Our current strong cash position allows us to implement this repurchase program without adversely impacting our internal investment plans."
VeriSign shares are down from a 52-week high of $214.38, set in September. The shares have rallied during the past few weeks, and have nearly doubled their 52-week low of $26.25.
Some of the repurchased shares will be used for employee benefit plans and the rest will be available for general corporate purposes, the company said.
The Mountain View, California-based company said that revenue for the quarter rose to $213.4 million from $34.1 million in the same period last year.
Pro forma income, which excludes amortization and other charges, rose to $48.6 million, or 23 cents per share, from $2.2 million, or 2 cents. The company posted a net loss, however, of $1.4 billion, or $6.90 per share, compared with a loss of $26.16 million, or 24 cents, a year earlier.
President and chief executive officer Stratton Sclavos said that the results "underscore the continued demand we are seeing for our services, and demonstrate the underlying power of our financial model" in the face of declining information-technology spending.
Sclavos said that VeriSign is "well positioned" to continue growing in the current year.