Verizon Wireless on Tuesday introduced a new family of Droid smartphones including the Droid Mini, Droid Ultra and Droid Maxx. All three handsets are being produced by Motorola as part of a new exclusivity deal.
With this partnership, Motorola Mobility will be the only smartphone manufacturer to produce handsets under the "Droid" moniker.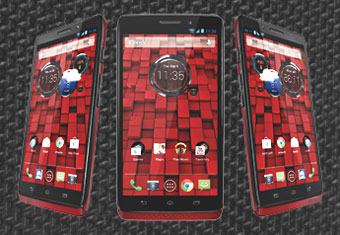 That's actually a recommitment between the two partners, which worked together to bring out the original Droid smartphone. That device, in turn, helped push Google's Android mobile operating system into the mainstream.
Other handset makers have stepped up since then with offerings under the Droid name, which is actually a Verizon franchise. With this deal, however, Motorola Mobility — now owned by Google — will be the sole maker of the licensed brand.
Neither Motorola Mobility nor Verizon responded to our request for further details.
A Trio of Droids
Instead of releasing the latest Droid device, Verizon and Motorola instead opted to introduce three handsets, beginning with the five-inch Droid Ultra, which the carrier touted as being the thinnest 4G LTE smartphone to date, at just 0.28 inches thick.
The Maxx steps up a bit in size and is 0.33 inches thick, but it also offers a battery that can last for 48 hours, the companies say.
The Mini, meanwhile, brings things down with a 4.3-inch screen — much like that of the recently revealed HTC One Mini.
All three offer a display resolution of 1,280 x 720 pixels. The Ultra and Maxx each offer a Super AMOLED screen, while the Mini utilizes a more standard TFT LCD screen.
The three new devices will all be built around the Droid Command Center, which is a Verizon-exclusive home-screen widget that allows users to get quick and easy access to notifications for text messages, missed calls, battery level and even weather.
It further can serve as a gateway to new features, such as the Wireless Display that can stream content from a compatible HDTV as well as offering options to play games and even browse the Web.
Staying Active
To ensure that the devices won't run out of juice, the new handsets will offer a new Active Notifications feature that will flash a notification on only part of the screen. Users can also take advantage of Touchless Controls and Active Display to make calls, send texts, get directions, play music or even preview notifications hands free without having to unlock the device.
All three devices feature the new Motorola-designed system-on-a-chip (SoC), which Motorola claims is 24 percent faster than last year's model while offering 100 percent better graphics performance.
The three devices feature a DuPont Kevlar fiber unibody design and are now available for preorder. The Droid Ultra and Droid Maxx will arrive at retail on August 20 for US$199.99 and $299.99, respectively, while the Droid Mini will arrive on August 29 for $99.99; all will involve a two-year contract.
What's in a Name?
Historically, Verizon has been exclusive to Verizon but not to Motorola. With this deal, that will change.
"These Motorola Android devices are updates to the existing models at Verizon," Roger Entner, principal analyst at Recon Analytics, told the E-Commerce Times. "The exclusive partnership means that only Motorola will build Droid phones going forward. This will help Motorola as the brand strength of Droid is exclusively behind them."
Indeed, "Droid is actually a Verizon exclusive for the name, as the brand was licensed from LucasArts and now is licensed from Disney," Wayne Lam, senior analyst for mobile at IHS iSuppli, told the E-Commerce Times. "It started with Motorola, but there have been Droid devices from HTC and Samsung.
"What we are now seeing is a refresh from what was introduced last year," Lam added.
The bigger news, though, is that the design that Motorola has worked on is its own processor, he added.
"They aren't using Samsung or Qualcomm chips with these devices, so that means more efficient cores doing some of the processing so not running down the battery," Lam added.
Brand Identity or Brand Confusion
Verizon Wireless and Motorola "have always had an exclusive agreement of sorts," telecommunications analyst Jeff Kagan told the E-Commerce Times. "Today's announcement of new Droid devices is just the next step in that process. What is new is that Google acquired Motorola and will be introducing the new Moto X next week."
Indeed, "this is setting up for the Moto X design," Lam suggested. "This is really embarking in a new direction for usage with Android. This gives the market a clear direction where Google is going with Motorola as its manufacturing arm, and where it wants to take the platform."
Meanwhile, it will be interesting to see how Motorola handles the potential brand confusion, Kagan noted.
That, in turn, "depends how Google and Motorola position it," said Kagan. "This is brand-new for us since we have no past experience on how a Google Motorola does things. It sounds like Droid phones will be Verizon-only and the Moto X phones will be for all carriers.
"Will they have similar features or will they be completely different devices with different features?" Kagan mused. "There are many questions and few answers today. We'll just have to wait and see."