Frequency Tunes Out the Noise When Tuning In to Videos
MacNewsWorld
Frequency is an iOS app available free in the iTunes App Store.
One of the most irritating things about enjoying videos, movies and TV shows online is the sheer number of places you must navigate to in order to get the content.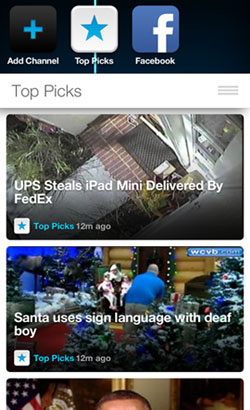 Frequency gives you access to videos you may not otherwise have found.
Each of the major television networks has its own channel, some of which serve up some full episodes some of the time, while others just serve up teaser clips and ongoing snippets, like the opening monologues for "The Late Late Show with Craig Ferguson."
Plus, each of these networks and channels and publishing units often have their own apps, too.
So I can use the ABC app to watch an episode of "Castle," but not all episodes. To watch an episode of "NCIS," I can use the TV.com app, but again, not all episodes.
If I'm late to the party, I can miss an opportunity to see a full episode as it's pushed out by a new one or a rerun or something in some way I can't keep track of.
When I saw that Frequency was updated in December, was highlighted by Apple in the App Store, boasts a 4.5 star user rating, and promised to find, organize, and deliver all the video I care about, I knew I had to take a closer look.
Land of 1,000 Channels
What is Frequency, anyway? On one level, Frequency is an app that funnels all sorts of videos into Categories and Channels to help you discover and view video content from all over the Web.
Categories include Nature; News or Space, while Channels include BBC Earth; CNN and NOVA. To find content, you can choose to let Frequency serve up its featured list of channels or channels that are going viral and trending up. You also can set up social channels, which is where you can connect Frequency to your Facebook, Twitter, or YouTube accounts and get access to videos the social networks are recommending or those you follow. If you don't care what your Facebook friends are recommending, for example, you don't have to connect it and Frequency still works great.
At first glance, there are a lot of fantastic channels. There's top brand name channels that come from National Geographic, Animal Planet, Discovery Networks, ABC, CBS, NBC, FOX, Showtime, HBO, Comedy Central, and lots more. A closer look brings you more esoteric channels like GoPro Camera, which features extreme sports videos taken with mountable GoPro cameras. Or like Red Bull Sports, which is action sports clips brought to you by the folks behind the caffeinated energy drink.
What I appreciate most about Frequency is that it lets me subscribe to channels like the these unusual channels, as well as others I wouldn't normally take the time to find online, and still get them all in one place, easily. If I really like a channel and want to come back to it again and again, there's a cool "tuner bar" at the top of the app. If you tap one of the Add Channel buttons, that channel will appear on the tuner bar, which is horizontal and flickable.
Hey, Where's NCIS? And Castle?
While Frequency is close to all-out awesomeness, it falls short of its promise to bring the best of everything to you on your iPad or iPhone. For instance, while major networks like ABC and CBS offer full episodes online when viewed from a Web browser, Frequency does not bring those episodes to you in the app. This was a major disappointment to me. The Frequency description in the App Store implied that it could take all sorts of online videos and deliver them through the app. Instead, what you get is a lot of short-form videos, a lot of clips, a lot of sketches.
To get the full episodes -- even if they are free online -- you'll still have to go to the apps of the current rights holders to view them on your iPad. You'll still have to navigate online via a browser. You'll still have to buy them in iTunes or find them on Netflix or Amazon Prime or Hulu.
While you're still stewing over this disappointing turn of events, note that there's also no search feature. So if you saw a funny video on YouTube and you remember some key search terms for it, good luck finding it in Frequency.
Mostly Awesome
Aside from the very obvious full-episode major network disappointment, all is not a bunch of crud. Frequency truly does deliver access to some great video content -- in addition to the pithy humor clips that are rampant online these days.
If you take a view days browsing through the Top Picks feature, I can almost guarantee that you'll find a few channels that you forgot about or never heard of. If you add them to your tuner bar, they'll be there for you in the future.
For example, I stumbled across "This Is The End Red Band Trailer #1 (2013)" In this video, which was on YouTube, Seth Rogen and James Franco created a funny video clip from Franco's bunker "because the Mayans said the world was going to end."
It's not for the office environment, though, and the clip, which includes a trailer from their 2013 "This Is The End" movie, is full of bad-four letter words. So even if you do like crass humor, don't find and play the video in your office.
The point is, I enjoyed the clip and would not have likely noticed it online while I go about my usual day. I found it through Frequency.
Another great feature is the ability to save a video clip to your Favorites or Watch Later channel. If you're like me, if you find something great, you'll want to share it or return to it later. Of course, you can share videos via integration with Facebook, Twitter, or with old-school email.
Bottom line? If you want a good way to collect and browse a lot of the web's best video clips from professionals and amateurs alike, Frequency is worth taking the time to learn and use.

---