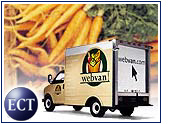 Webvan Group, Inc. (Nasdaq: WBVN) has reported that its aggressive expansion plan resulted in steeper losses for the second quarter when compared with a year earlier, even as revenue surged.
The online grocer, which has been investing heavily to expand into new markets and products, reported a pro forma loss before items of $57.1 million (US$), or 17 cents per share, compared with a pro forma loss of $17.39 million, or 7 cents, in the same quarter of 1999. Analysts were expecting the company to lose 16 cents, before items, in the latest quarter.
The company posted a net loss of $74.37 million, or 23 cents per share.
Revenue, Accounts Rise
Revenue rose to $28.3 million, up from $383,000 a year earlier and $16.23 million in the first quarter. Active customer accounts totaled more than 160,000, up from 87,000 at the close of the first quarter, with repeat orders accounting for 76 percent of the total.
Webvan President and Chief Executive Officer George T. Shaheen said he is "very pleased" with the results. "We showed substantial improvement across all our key performance metrics," he said.
Webvan on the Move
Webvan has been expanding geographically, with new service in Atlanta, Georgia and Sacramento, California, and plans to enter the Chicago market on August 1st. The company is also wrapping up an agreement to acquire rival HomeGrocer.com (Nasdaq: HOMG) for about $1 billion in stock.
The company is also positioning itself to compete with Amazon.com (Nasdaq: AMZN) and other broadline e-tailers by expanding its product line to include housewares, flowers, consumer electronics, movies and CDs, in addition to books, magazines and other non-grocery items.
Goldman Repeats Recommendation
Goldman Sachs analyst Anthony Noto, citing "another strong quarter," reiterated Webvan's position on the firm's "recommended list."
About 25 percent of all orders include at least one non-grocery item, "indicating that Webvan's strategy to own the 'last mile' and provide products beyond groceries is working," Noto wrote in a research note.
Still, like most e-tailers, Webvan is a long way from profitability. Officials on a conference call said they expect a loss of 20 to 21 cents per share for the third quarter, according to Noto.
Shares are well below their 52-week high of 34, reached last November. The Q2 results, released after the close of trading Thursday, fueled a decline in the stock in after-hours trading.
HomeGrocer Beats Estimates
HomeGrocer, meanwhile, reported a second quarter loss before items of $50.2 million, or 43 cents per share, beating analysts' expectations of a 44-cent loss. Revenue totaled $29.8 million, up from $3.4 million a year earlier.
HomeGrocer, based in Kirkland, Washington, also entered new markets during the quarter. The company began serving customers in Dallas, Texas and San Diego, California in May, with initial results for the new markets emerging as "the strongest we've achieved to date at any of HomeGrocer.com's new facilities," according to Chairman and Chief Executive Officer Mary Alice Taylor.
"Strong demand in those markets has prompted the company to buy additional trucks and hire additional employees to support the rapid growth," Taylor added.
Webvan said it had $410 million in cash at the end of the quarter, which Goldman Sachs' Noto believes will allow the company to operate through the second or third quarter of next year. While the HomeGrocer acquisition will strengthen the company's balance sheet, Webvan will need to raise another $275 million to finance its expansion plans in coming years, Noto said.