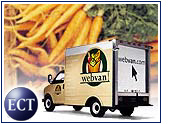 Online grocer Webvan Group, Inc. (Nasdaq: WBVN) reported a wider-than-expected loss for the third quarter Wednesday, as the company took steps to consolidate the operations of newly acquired HomeGrocer.com.
Webvan said it had a pro forma loss — excluding accounting adjustments — of $120.2 million (US$), or 26 cents per share, on revenue of $87.4 million. Analysts' consensus forecast for the combined company was 29 cents per share, Webvan said. The company did not provide year-earlier results.
The HomeGrocer acquisition, completed last month, resulted in a $40.8 million restructuring charge. In addition, about $919 million in goodwill is being amortized over five years.
Shares Sink
Webvan shares were down 1/2 at 1 1/16 early Thursday. The stock is down from a high of 34, set last November.
Analysts at both Robertson Stephens and U.S. Bancorp Piper Jaffray reportedly downgraded Webvan after the earnings report, with Robertson cutting its rating to long-term attractive from buy and U.S. Bancorp moving to sell from hold.
Webvan said it had cash of $376.9 million on hand at the end of the quarter, which chairman and chief executive officer George T. Shaheen termed "strong."
Growth in 'Key Metrics'
Shaheen said the company "experienced growth in all key metrics." Combined active customer accounts as of September 30th totaled more than 524,000, up from 338,000 at the end of the second quarter, the company said. The average order size during the latest quarter was $103, with repeat orders accounting for 75 percent of total orders.
"In this period, more than 185,000 new customers elected to free themselves from the hassles of bricks and mortar stores and shopped online with Webvan," Shaheen said.
The HomeGrocer acquisition makes Webvan the largest e-tailer in the personalized delivery business, Shaheen claimed. "The combination of our two companies marked the beginning of a new era for Webvan," he said, adding that the company's "near-term energies" will be directed toward "integration into a single brand operating with a common technology platform."
Eye on Profits
"We will also maintain a steadfast concentration on the profitability goals we have set for our ten markets across the United States," Shaheen said.
Webvan expanded its offerings during the quarter, adding more health and beauty products, ethnic and specialty foods, a wider selection of books, music and movies, and new personal electronics devices including Palm handheld computers and Sony PlayStations.
The company has also expanded its geographic reach, opening a Chicago service in August. However, last month Webvan delayed its planned entry into the Baltimore-Washington and northern New Jersey markets in order to complete the integration with HomeGrocer operations in existing markets.
Webvan said its business-to-business program, [email protected], "continued to show solid growth" in the third quarter, doubling its customer base over the previous quarter.