It's amazing to me how we overuse words. Bothering to notice is an occupational hazard of the writing life, I suppose. For instance, consider the word "unique," which means one of a kind. If you add "very" or any other modifier to it, you get mush.
Today's word might be "amazing." There is entirely too much use of "amazing," in my opinion, but curiously, Dreamforce last Wednesday was an amazing day and I say that without hesitation or irony.
On Day Two of Dreamforce, the company introduced two new clouds, which is becoming one of its new favorite product words — another would be "force," though I suspect at this point that Microsoft has had enough of it by now. The new clouds are for IT service desk in a creative partnership between BMC, which ported its leading help desk product, Remedy, to Force.com; and Heroku, a Ruby on Rails application platform. That brings the total number of platforms to eight, and if you are keeping score at home they are: Sales, Service, RemedyForce, Jigsaw, Chatter, Force.com, Database.com, Heroku.
Salesforce.com Growing Up
What's interesting to me about this is that there is a rough division between business applications and platform technology. I had thought that this Dreamforce would focus on business applications because Chatter has been a big success for the company.
But applications were for Day One, and while Chatter received its due, it really was the second story of the conference. The top-line stories were all about foundation technology, and they show a maturation of Salesforce as a technology company that supplies the enterprise with some very sophisticated and interesting tools.
In hindsight, announcing Database.com on Day One was a dead giveaway that Day Two would bring some kind of developer news.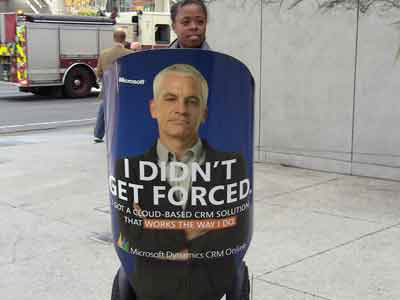 Salesforce's rivals were also in attendance at Dreamforce.
After all, a database is only valuable when you can write applications against it. So a logical announcement could have included some new alliance with a company like VMware, but that's been done before.
Instead, Salesforce simply announced the intent to buy Heroku, a development platform for Ruby on Rails that will be especially useful for quickly developing and deploying mobile and Web applications.
Marc and Me
So now Salesforce is a company offering a robust suite of cloud-based applications that support front-office business processes, and it is a company that provides tools that enable developers and ISVs to build advanced applications for the Web, mobile devices and the cloud. This takes me back about five years to a conversation I had with CEO Marc Benioff about S-force, the progenitor of Force.com and the company's initial foray into opening up its tools to enable developers to customize the Salesforce application.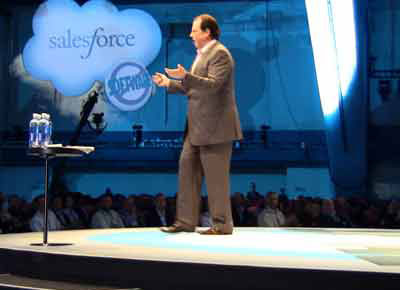 "Systems guy" and Salesforce CEO Marc Benioff
I told Benioff then that I thought the platform business would some day eclipse the application business in revenues. That obviously pleased him, but his limited response was to give a wry smile and say, "Well, I am a systems guy." So the systems guy is returning to his roots, and his company is delivering some very interesting technology that will continue to bend the price curve, making advanced information processing more accessible to many more business users around the world.
The subtext of these announcements is worth a comment too. More than at any other time, Salesforce has embarked on an effort to deliver to its customers not only powerful and flexible tools, but it has also made a big deal of openness and standards, two attributes that it simply has to offer if it wants to succeed in the enterprise. I heard this message from Marc as well as Parker Harris, George Hu, Kendall Collins, Bret Queener and anyone else I spoke with.
Denis Pombriant interviewed by John Taschek at Dreamforce.
Of Clouds and Forces
Nonetheless, if you look at the now eight clouds you are likely to miss — or underestimate — the reach of the Salesforce solution set. The naming of all products is not stable yet and some things are called "clouds" while others are "Forces," but leaving this aside, consider the following developer environments that have either been delivered already or announced for delivery in 2011.
Force.com: Plain vanilla application development for the Salesforce platform, buy it now.
SiteForce: Website development tools, WYSIWYG, available around mid-year 2011.
VMForce: enterprise Java development, GA next year.
Heroku: Ruby application development, available next year.
RemedyForce: IT service desk running on the Salesforce platform, buy it now.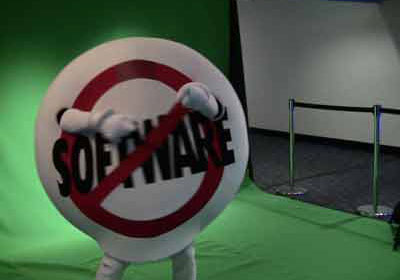 Salesforce's dancing logo
That's a lot, and it neatly aligns Salesforce's new products against Microsoft's database and development tools. Salesforce and Benioff see some obvious weakness in the Microsoft offerings because, although they have been made cloud resident through Azure and CRM friendly through Dynamics, Benioff is clearly positioning his company as the new alternative to not only old technology but old fashioned (read, software licensing) business processes.
The comparison may not be letter perfect, but as we saw this week, it's all about perception, and right now the market perceives Salesforce as a leader in many areas.
---
Denis Pombriant
is the managing principal of the
Beagle Research Group
, a CRM market research firm and consultancy. Pombriant's research concentrates on evolving product ideas and emerging companies in the sales, marketing and call center disciplines. His research is freely distributed through a blog and
Web site
. He is the author of
Hello, Ladies! Dispatches from the Social CRM Frontier
and can be reached at
[email protected]
.