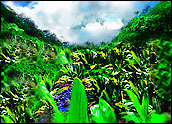 Earlier this month, researchers published a report in Science magazine discussing global forest coverage, and supplementing their findings was a first-of-its-kind interactive mapping tool that was created in partnership with Google.
In this TechNewsWorld podcast, we discuss the research, the findings and the use of cutting-edge technology with the study's lead author, Matthew Hansen, a geographer at the University of Maryland. Hansen talks about how Google's computer power enabled the endeavor and how online videos and user-friendly mapping tools helped turn a paper on deforestation into a widely covered tech news story.
Here are some snippets from the podcast.
---

Listen to the podcast (14:00 minutes).
---
TechNewsWorld: One thing that's really interesting about your research and the publication in Science magazine is the reach that it's had across a variety of really prominent media. The BBC has had an article about this; Slate.com; The Christian Science Monitor; The Weather Channel; Wired UK has had an article. It's interesting that research about deforestation was able to reach such a wide audience and such a tech-savvy audience, too, if you look at some of the different outlets covering it.
Would you attribute this really great coverage you've gotten to the interactive nature of data? Do you think that this is kind of something that you've been able to tap into by not simply publishing a bunch of information but by making it something that people can kind of toy around with?
Matthew Hansen: One hundred percent. It's kind of an epiphany, really. You're exactly right. I think this is the future mode of science — I hope. You can make your data accessible and interpretable to the highest degree possible. And that's really what this is. If you like looking at atlases — you can be a lay person and get these patterns and understand these things in the image. So it's very accessible. It's taking Google Earth, those types of images, and turning it into a biophysical estimation, and people get it.
I love it — the way you can toggle between different themes, the image itself. It's just great. So I agree with that. The cloud computing aspect, the visualization aspect, opens up a lot of those tech publications. The topic itself is important to science, to global climate change and biodiversity, so there's a lot of that side that gets picked up, obviously, and general interest. So yeah, it has a lot of appeal to different segments.
TNW: Do you think that scientists of all stripes should be doing more to make their research more engaging? Collaborating with Google, for example, or I know you have a good, short, embeddable video that has popped up on a variety of different outlets. These are very new-aged things when it comes to the scientific community — they probably don't think, "Oh, we should have an embeddable video" — but do you think that this should kind of be the new way of thinking?
Hansen: That's a good question. I mean, you don't want to be salesman. We don't try to push too hard. Even talking to the media, our nature is to be reserved; we don't win too many debates. I think there is maybe a downside to that.
But if you can communicate your results and not seem like an advocate, I think that's really helpful in getting out the results. I think scientists do need to do more of that, paying attention to the idea that you're not selling something. My line with this product is exactly that: We're not environmentalists; we're not loggers. This is value-free data — if you're a tree-hugger, you can use it to save the forests; if you're a logger, you can use it to find a tree. Just to kind of build on that idea that we're not advocating anything — we're just showing something in a neutral way.
I like it. More important than just communicating through different media is the data itself. People can look at it; they're going to have access to the data as well. I think scientists in general hold onto their data because it took so much effort and time and whatever to build it. A lot of times we don't share our data. And I understand that; I'm not going to judge people. But to the degree to which we can share data — and not just the paper, not just the communications, but the actual results — that's empowering, too. That will be enabling a lot of other science and engaging a lot of the people in your product. I think there's more upside to sharing than otherwise.