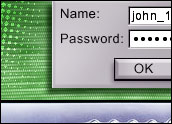 A University of Cambridge researcher has produced the world's largest-ever study of password security, according to New Scientist.
The study, carried out by Joseph Bonneau, analyzed the passwords of almost 70 million Yahoo users. Bonneau then calculated password strength and broke down his findings into different demographics, including age and nationality.
Germans and Koreans have the strongest passwords, according to the study, and Indonesians generally had the weakest. In addition, those over the age of 55 have stronger passwords than their younger counterparts.
Exploring the Threat of Cyberweapons
Eugene Kaspersky, founder of the Russia-based Kaspersky Lab, which discovered the recent Flame virus in the Middle East, is among those quoted in a New York Times article discussing the emergence of cyberweapons as a global threat.
A swelling list of nations and organizations are using cyberweapons, according to the report. As such, Kaspersky proposes an international treaty that would ban militaries and spy agencies from devising such weapons. This proposal was echoed by Russia's minister of telecommunications, who last month also called for an international treaty banning cyberweapons.
The U.S. objects to such a treaty, according to the article. Russia is merely trying to undermine what it takes to be a U.S. military advantage, according to a senior fellow at the Center for Strategic and International Studies who was quoted in the report.
Red Cards for Tweeting
European national soccer team coaches have started issuing edicts on whether or not their players can use social media during the upcoming UEFA European Championship, or "Euro 2012."
The competition, which is held every four years, has inspired different coaches to take different tacks with their teams.
While he is on record saying social media sites like Twitter and Facebook are "dangerous," German coach Joachim Low said that he will allow his team to use them during the competition, according to this Goal.com article. Ireland, too, will allow its players to tweet.
Not all coaches are so lax, however. Denmark and defending champ Spain have each enacted Twitter bans for the duration of the tournament.
The tournament starts this weekend.
Western Media Discuss Chinese Social Media
Monday is the 23rd anniversary of the climax of the Tiananmen Square protests in Beijing, a saga that left hundreds — if not thousands — of Chinese people dead.
While China's Internet censors have for years expunged search results relating to Tiananmen Square, the issue is getting heightened scrutiny today, both from Chinese authorities and Western media.
The BBC is among several news sites to run content detailing the myriad phrases being flagged today. Among them: "six four" (the date), "23" (the anniversary), "candle" and "never forget." It's not that these terms are blocked, per se, but rather that they return no information about the event, according to the BBC.
The Guardian, too, had an article about how Chinese censors were putting in overtime on Monday. Users of Sina Weibo, which is similar to Twitter, were shown messages that said search results couldn't be displayed because of "relevant laws, regulations and policies," according to The Guardian.
Lenovo May Produce Parts in Germany
Chinese electronics producer Lenovo might start producing computer parts in Germany, according to an article from Market Watch.
Last year Lenovo acquired German electronics producer Medion AG. The move has apparently prompted Lenovo to explore whether or not it could produce parts at the Medion plant the eastern state of Thuringia.
Lenovo is expected to make a decision this summer.
Lenovo's share in the PC market continues to rise, as does the company's global reach. It recently became the top dog in Indian's PC market and announced last month that they are looking at acquisitions in Brazil.