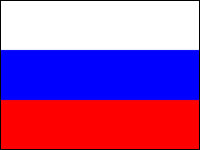 Websites and human rights advocates were quick to criticize a proposed law in Russia that would grant the government wide-ranging powers to restrict Internet content, according to The New York Times.
Among those protesting the law was Wikipedia, which on Tuesday shut down its Russian website and posted a message decrying Russia's proposal as "extrajudicial censorship." Wikipedia staged a similar protest earlier this year when it took its English-language site offline to protest proposed antipiracy legislation in the U.S.
Other protests against the Russian proposal came from Yandex, a Russian search engine, and LiveJournal, a heavily trafficked blogging site.
The proposal, according to the Times, is part of Russia's broad efforts to thwart opposition to Vladimir Putin, who was inaugurated as president in May. With the Russian government's control over television and print media, the Internet has increasingly become a venue for public discussion, according to the report.
New iPad to Land in China
Apple announced that it will release the newest iPad in China on July 20, according to The Wall Street Journal.
Even though China is Apple's second-biggest market, the company didn't release its newest iPad there when the device was made available to the rest of the world several months ago. Apple declined to explain the slow release, but the timing is either coincidental or strategic: Last week, Apple and China-based Proview International Holdings settled an IP claim over the "iPad" name. The US$60 million settlement gives Apple rights to "iPad" in China, which Proview had contested.
Apple's past product releases in China have caused some drama. In January, for instance, Apple suspended sales of its iPhone 4S at its stores when a mob began chucking eggs at a Beijing Apple Store after learning the store had sold out of units. In May 2011, there was a fight at an Apple Store over the just-released iPhone.
Apple began selling its new, third-generation iPad in the U.S. in March.
Large Latte, Extra Phone
Starbucks released a new version of Starbucks for Android in the UK and Canada, according to Venture Beat .
The app allows customers to pay using their mobile devices by scanning a unique barcode. Starbucks released the app for UK iPhone users earlier this year, but this is the first such app for Android users.
The app was first launched in the U.S. in January 2011. As a sign of the fast-moving world of mobile devices, the launch was only for iPhones — and BlackBerries.
Kim Dotcom Case Gets Weirder Yet
Megaupload founder Kim Dotcom, currently in New Zealand but facing extradition to the U.S., offered a deal to American authorities, according to the New Zealand Herald.
Dotcom told U.S. authorities that he would travel to the U.S. on his own if authorities unfroze his assets, which range in the millions.
Dotcom's offer — made via Twitter — comes one day after his extradition hearing, which was scheduled for August, was pushed back until March of next year.
Dotcom is quoted by the Herald saying that he has accrued millions of dollars in legal fees but has not been able to pay any of it because his money is frozen. The delay in the extradition hearing is an attempt to hang him out to dry, he said.
China's Firewall Gets Higher
China has passed censorship rules that will require websites to pre-screen all videos, according to The Register .
The new regulations stipulate that site administrators must "self-censor" materials that include violence, foul language and pornography, according to report.
There are no specific guidelines for what content should be removed. This, according to The Register, is a way of allowing censors to nix anything they don't want or don't like.
The move could have drastic financial implications on domestic websites with limited resources, according to the BBC.