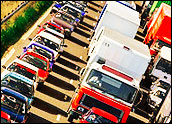 In the 1980s, auto manufacturers began using simple computers called the "engine control unit," or ECU, to monitor and regulate such things as fuel mixture and spark plug timing. Since then, a cottage industry has developed around hardware and software to bypass, tinker with or replace this system. A significant chunk of the players in this space use open source software, which cuts down on costs and improves the development process.
Open source usage in the automotive industry is small but growing. This cottage industry is thriving among hard-core car buffs and open source zealots. However, the mainstream automotive industry has shown little interest in revamping traditional proprietary platforms or replacing them with a full line of open source alternatives.
Car geeks have begun to incorporate other on-board computing functions into their tinkering, such as audio-video controls and on-board Internet interfaces. Products are available that replace some of the engine control units and fuel injection systems with hardware driven by open source. Their use, though, is strictly aftermarket and experimental. The car owner using them bears all of the responsibility for installing them and getting them to work.
"Despite various efforts over the past couple of years, open source software has yet to make much headway into on-board automotive computing," David "Lefty" Schlesinger, director of open source technologies for Access Systems America, told LinuxInsider. The company provides software solutions for mobile beyond the PC uses. "That said," he continued, "Access views this as a key area for development."
What's On Board
The automotive industry grew up without the involvement of the Linux operating system or open source products. Instead, engineers developed systems that met the needs of their own product lines.
"Many manufacturers are using proprietary systems. Linux is the newcomer. It has not been around long enough. It needs a large shift for the auto industry to more openly accept Linux in these areas," Peter Schulmeyer, director of strategy and microcontroller solutions for Freescale Semiconductor, told LinuxInsider.
Many car makers are using standards based on the evolving AutoStar and OSEK OS (Open Systems and their Interfaces for the Electronics in Motor Vehicles), which was developed 10 years ago, he said. The industry is not yet seeing Linux as stable enough to be used more extensively.
In addition, automakers use 70 or more separate electronic control units in a typical car today. Each one uses its own code for separate functions, according to Wayne Chavez, Automotive MCU product enablement manager at Freescale Semiconductor.
"Linux is a good fit for some of these systems but not all of them. There are lots of control jobs that Linux is not needed for. Why spend money to put in a larger OS like Linux? It doesn't make sense," Chavez told LinuxInsider.
Fitting In Linux
The automotive industry is huge, and different sectors have different needs. Linux just is not good fit for things like the antilock braking systems (ABS), window lift controls and other control functions, Schulmeyer noted.
However, Linux and other open source products are already making contributions to onboard computing. In fact, a growing use of Linux is reaching trend status.
"Linux is nested in the consumer stack in three areas: Informatics, telemetric and navigation. These services are largely based on the Linux platform," Schlesinger said.
Eventually, Linux and its open source cousins will find a more plentiful role as car makers flesh out their vehicles with more high-tech features and engine controls. But it will take time.
"We see Linux fading in for consumers but not for control for another five to seven years. It may take even longer," Schulmeyer predicted.
Linux to Go
Freescale has already developed a comprehensive Linux OS for car makers. Automotive Grade Linux (AGL) is a real-time operating system based on the Linux 2.6 kernel. It offers a Linux software solution to the automotive industry.
The company uses an enhanced Linux kernel to meet automotive performance specifications. This product gives automotive developers a Linux-based alternative to expensive, proprietary based software. It provides a full standards-based platform for royalty-free distribution.
Automotive Grade Linux technology is available with Freescale's MPC5200 Board Support Package (BSP), which serves the processing-intensive audio jukebox automotive market. All AGL Patches are open source software with the source code patches included in the BSP.
Familiar Path
Some open source developers looking at the automotive market see Linux and open source following a much-traveled foreign developmental path. Consider the growth of Linux in the mobile phone market.
The automotive industry is following a development path similar to that of mobile phones, according to Schlesinger. Initially, all cell phones ran idiosyncratic, proprietary software.
Then systems became more complex. Consumers wanted their products to be always connected. So it got to be less feasible for organizations to write all the necessary code themselves. That boosted the use of open source code in cell phones over proprietary choices, Schlesinger explained.
"We believe the same thing will happen in automotive applications. The increasing value of having various devices interoperate with one another — and with the broader Internet — will result in greater use of open source software in automotive systems, largely in direct end-user functions like entertainment, communications, navigation and the like," he said.
Linux is not yet optimized for real-time control systems, according to Chavez. Other aftermarket vendors agree that Linux for cars has to grow up more before it can replace existing industry-developed software such as the ECU.
An electronic control unit, or ECU, controls various aspects of an internal combustion engine's operation. Simple designs control only the quantity of fuel injected into each cylinder of each engine cycle. More advanced ECUs found on most modern cars also control the ignition timing, variable valve timing (VVT), the level of boost maintained by the turbocharger if one is installed and control other peripherals.
Before ECUs, most engine parameters were fixed. The quantity of fuel per cylinder per engine cycle was determined by a carburetor or injector pump. For example, ECUs determine the quantity of fuel, ignition timing and other parameters by monitoring the engine through sensors. These can include the manifold absolute pressure sensor, the throttle position sensor, the air temperature sensor, the oxygen sensor and many others. Often this is done using a control loop (such as a parameter ID controller).
Slow Go
Many car makers have looked at possible advantages of proprietary systems over open source. Their conclusions: Why reinvent the wheel with open source, noted Schlesinger.
However, he does not think that the growth of open source in vehicles is a question of waiting for development. It's more an issue of car makers figuring out how to leverage what already exists.
"The technical issues are compounded with intellectual properties issues. Also, there is a lack of open source experts in-house so there is often misinformation that shuts down any further consideration," Schlesinger explained.
Glimpse of the Future
Schlesinger sees a push for more use of open source coming from developments made by foreign car makers. This is how Linux development in mobile phones set the pace in the U.S. market. New technology in phones typically comes to the U.S. about 18 months or longer after being established elsewhere.
"I expect to see these developments first come from countries such as China and Korea," he predicted.
A driver for more use of open source in U.S. cars will be the need for automakers to produce broader management of services in cars. Then the U.S. will follow the foreign leaders. That is when open source will become more attractive.