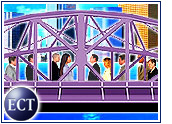 In a sluggish economic climate, productivity is paramount, and a relatively new technology designed to optimize it — employee relationship management — is gaining market strength. One such tool is Workbrain's ERM 3: By automating labor- and time-intensive, paper-based processes, it is designed to empower large enterprises to lower costs and increase efficiency.
Workbrain is targeting a variety of vertical industries with ERM 3 — consumer products, healthcare, retail, manufacturing, utilities and transportation. Its purpose is to reduce time wasted on administrative tasks and cut employee turnover, labor costs and overpayments. The fully Web-based technology automates interactions between an enterprise and its employees and provides advanced time-and-attendance tracking, skills and training management, real-time analytics and reporting, and shift-bidding and trading capabilities, according to Workbrain.
"A lot of organizations in difficult economic times see the software as a cost-savings mechanism," Neal Sherman, Workbrain's director of product marketing, told CRM Buyer Magazine. "People do still have IT budgets, but they are looking for low-risk, rapid turnaround."
Productivity, Productivity, Productivity
ERM 3 has garnered an average of 1 to 2 percent savings in gross payroll, according to Sherman. The offering saves money by centralizing multiple applications from different sites into a single platform, improving overtime management and requiring fewer clerical workers, he added.
The technology also helps customers manage their business better, says Sherman: "You want the right employees at the right time doing the right job."
Users can build a pretty good case for buying the software — "whether you call it 'ERM' or use broader terminology like 'human capital management,'" AMR Research director Monica Barron told CRM Buyer.
Swimming with the Sharks?
Although claiming to be competitive with the largest CRM and ERP vendors, Workbrain is a small company. Nevertheless, Barron said, it can carry off large implementations and support many concurrent large customers. Workbrain scores high on the usability scale, she pointed out, according to customers who report the ERM offering is easy to implement and configure, as well as scalable.
"We wanted to make sure it was easy to use so that you got things done [and could] go on with the rest of your day," said Daniel Debow, Workbrain's vice president of marketing. Customers also are looking for fast implementation and low cost, he told CRM Buyer, which Workbrain provides with its 90-day deployment and prices that range from US$30 to $100 per user.
Modular Approach
Workbrain 3 comprises three modules:
Time and Attendance. Calculates gross payroll, offers real-time analytical insight into enterprise productivity and performance, and incorporates Workbrain's open business-rules architecture, which enables users to set and maintain their own rules.
Employee Interactions. Helps enterprises deal with day-to-day duties, such as bringing employees on board, contractor management, manpower scheduling, performance management and shift trading.
PortalERM. Provides a platform to create collaborative self-service applications that are delivered through corporate portals and integrate with legacy applications and enterprise software.
ERM 3 is built on a J2EE platform and supports multiple-access devices, including PCs, wireless technology, kiosks and time clocks. The software operates on a variety of operating systems (Linux, Unix and Windows NT), databases (Oracle, Microsoft and IBM), application servers (BEA Systems, IBM, Oracle and Sun Microsystems) and browsers (Internet Explorer and Netscape).