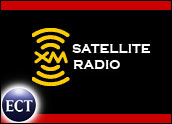 Satellite radio broadcaster XM is expected to raise the curtain thisafternoon on a device that will bring its programming into the palm oflistener's hands and may do for satellite radio what the Sony Walkman didfor music.
Although XM is remaining mum on what it will be announcing at its pressconference today, the buzz about a portable device began last week when aresearch note authored by Kit Spring, an analyst in the Denver, Coloradooffice of Stifel Nicolaus & Company, predicted a "wearable device" would beunveiled this week.
Beyond Autos
When contacted by TechNewsWorld, Spring declined to further comment on thesubject. "I don't have any comments except what's in the published documentthat I wrote," he said.
Other observers of the sat-rad scene, however, were less taciturn about thepotential of a portable device.
"The introduction of a Walkman-like device would open a new dimension toXM's marketable footprint beyond vehicles, boom-boxes and home use and intothe general population," Maurice C. McKenzie, an analyst with Friedman,Billings, Ramsey & Company in Arlington, Virginia told TechNewsWorld.
The Third Context
An XM portable device would be a significant step forsatellite radio, according to Ross Rubin, director for industry analysis forthe The NPD Group in Port Washington, New York.
"This represents not only the third context in which people listen to music,but really the only segment of the market that's been growing for the pasttwo years, primarily due to the success of the iPod," he told TechNewsWorld.
"Based on XM's past," added April Horace, an analyst with Janco Partners inEnglewood, Colorado. "I'm sure the device is going to have great consumerappeal and will continue to drive subscribers."
"XM has about 2.5 million subscribers today, and I think the wearabledevice — if it has recording capabilities — will be going head to head withthe iPod and any of the other new devices that are coming out," she toldTechNewsWorld.
Threat to iPod
According to Rob Enderle, president and principal analyst of the EnderleGroup in San Jose, California, a satPod could be a potential competitor todigital music players because it's going after the same market segment.
"It's a threat to the iPod market because it's going after the samecustomer — a leading edge customer who wants to listen to their musicon the go," he told TechNewsWorld.
"They're probably going to have only one device that they're going to preferto carry," he continued, "and if its the XM radio, then the iPod loses aseat."
Priced To Sell
In vying for ears, any portable satellite radio device will have to bepriced right — something experts agree won't be a problem for XM. "It's asubsidized device so it could be the same price or less, depending on thesubsidy," Enderle said. "So it should be aggressively priced."
"The company hasn't commented on where pricing will be, on what their exactpositioning of the product will be, " observed McKenzie of Friedman,Billings, which is a "market maker" for both XM and its competition, Sirius."But my expectation is that it should be positioned against MP3 players andit should be priced accordingly."
In the pricing realm, XM actually should be thanking Apple and itscolleagues for their ability to raise the bar for what people have beenwilling to pay for music hardware, maintained NPD's Rubin.
"MP3 players have taken the price of portable audio to a price that wasunheard of just a couple of years ago," he observed. "So fortunately for XMthat price ceiling has been raised by the iPod, and it gives them someflexibility on pricing."
He noted that XM's attitude toward hardware is different from Apple's."Unlike Apple, which has the iPod as a significant revenue stream and makesa small margin on the songs it sells through its music store," he said,"XM's business is a continuous subscription business, so they're going towant to price the device aggressively."