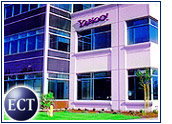 Poor Yahoo. First, the company can't produce enough nonadvertising revenue to make analysts and investors happy. And now it appears the company is producing too much nonadvertising revenue.
So get out the crying towels for Yahoo, right? Not exactly. The company — which is part portal, media company, services provider, holding company and search engine — has itself to blame for the market's indecision and confusion about it. I mean, what the heck is Yahoo! now?
Or, more importantly, what will Yahoo! be when it grows up?
Essential Ingredients
The answer is not an easy one. And that's a problem.
Successful Internet companies, and even unsuccessful ones, can be easily categorized. EBay is an auction-retail giant. Amazon is an e-tailer. Yes, both do some behind-the-scenes services stuff, but that's not what defines them.
Yahoo! grew up so quickly that even its once-proud parents, Filo and Yang, have to scratch their heads when they see their brainchild now. Sure, if you squint and turn your head this way, it looks like what it always was: a portal to everything on the Web.
Fine, but where does the money come from? First, almost all of it came from advertising. While online advertising was all the rage, that was fine, and Yahoo! was even producing some profits for a while.
But then advertising on the Web became the butt of jokes at cocktail parties, and Yahoo! was sent on a mission by its investors and analysts: Find other revenue.
Mission Accomplished
To its credit, it has done just that. But in that quest, it apparently forgot where home was. Yahoo! is now such a far-flung, multifaceted conglomerate that it takes a doctor with a very powerful stethoscope to find its beating heart.
It's there somewhere, to be sure, but it's obscured by the online job listings business that used to be HotJobs, by the paid search engine listings, the paid personal ads, the music services and on and on.
All of that did add up to a slender profit last quarter, but it was also enough to cause Merrill Lynch to issue its rarely used "reduce/sell."
Of course, Merrill's move has to be taken with a grain of salt because it just doled out a hundred-grand penalty to the state of New York for never issuing sell ratings.
But still, the message is clear: Good job, Yahoo, you fulfilled our wishes. Now here's your punishment.
Target Practice
Yahoo! might well be an acquisition target at this point, as many an analyst has speculated, given the company's low stock price. But who wants to buy such a white elephant? Then again, Yahoo! still has a franchise that anyone could take to the bank: It is the best-known, most widely used Internet portal. And advertising revenue appears to be rebounding.
Maybe Yahoo! took the wrong advice and, in the process, watered that core asset down with all its other dealings; it's hard to tell. One thing is for sure: The analysts aren't going to be pleased no matter what.
Yahoo! is definitely growing up. And once it makes that all-important decision about what it wants to be — a decision it really has to make for itself — maybe people will once again begin to take notice.
What do you think? Let's talk about it.