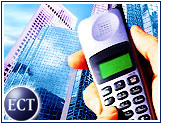 Yahoo! has acquired a 15 percent share of European mobile phone service provider Sonera zed Ltd. Although the two companies are not disclosing financial terms of the deal, they soon will begin delivering co-branded mobile services across Europe.
During the first phase of the partnership, the duo will introduce logos, ring tones, picture messages, chat and news. Yahoo! also will leverage zed's platform to deploy Yahoo! Messenger and Yahoo! Mail to European mobile customers.
Promising Market
Yahoo! chairman and chief executive Terry Semel said the company has identified the mobile space as a potential key driver of growth of its international operations.
According to an earlier report produced by Jupiter Media Metrix, the mobile content market in Europe is expected to quadruple to more than US$2.9 billion in the next few years. That figure represents a potentially significant source of consumer revenue in the wireless world.
"We believe that there are tremendous growth opportunities in paid consumer value-added services in Europe, and our objective, working cooperatively with key mobile operators, is to become a significant player in this area," said Mark Opzoomer, managing director of Yahoo! Europe.
Long-Term Play
Still, the company is leaving itself some room for error. Under terms of the deal, Yahoo! has the right to increase its shareholding over the next two years to 100 percent ownership or even to withdraw completely from the transaction.
This strategy is a smart move for the portal giant, analysts noted. While there is a great deal of potential in the European market, by most estimates, mobile commerce has not yet come of age.
"This is a strategic move by Yahoo! to position itself in the event that mobile commerce becomes something really significant in Europe," Giga Information Group analyst Andrew Bartels told the E-Commerce Times. "But I don't see it as a near-term generator of new revenues for them."
Looming Challenges
Indeed, although mobile commerce has done better in Europe than in the United States, it is still far from a roaring success or a stable moneymaker.
To become a success, mobile commerce must clear several hurdles, such as wireless phone form factors, protocol standardization and service costs.
But Yahoo! executives like the company's chances with zed, which brings about 3 million customers and 30 million commercial transactions per month to the table. Yahoo! is betting that the acquisition will help it build deeper consumer relationships in Europe.
Trial Run
Meanwhile, in the United States, both the reality and the revenue of mobile commerce are a long way off.
The Yankee Group estimates that only 17 percent of the total U.S. population will use wireless phone devices for mobile payments and orders in the next several years. And about 50 million people, or 26 percent of all wireless phone users, will authorize payments for content and goods. That, according to Yankee Group, represents $15 billion in revenue for U.S. companies.
While these forcasted revenues are still years away from becoming reality — and forecasts can change in the blink of an eye — analysts said Yahoo! is thinking ahead.
"It is a possibility, not a certainty, that mobile commerce will take off in the U.S. at some point," Bartels said. "Having the opportunity to gain some hands-on practical experience in Europe could be an important contributor to a successful presence in the U.S. if and when mobile commerce takes off."