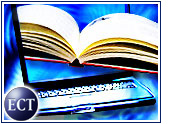 Looking to meet the much-anticipated consumer demand for electronic books, leading portal Yahoo! (Nasdaq: YHOO) joined with four publishing houses Wednesday to launch an e-book site on its shopping network.
Yahoo! said the deals with Simon & Schuster, Penguin Putnam, Random House and HarperCollins give it one of the largest collections of e-books in one place and make it one of the first e-tailers to offer e-book titles from multiple publishers.
The site launched with more than 1,000 books available, Yahoo! said, including bestsellers by Stephen King and Joyce Carol Oates.
The books require either Adobe's Acrobat eBook Reader or the Microsoft Reader, which are both available free at the site.
Future is Wide Open
Despite widespread skepticism from many consumers and slow overall adoption of the e-book format, Yahoo! said the future for e-books is bright. Yahoo! Shopping vice president and general manager Rob Solomon said that Yahoo! anticipates an increasing demand for e-books.
According to Solomon, because Yahoo! is offering a "broad collection of the most sought after titles in multiple e-book formats," it is well-positioned to meet demands today and into the future.
Simon & Schuster president and chief operating officer Jack Romanos added that because Yahoo's shopping site reaches millions of consumers, the partnership represents "an important step toward the mainstream" for e-books.
Swimming for the Mainstream
The public has embraced e-books in spotty — if occasionally intense — fashion. Early experiments, such as Stephen King's pay-as-you-go e-book serial, "Riding the Bullet" stirred such intense consumer interest that several e-book sites crashed under the weight of the traffic.
Analysts say the best days still lie ahead for electronic books, which require consumers to purchase readers or download software to enable them to read the books.
Late last year, IDC predicted that while just US$9 million was spent on e-books in 2000, that figure will likely grow to $414 million by 2004.
The National Book Foundation recently said it would consider e-books for the prestigious National Book Awards for the first time.
Not Waiting
Despite the slow adoption, several e-commerce firms have already unveiled e-book offerings.
Earlier this year, Barnesandnoble.com (Nasdaq: BNBN) moved to create its own e-book publishing division, saying it would pay higher royalties to authors and allow writers to reach readers directly.