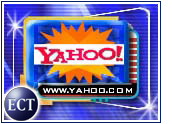 Internet giant Yahoo! (Nasdaq: YHOO) announced after the markets closed Wednesday that it had met its own scaled-down expectations for the first quarter of 2001, but planned to lay off 12 percent of its workforce. The company also said that it expected a loss for the second quarter.
The layoffs will affect approximately 420 of Yahoo's 3,510 employees.
"We made some decisions that were difficult, but which ultimately balance the investment in our growth areas with the adjustments to our near-term business plan," Yahoo! chairman and chief executive officer Tim Koogle said.
Yahoo! did not name a replacement for Koogle, who announced in March that he was stepping down as CEO while remaining on Yahoo's board of directors. The company said that it was "encouraged by the progress" it is making on the CEO search.
Penny for Yahoo's Thoughts
Revenues for Yahoo! in the quarter totaled US$180.2 million, nearly a $50 million drop from the year-earlier quarter.
Yahoo! said that pro-forma net income for the quarter ended March 31st was a penny per share, compared to a profit of 10 cents per share for the year-earlier quarter. After pro forma items were included, Yahoo! showed a net loss of two cents per share, compared to a profit of 11 cents in Q1 2000.
Looking ahead to the next quarter, Yahoo! said it expected a pro forma loss in the range of $10 million to breakeven, before interest, depreciation and amortization. Yahoo! said it does not expect to issue further guidance until that report is released in July.
"While the softening in the core business appears to be stabilized," Koogle said, "we continue to be cautious."
Following the announcement, Yahoo! shares rose 26 cents in after-hours trading to reach $16.12.
Stock on the Rocks
In March, Yahoo! reduced its forecast for the first quarter, citing "challenging economic conditions." The company forecast revenues of less than $180 million and approximately breakeven net income. Wall Street analysts previously had been expecting $232 million in revenue and profits of 5 cents per share.
"Yahoo's announcement will kill the [Internet] world," BlueStone Capital analyst Kathleen Heaney told E-Commerce Times at the time. "It will be a bumpy road for a number of other companies, as they are directly affected by the Yahoo! news."
The company's stock, which in March 2000 traded at $205.63, hit a 52-week low of $11.38 on April 3rd.
Two days later, however, Lehman Brothers analyst Holly Becker upgraded Yahoo! from market perform to buy, admittedly with a relatively modest 12-month price target of $20. Yahoo! then rose in the ensuing days, closing at $15.86 on Wednesday before the earnings announcement.
Not Lying Down
As it tried to mitigate the turbulence of the U.S. economy, Yahoo! had a busy first quarter, primarily attempting to reduce its dependence on online advertising.
Among other moves, Yahoo! instituted listing fees for online auctions and some premium financial services, and began selling placement in its directory.
"Trying to diversify away from advertising is the right thing for Yahoo! to be doing," George Nichols told the E-Commerce Times in February. "But they're moving into new territory, where they may have less expertise, so there are plenty of execution risks."
Keeping the Ball Rolling
Yahoo! kept making news after the first quarter ended. On April 5th, amid a week of frenzied activity in the digital music arena, Yahoo! said it had formed an alliance with Duet, a subscription-based music service being developed by two of the world's largest record labels.
Yahoo! also announced this week that it had completed the acquisition of Australian online auction house Sold.com.au. The Internet world also learned that Yahoo! had opened a storefront on its site selling a wide variety of adult videos and DVDs.
Oh Captain My Captain
Through it all, Yahoo! has had to deal with recurring executive departures, most notably the March 7th announcement that Koogle was resigning as CEO. Yahoo! also announced Wednesday that senior vice president of international operations Heather Killen will leave the company in June.
Other high level departures have included Yahoo! Canada managing director Mark Rubinstein, Yahoo! European operations head Fabiola Arrendondo and Yahoo! Asia vice president Savio Chow, as well as the retirement next month of chief sales and marketing officer Anil Singh.