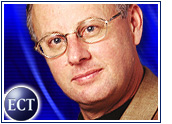 It's been said before, but it's worth repeating: Timing is everything. So whenever Amazon.com (Nasdaq: AMZN) chief financial officer Warren Jenson decided to leave his post, determining when to announce it was a delicate matter indeed.
CFOs have been in the news of late, and rarely for good reasons. To be clear, there is no suggestion, even from Amazon's stiffest critics, that Jenson is leaving under any kind of cloud.
Not that no one looked for a dark side. Given the number of sharks in the water hunting for even a hint of blood in these post-Enron, post-Homestore.com days, it's remarkable how calm the waters remained after Jenson dropped his bomb.
No wildfire rumors. No stock market freak-outs. Just a lot of quizzical looks.
Sticking Around
It certainly helps that Jenson plans to hang out in Seattle for a while and aid Amazon as it transitions to new financial leadership.
If he had slipped his resignation letter under Jeff Bezos' office door and hopped a nonstop to Argentina, the fallout would have been much different.
Now or Never
And why not leave now? Chances are good that, for a while anyway, Amazon has peaked.
Jenson's resume will forever carry the impressive fact that he helped steer Amazon to profitability in the fourth quarter of 2001, a feat the e-tailer will have a hard time repeating. Duplicating profits may be a daunting enough task to make Jenson wish for some fishing time.
In fact, Amazon is busy moving the goal posts around for the coming year, talking about "positive operating cash flow — and possibly even free cash flow."
All of that leads to the question of who will fill the big shoes left vacant by Jenson, whose pre-Amazon background included stints at Delta Air Lines and NBC.
One analyst speculated that the company's new CFO will come from outside the dot-com world and may or may not have a retail background. But that's not exactly a startling revelation.
Uphill Battle
It is clear that Jenson's replacement faces a monumental task. Amazon has to fight constantly, not only for profits and cash flow but also for respect from the investment and analyst community. Jenson, it seems, did a lot to lend credibility to the Amazon balance sheet. He'll take some of that credibility with him when he leaves.
But the fact that no one has pushed the panic button over Jenson's departure is somewhat surprising, not only because of the uncertain economic times but also because investors often seem to want to believe Amazon is on shaky ground.
The e-tailer handled the announcement well, making sure it told the media rather than letting them find out themselves. In one way, everyone wins.
Jenson gets to go out on top, and Amazon — despite the herculean tasks that lie ahead, from finding growth markets to keeping margins from evaporating in the face of free shipping deals — gets to act as if it will be just fine without him.
Whether Amazon actually will be fine or not is another question.
What do you think? Let's talk about it.
---
Note:
The opinions expressed by our columnists are their own and do not necessarily reflect the views of the E-Commerce Times or its management.
---