The Death and Rebirth of Microsoft
By Rob Enderle
Jun 25, 2012 5:00 AM PT
Last week, Microsoft effectively ended the model that created it. This shouldn't have been a surprise, as the model hasn't been working well for years and, as a result, Microsoft has been getting its butt kicked all over the market by Apple.
Well Microsoft apparently has had enough, and it decided to make a fundamental change and go into hardware. Lightly at first -- but much like getting pregnant, there is no granularity to being in the hardware business. You are in it or you aren't, and with the Surface Tablets, Microsoft is clearly in it.
This won't be an easy or painless transition, and if it is successful, the result with be vastly better user-focused Windows hardware and related services -- at least initially. As always, when a firm gains this much control over a market, there is the long-term risk it will focus excessively on revenue and lose the customer, which is why big companies that used to be dominant -- like RCA and the old AT&T -- are gone. The current AT&T was formed from the ashes of the old firm's collapse.
However, in the near term, this will allow Microsoft to focus all of its resources on customer solutions, and if you tie its announced tablets and as yet unannounced other PC hardware solutions to its Azure and Office 365 cloud offerings, you see a very different company.
The new model is one that looks more like a super cable company than either a traditional hardware or software company. In effect, we are witnessing the death and concurrent rebirth of Microsoft -- and it is time to reevaluate how we look at the company.
I'll close with my product of the week, which will be the unique Optical Display -- the most powerful part of the Surface Tablets -- which folks clearly don't yet understand.
The Death of Microsoft
You'd have to be blind, deaf and dumb not to realize that the model that created Microsoft was broken. With massive global resources, Microsoft hasn't been able to compete effectively with Apple on tablets -- a platform it initially drove into the market -- or with either Google or Apple on smartphones, and Microsoft was in that market first as well.
The reason that this model failed is that power between the hardware and software components was too balanced, and the largest margins went to the firm that was farthest from the related customers. In short, the folks who were supposed to finish the solution only had money Microsoft gave them for marketing and had no control over what core software went into their systems.
Windows Vista wasn't the only indication that the model was broken, but it was the most dramatic. Other indicators were the growth of crapware on PCs, which increased OEM margins at the cost of user reliability and customer satisfaction, and the tendency for OEMs to publicly blame Microsoft even when the problem didn't originate with that company.
Of course, another of the biggest indicators was those partners' move to use Android, and largely fail. Then there was HP's massive failure with WebOS and Palm.
The model wasn't working for anyone, and Apple was the big beneficiary. The path that Microsoft was on was one of slow obsolescence, so it decided to take two huge gambles.
Microsoft Rebirth
If you look at Surface or Azure separately, you won't see the pattern. It's only if you look at both together that you realize Microsoft is going directly to the customer now and reducing its OEM footprint. There is increasing buzz that Microsoft has lost faith with Nokia and has started to build its own smartphones, which would perhaps explain why it prematurely announced its new phone platform, effectively shutting down Nokia sales. (The linked article says Nokia was unfazed by the announcement -- kind of like how the Titanic was unfazed after hitting an iceberg.)
On top of its announcement to build Surface tablets, this means that Microsoft is taking control of its tablet efforts. If it learned from its Zune mistakes and adequately resources this effort, the combined projects could even scare Apple. This is particularly true if you consider what Microsoft did with Azure. Azure represents its scalable cloud solution for everyone, which effectively takes it around server OEMs and directly to the customer.
I've had some time to look at the current generation of Azure, and it is at least a generation beyond anything that is out there from a combined standard of ease of use, security certification, performance and compatibility. It is initially a godsend to technology buyers who have been faced with employees going around them to buy directly from services like Amazon's cloud offering.
You take the back end, combine it with the front end, and suddenly you have a new OEM -- but one designed around the cutting edge of tablet clients and cloud services. This is so far beyond the iPad and iCloud (iCloud is a bit of a bad joke at the moment), that once folks realize how advanced this is, it is hard to understand why most would stay with Apple.
Wrapping Up: Avoiding the Zune Problem
On paper, this is a world-beater strategy that neither Apple nor Google could match. But on paper, so was Zune.
Microsoft massively under-resourced that effort and a number of others -- Bing, Origami, Media Server/Player/Center, and Windows Phone -- and if it under-resources this, it is likely to find that Windows has failed and the OEMs have moved on to something else. They'll either abandon the desktop, as IBM has done, or more aggressively embrace an alternative like a future version of Google's Chrome OS.
So, depending on execution, this could result in the most powerful and popular Microsoft ever -- or one on life support that looks a lot like RIM or Yahoo do today. I doubt there will be any middle ground.
I believe Steve Ballmer is too smart to keep repeating the same mistake as if he were stuck in the movie "Groundhog Day" and never got the point. Win or lose, Microsoft enters this week a very different company, though, I expect it will still take years for us to see it as different as it now truly is.
Product of the Week: Optical Display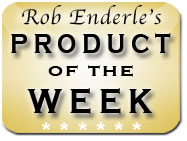 The Optical Display (originally called PixelSense) that Microsoft is putting in its coming Surface Tablets is far more advanced, and better suited to today's market than Apple's Retina Display. The Retina Display simply consumes too much data for what has become a wireless data-constrained market. In other words, it is like creating a car with a 24-cylinder engine during a gas shortage. It requires massively larger video files to show well, and networks are too constrained to take the additional load.
The Optical Display, on the other hand, represents a completely different approach to the problem. With it, the screen is a camera, and it is a revolutionary advancement from the first Surface Tablets, which blended rear projectors with cameras placed under the screen/table.
With Optical Glass, Microsoft has eliminated the camera and figured out how to make the screen perform the same function. This means the system "sees" what is touching it and can react accordingly. This provides a lot of unique flexibility -- from being able to hold things up to the screen to be automatically read into the system, to stronger biometric security, to truly compelling hand-based interaction with the vertically world.
Browse the Web and look for Surface Table demonstrations -- this is one of the best -- showcasing an instant physical control panel tied to the virtual world to create unique musical sounds and entertainment. You'll see what can be done with the prior two generations, but these Surface tablet panels are generation three and should be vastly better.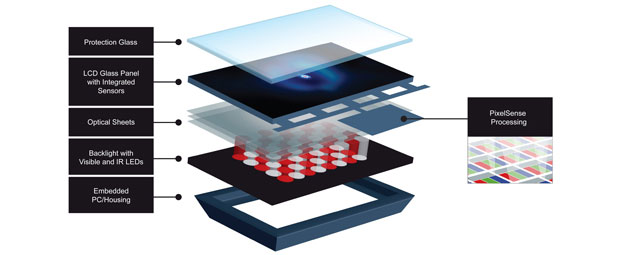 Optical Display
The Optical Display is likely the biggest tablet breakthrough since the iPad, and it showcases a level of technology that Apple can't currently match. As a result, it is my ideal candidate for product of the week.

---