Motorola Rolls Out Razr With Intel Inside
By Richard Adhikari
Sep 18, 2012 8:07 AM PT
Motorola and Intel on Tuesday announced the Motorola Razr i, the first smartphone from the vendor that is built around an Intel processor.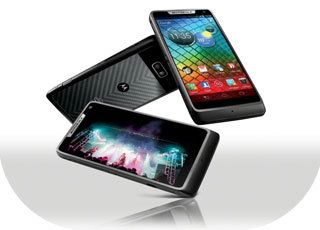 The Motorola RAZR i features an Intel processor.
The Razr i, which runs Android Ice Cream Sandwich, will be released in Europe and Latin America beginning in October, but there's no word as to when it might be available in the United States.
"I don't think [Intel's] ready yet to support LTE, and that's probably why the phone's not being released in the US," Michael Morgan, a senior analyst at ABI Research, told TechNewsWorld. "Motorola's presence in the US is basically a Verizon relationship, and Verizon has said that, by 2013, everything it has will be LTE."
Under the Hood
The Razr i has a 4.3 inch qHD Super AMOLED Advanced touchscreen and runs on an Intel Atom processor that's rated at up to 2 GHz. Its operating system is upgradeable to Jelly Bean, which will be released soon.
The smartphone offers up to 20 hours of mixed usage time and runs on WCDMA and GSM networks. It supports Bluetooth.
The Razr i has an 8 MP VGA camera with digital zoom, autofocus, and LED flash. The camera supports 1080p HD video playback.
Other features include aGPS, standalone GPS, eCompass, and support for DLNA.
The Razr i incorporates near field communications (NFC), the technology used in e-wallets. It comes preloaded with various Google products, including Gmail, Google Maps, Google Talk, and access to YouTube.
Powerful and Power-Saving
Motorola and Intel touted the power of the Intel processor in the Razr i, which they said allows the camera to load in less than one second and offers a sub-second multishot mode, among other things.
The smartphone has 40 percent more battery life than the competition and, when the built-in Smartactions rules engine is enabled, the device will automatically adjust to maximize battery life, Motorola said.
The Razr i has an aircraft-grade aluminum frame with an edge-to-edge display made from Gorilla Glass. The back is made from Kevlar, and a splash-guard coating protects the insides.
"This Razr i is not a trial run or a dry run, it's the kind of phone Intel can make," ABI's Morgan said.
Power Isn't Everything
While Intel's Atom processor brings more power to mobile devices, that in itself isn't really important.
"We're getting to a point now where there may not be much added benefit to making a more powerful processor, which is Intel's advantage," ABI's Morgan pointed out. "Meanwhile, ARM is making increasingly powerful chips, and the race for power may become meaningless."
"Intel still has a long way to go to break into the mobile phone space," Carl Howe, vice president, data sciences research at the Yankee Group, told TechNewsWorld. "Motorola has one Intel-based model while ARM has about 500."
More importantly, "the bigger challenge is for Intel to articulate why the brand of processor being used matters," Howe stated. Mobile devices "are sold on overall consumer experience instead of what parts they are made from."
Marketing Is the Key
The lack of LTE technology at Intel is "hobbling" the company and forcing it to seed markets outside of the US, Wayne Lam, a senior analyst at IHS iSuppli, told TechNewsWorld. "They're trying to make a differentiated play and make a market case there."
Further, Intel "did all the heavy lifting and porting over from Android to their platform, they've set out an SDK that optimizes their GPU engine to make it more attractive to developers," iSuppli's Lam said. "They're doing everything they can to seed their ecosystem."
Still, Intel may make some headway in the long run, and ABI forecasts that, by 2015, the best-case scenario for the processor giant is that it has 15 percent of smartphone shipments, ABI's Morgan remarked. "We believe that they make great chips and they can get the power consumption down."