Gadget Ogling: Playful Projectors, Star Wars Sounds, and Spotify-to-Go
By Kris Holt
Mar 1, 2016 7:00 AM PT
Welcome to Gadget Dreams and Nightmares, the column that veers slightly left from the Mobile World Congress deluge to bring you the most intriguing of the latest gadget announcements.
In this week's bowl of potpourri are a projector with pizazz, a connected toothbrush, Star Wars helmets and voice modifiers, and a dedicated Spotify portable music player.
As ever, these are not reviews, as I was not in Barcelona to test out items showcased at MWC. Woe is me. What's more, the ratings reflect only my level of yearning to try each gizmo.
Perceptive Projector
Sony's Xperia Projector Concept turns any surface into an interactive display. One can, for instance, check the latest temperature, play games, edit documents, or make video calls.
It is a self-contained system, and it does not need to connect to a smartphone or a computer to operate. It seems that Sony has designs on turning this into a portable device as well.
We've for years had tools that project keyboards onto hard surfaces using lasers. While it's a compelling idea, I don't welcome the idea of typing for an extended period on a solid surface over a physical keyboard.
Yet Sony's projector has swept my mind into a world of possibilities. Turning any surface into what is essentially a tablet opens many doors to new ways for us to interact with technology.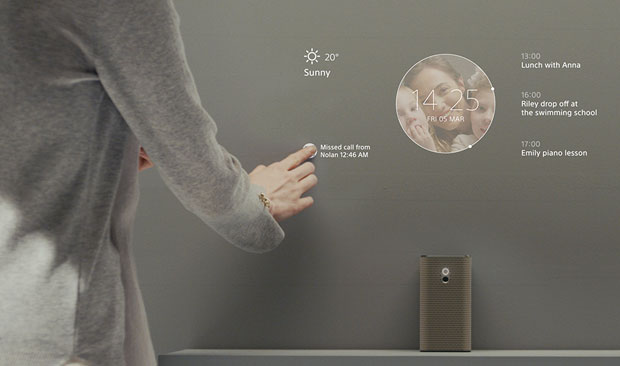 I admire this and can see so many possible functions for which it could prove useful. It's fascinating, and I hope Sony can find a way to bring it to market, for there's a lot of potential here.
Rating: 5 out of 5 Tapping Tables
Clean Tech
With a new version of its connected toothbrushes, the Oral-B Genius, Oral-B promises to put more technology into your mouth than ever before.
The latest device uses motion sensors, along with a smartphone camera, to determine how clean your teeth are. The sensors measure how much pressure you're putting on your teeth, the location of the brush in your mouth -- and, of course, the length of time you're brushing.
The toothbrush senses if you're doing something that's not quite right, and it will adjust the speed by itself. Checking the application will let you see which parts of your mouth need a little more attention and whether you've missed a tooth or two.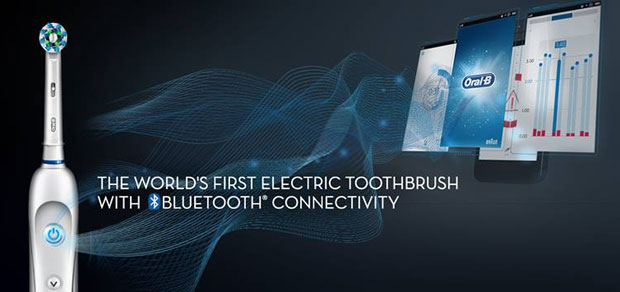 To leap onto my high horse for a moment, I have healthy teeth, and brushing them is something I've done well for decades. I like to think that I'm pretty good at it. Inspecting my mouth with a smartphone camera every time I brush my teeth is a disconcerting prospect.
However, I can understand why some people might feel they need this in their life -- even though all they truly might need is a trip to the dentist.
Rating: 2 out of 5 Don't Forget the Molars
Helmet Humor
Although I'm not the biggest Star Wars fanatic, I do enjoy the movies. Here's something that might make even the most ardent fans turn their heads.
These two helmets turn the speakers' voice patterns into those of droids -- R2-D2 and his ilk. So, instead of typical human conversations, their words are reduced to a series of beeps, bloops, and bleeps as far as casual observers understand. However, the helmets actually have a radio communication system inside so the wearers can understand each other perfectly even though onlookers will not have a clue what they are talking about.
The creator of the helmets, Don P of AE Innovations, has published the schematics online, so those with more than a passing understanding of C-3PO's internal makeup and circuitry might be able to create a custom version. That should give them a leg up over the rest of us come Halloween.
The rest of us will always have our impressions of Darth Vader's heavy breathing to fall back on.
Rating: 4 out of 5 R2-D2 Squeals
High and Mighty
Mighty is looking to do for Spotify playlists what the iPod Shuffle did for MP3s. Rather than having to lug around a smartphone to listen to your playlists while working out, Mighty lets you store them offline on a dedicated device.
A Spotify Premium account is required, of course, and it borrows liberally from the aforementioned iPod on the design front.
You'll still need a smartphone to use the player in the sense that it pairs with your iOS or Android device. With the Mighty app, you can manage which playlists you'd like to store. Mighty has 2 GB of storage, which is good for up to 48 hours worth of music.
It works with wired and Bluetooth headphones and speakers.
Battery life, at five hours of playback, isn't the greatest. Also, there are inherent risks in building a product completely on top of a third-party platform, as Spotify might revoke access at a moment's notice.
However, I'm on board. It looks a good way to listen to Spotify without killing my smartphone's battery life as quickly. Plus, at US$79, it won't break the bank to have a Mighty for breakdancing.
On the other hand, I like having a functioning neck, so maybe I'll skip the breakdancing.
Rating: 4 out of 5 Discover Weeklies

---