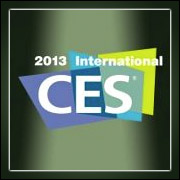 The 2013 International CES (formerly the Consumer Electronics Show) is the must-attend trade show for all things consumer electronics. It is a "must attend" not because it is when many companies will debut new products and introduce new technology, but because so many tech journalists, analysts, insiders and others — lots of others — descend on Las Vegas to see those new products and new technologies.
In other words, CES has become much like a B-level celebrity that is famous for being famous. Sure, the press conferences are online, the news is leaked in advance of the show, and it is so big — last year's show had a reported record 153,00 attendees — that you can't see everyone/everything anyway. Yet like many of this reporter's brethren in the tech media, I keep returning.
That doesn't mean I have to like it. In fact there are numerous reasons to hate CES, something that is clearly shared by many who also feel the need to attend.
No. 1: It's Too Broad
Years ago consumer electronics used to mean the TV and the stereo. Then came computers — which is why the "other" big technology trade show, Comdex, eventually was overtaken by CES — car audio, mobile phones, appliances and just about anything else that had a plug and some semiconductors. This makes the show impossible to really cover in its entirety.
"I've been to the show many times, I've watched it grow, and I've had the same questions — but they don't get answered, as it keeps getting bigger and bigger," said telecommunications analyst Jeff Kagan. "There is this invisible structure that is tying all this technology together."
Today all this technology is actually connected, so while it is possible to attend the Kitchenwares show, the mobile phone show, and any number of auto shows, CES is where everything converges. So it means CES is relevant — but still a beast of a show to cover.
No. 2: It's Too Early in the Year
CES is when we start to hear about what we'll be seeing for the holidays. Yes, that's right. The Christmas lights probably aren't even down yet, and the cycle begins anew. The actual "holiday season" is difficult to enjoy with this monster looming just over the horizon. Plus, it sort of makes all those holiday gift guides that many of us pen seem less honest when we know the next big thing is just weeks away.
"It comes way too early in the year for a fall show — those lines won't be ready till May or June — and too soon after the New Year's holidays for folks to be able to fully prepare for it," said Rob Enderle, principal analyst at the Enderle Group.
No. 3: The News Is Already Out
By the time most attendees arrive in Las Vegas on Sunday or Monday, the news will already be out. Part of the problem is that in the age of blogs and social media, it is increasingly difficult for news to be properly embargoed.
Thus, by the time Monday's press conference rolls around, we'll have read countless online reports of the big news.
No. 4: It Redefines the Media
Not to sound like a media snob, but this reporter is a journalist. This isn't a hobby. This isn't a part-time thing I do while I work another job.
I make my living as a business reporter — and as I am a freelancer, I contribute to several major news outlets. However, at CES there will be a plethora of media reps from outlets I've never heard of, as well as a legion of bloggers.
There is nothing wrong with this, and I have nothing against those who are part-time reporters, bloggers or even hobbyist/citizen journalists. Still, at larger shows it means waiting in line and even being turned away from some press conferences because thousands descend on it. That makes it hard to actually do my job, and in the end that hurts the show.
"The line between public and media is also blurring," said Pat Meier-Johnson of Pat Meier Associates Public Relations. "There are many consumers writing informative blogs, and that blurs the line."
Very true, and there is no such thing as bad press — but a small post isn't worth a profile in a major news outlet, and if the professional media can't get into the show, then it isn't worth the time and money for the company to hold the event.
No. 5: The Small Guy Is Lost in the Crowd
On the flip side of things is the fact that everyone wants to line up to see what Panasonic, Samsung and Sony might have to say at the show. Moreover, those large companies often call in serious celebrity talent to help impress the crowd.
The result is that the small guy is really left out in the cold.
"Absolutely," said Meier-Johnson, who for several years offered an unofficial invite-only press lunch for those companies that would be too small for the show floor.
"CES is so massive — and even with many smaller companies offered lower-cost booths, it could be hard to get any attention," she pointed out. "Like any business, those who work it can do well — but if you don't work it, you won't."
No. 6: Less Than Newsworthy News
You would think that if the company flies in the top executives supported by an army of employees and has a big press conference that you'd hear the best news. Right?
Wrong!
"There are lots of marginal announcements at the show, making it hard — particularly for small companies — to stand out, even if they have something truly compelling," Enderle told TechNewsWorld.
Since many companies continue to hold their own press junkets, and because there are so many other trade shows, some companies like to hold back on the news for another day. That means we might get to see the shiny new widget, but price and availability will be saved (in theory) for another day — but that news will of course be leaked anyway!
No. 7: What Happens in Vegas Can Be Painful
While Sin City may sound like the ideal place for a big gathering, the truth is that it is not trade-show-friendly. The hotels are designed to move in guests and keep them there. It means staying in rooms that never seem as clean as they could/should be. It means walking through smoky lobbies filled with gamblers who often have no idea the world's largest trade show is taking place. Worst of all, the city is horrible for getting around.
There are few hotels actually near the Las Vegas Convention Center, but even worse is the fact that events are spread out all over town with limited public transportation options. During CES, the trade show organizers bring in a fleet of buses and an army of bus drivers, but it is often quicker to walk a mile or two than sit in a bus that's trying to navigate the gridlock.
"Las Vegas has never really figured out the transportation issues at the show," said Enderle. "You'll have events all over the city that are virtually impossible to get to because of traffic and a screwy monorail system that appears to have been designed to be as far away from any place but the convention center as it could possibly be."
No. 8: Where Are the Big Guys?
Don't expect to hear any news from Microsoft or Apple. Why? Because Microsoft pulled out of the 2013 International CES, and Apple had long held its own MacWorld roughly around the same time. While this seems like a complaint that goes against my aforementioned argument that the show is too big, it should be noted that at a show this big, the biggest players should be present.
"The absence of Microsoft and Apple says more about those companies' desire to invest in events they can carefully manage than anything else," said Charles King, principal analyst at Pund-IT. "It's also interesting to consider how little success both companies' broader media/entertainment strategies have enjoyed — though they've certainly done well in some individual markets."
In other words, Microsoft and Apple will do fine without CES, and CES will do fine without those companies on the show floor.
No. 9: Where Is the Innovation?
Gary Shapiro, president of the Consumer Electronics Association, took the stage in 2009 after the economic meltdown and promised that innovation would save the economy. The same speech was given in 2010, 2011 and in 2012. So is the fifth time the charm?
Part of the problem is that the industry doesn't innovate. That might seem like a bold statement from someone who makes his living covering innovation, but let's be honest. The industry isn't about innovation — it is about trying to market products. This is why 3D TV failed.
The technology isn't really innovative; it is more of the same marketed anew. 3D wasn't embraced in the 1950s beyond being a gimmick, and while James Cameron may like it, most consumers don't see the need. So the industry turned to Smart TVs, and other technologies to keep people buying products they already owned. There are exceptions, of course, and in Shapiro's defense, he noted one company in particular in his new book Ninja Innovation.
"Gary talked about Intel being the little company that showed up at CES," said Lois Whitman, president of HWH Public Relations.
"The lesson learned is that it takes more than showing up with a nice booth and becoming well known. Intel was innovative [not only] with the booth, their speeches and their position, but also with their technology. Overnight they went from this show to a major brand," she told TechNewsWorld.
"People have to figure out what they mean by 'innovation,'" Whitman added.
No. 10: It Is Just the Beginning
Maybe the biggest reason to hate CES is that it is just the first of many shows, and too many of them follow the CES model. CTIA-The Wireless Association announced that its usual winter show, which it moved to May last year to stay out of the way of the Mobile World Congress event in Barcelona, would supersize and move to September.
After years of trying to reel in its size, the Electronic Entertainment Expo in Los Angeles — the video game trade show — has embraced the bigger-is-better model and even has opened to the public.
Thus many of us may say we "hate" CES, but we really just want to complain a little bit. We know it is a necessary evil, and it is a time when we'll get to see new products, meet up with colleagues, and look to the future.
"It is one of the best run shows on the planet," noted Enderle, "and that is why it has survived when so many other shows have closed their doors in an age when folks have better digital ways of getting to information."
Very true. So Vegas here we come!