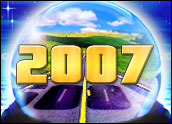 Making New Year predictions about technology requires a very polished crystal ball.
Eric Openshaw, principal and leader of Deloitte Consulting's technology, media, and telecommunications practice in the U.S., offers some sobering insights into the world of consumer technology, providing details about a few of the most significant trends he sees taking place in 2007.
Reinventing the User Interface
Product complexity has to go away, said Openshaw. More than half of all consumer electronic devices returned to retailers are not broken, he noted. "They have just confounded their owners with their complexity. Consumers' tolerance is limited to 20 minutes, after which they tend to give up, assume the product is faulty and return it to the store."
As a result, technology companies need a concerted effort to reduce product complexity. Many will likely focus on redesigning the user interface, using both existing technologies and newer solutions, from haptics to artificial intelligence.
Openshaw sees a simple cure. Product makers need to do more of what manufacturers such as Apple, TomTom and Olympus are doing with their respective iPods, GPS navigation devices and digital cameras.
Technology companies should assume low levels of technical knowledge or skill on the part of consumers and design products in such a way that very little technology literacy is needed to use them.
"What marks these and other products out is the fact that they don't need an instructional or demo CD/DVD. The user interface has been designed such that the process of configuration and usage is simple and intuitive," said Openshaw. "If a consumer electronics product requires a detailed demonstration, then one could argue that the product itself is flawed."
Heeding the Hidden Costs of Storage
The steadily falling price of digital storage is one of the key drivers of change and growth in the technology, media and telecommunication sectors, in Openshaw's view. However, he is concerned that consumers and businesses may start worrying about some of the direct and indirect costs of digital storage rather than just celebrating its seemingly endless price deflation.
"As reliance on digital storage grows, price competition may be usurped by competition based on quality, robustness and longevity. Technology companies may well find that a buoyant market for long-term and guaranteed digital storage starts to emerge during the year," he predicted.
Enterprise customers generally are more concerned about storage because they tend to have to use more of it than consumers, Openshaw noted. These enterprise customers may be lowering their overall storage costs dramatically and increasing their operational efficiency by maintaining more data online and by backing up the data explosion caused by federal regulations.
For the consumer, disk prices have dropped substantially as they are now basically commodity products — consumers can now get lots of disk storage at low cost. Both Google and Yahoo are now offering large amounts of e-mail data storage because of this drop in price.
Small and medium businesses may use larger capacity and cheaper storage for their databases, processing requirements, etc. They may be able to maintain more information online and only resort to restoring data from physical tape very infrequently.
However, the lower-quality disks (if they are used) may cause more consumers' disks to fail. If they are not adequately backed up, the potential data loss from disk outages may be problematic.
The Business Case for Biometrics
This could be the year that biometrics-based security takes over. Historically, a combination of passwords, PINs, signatures and keys has been the principal means of providing digital security. In 2007, human physical characteristics may provide additional layers of security.
"The iris, fingerprint, palm veins, voice and hand geometry are all specific to each individual and can be used to verify identity," Openshaw explained. He added that biometrics can fit security needs in a large range of applications.
Biometrics-based security is being driven by falling prices, the rising performance of key technologies such as processors and digital storage, and a growing public willingness to pay more for it.
"Perhaps surprisingly, there seems to be an increasingly positive attitude amongst consumers towards biometrics," he reported. "This is possibly because their technophobia is less strongly felt than their desire for digital and physical security."
Research from the UK shows a remarkably high level of acceptance of biometrics amongst consumers, Openshaw noted, explaining that placing a finger on a scanner is much easier than remembering a user name and password or carrying a physical token, such as a key or card.
Biometrics device makers will still have to provide support, because these technologies can fail to recognize or remember an individual, warned Openshaw. However, there is likely to be a lower total support load associated with biometric systems.
To solve those temporary problems, manufacturers can build in parallel authentication systems such as biometric and card security until the reliability and consistency of biometric systems is optimized and users fully trust biometrics-based authentication.
The Rising Cost of Free Technology
Consumers may well witness the last days of "free." Technology companies will likely continue to promote free offers as a central marketing tool, but this approach may become increasingly costly for consumers and suppliers alike, predicts Openshaw.
For example, free e-mail has led to the proliferation of spam, providing the perfect platform for the distribution of viruses. Free instant messaging services have had similar consequences, and free VoIP is likely to suffer the same fate, he suggested.
"As a result, technology companies may have to charge for services that were formerly free. Though this would normally be a marketing nightmare, for the technology sector it may become a considerable opportunity, as consumers are becoming more aware of the hidden cost of free and are increasingly prepared to pay for priority treatment," said Openshaw.
A consumer backlash is unlikely because they will more likely default to offers that represent good value, he explained.
"In the technology industry, these generally come from trusted brands with capable products and services," remarked Openshaw. "Consumers will default to those brands and companies that are honest and direct in their representation of value and don't try to infer that something is free when it isn't."