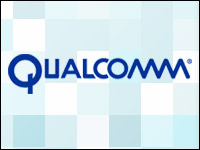 I was at Qualcomm's Uplinq last week, and the company announced a ton of products that could massively change how we interact with technology. I thought that the best way to showcase much of it might be a version of The Day Made of Glass, a video made by Corning to showcase the future it imagined, but in this case representing Qualcomm's view. If you watch the video, you'll actually find that Corning and Qualcomm are kind of on the same page — they would simply emphasize different parts of the solution.
I think it's good to look at a dominant vendor's technology trend to get an idea of the future we are actually likely to have and decide if it is cool or objectionable before it actually occurs. In this case, I think it could be really cool, but you'll clearly form your own opinions.
I'll close with my product of the week: Qualcomm's Toq watch, the most Apple-like smartwatch launched to date.
Off to a Good Start
It is Friday in 2020, and you have an early morning meeting. Your smartwatch quietly buzzes to wake you up and you glance at it. Its low light display allows your spouse to sleep undisturbed as the watch reminds you of the meeting and alerts you that two of the people you will be speaking with have updates.
You grab your tablet and check the messages and find that two key people will be running late, so you need push back the start of the event 15 minutes. The tablet, understanding the context, offers to do this automatically, and you click yes. Putting your wireless stereo earpieces in, you switch to news that has been cached and summarized on your tablet, and you listen and watch the program as your spouse continues to sleep.
You find you have time for a quick run and place your wireless heart and blood pressure monitor on your waist, check your watch to confirm everything is linked, and slide your smarthub (what used to be called a "smartphone") into a pouch in your belt and start your run.
Your medical information tracks on your watch so you can keep in the zone, and your medical file is updated with the information. You think your doctor will be impressed with your drop in weight, heart rate, and increase in breathing efficiency — even your blood pressure is down. It's going to be a great Friday.
You're alerted that you need to be back in the house, and you're asked if you want your coffee machine to prepare your favorite mocha. You confirm on the watch and adjust the music again, using the watchface to set a faster pace, because you've already met your goal and just want to get home fast.
After showering and changing, you grab your tablet for a review of the latest plans for your firm's headquarters. You click your watch to start the meeting, and after a brief introduction ask the attendees to hold their laptops over a flat surface. Everyone sees a 3D rendering of the building on their desk and you take them on a visual tour. The architect is listening in, and as people point out changes, he makes them in real- time on the image, so people can see that what they want has been addressed.
The meeting wraps and your watch notes that you have to leave in 30 minutes in order to make your train. You send a quick alert to your wife to let her know you are getting ready to leave and she signals back on her smartwatch that she wants to see you before you go. She comes down and kisses you goodbye as you tap your watch to open the garage and warm up your car.
Always Connected
You get your music running again, and it follows you as you move from your house to your car and your in-car display shows you traffic and routing to get you to the station on time. At the station, your watch alerts you that there is a problem with the train you normally take and suggests an alternative route. On the way, it points out that the little dragon your son wants for his augmented reality game is on sale at a store you'll be walking by, and you hit purchase so the store has it wrapped and ready to go when you arrive.
As you approach your office, a combination of facial recognition and authentication with your smarthub unlocks the door and your team's smartwatches notify them you've arrived. Your watch alerts you that several calls are waiting for you per your instructions to hold them until you get to the office. You could have handled them in transit, but you wanted the time to think and listen to a great group of new music tracks an old friend had sent to you.
Your desktop becomes your interface, and its transflective design not only allows for sharp images but also eliminates glare. There is no sign of a PC. Your services are Internet-based (something that used to be called the "cloud") and automatically delivered to your watch, tablet or desktop, depending on your need.
It's been a long day, and you head home. Your watch reminds you to swing by the toy store. Your smarthub tells the store you are you, and the clerk meets you at the door with the wrapped gift. On the way home, your phone alerts you of some funny videos your brother has sent you and you pull out your tablet to watch them on a larger screen. The image automatically transfers from your watch to your tablet when you turn your tablet on.
Chill Time
As you enter your home, you find your son has his augmented reality game going. While he is looking down through his tablet at the coffee table, you see that the game software has drawn the game board over the items on the table, making each real thing a part of the game. He is on an advanced level and clearly about to lose. You suggest he pause for a moment and, grumbling, he does.
You hand him the package, and he excitedly opens it up, discovering the dragon. Picking up his table, he scans the dragon. He then resumes the game, and the dragon enters it, clearing the game board and allowing him to pull victory out of the jaws of defeat. He says, "Thanks dad!" and you smile.
Your watch alerts you that your wife has been kind of flustered all day, and it suggests you take her to dinner, showcasing a discount at her favorite restaurant. You click accept, and select from a number of provided choices when the restaurant has openings, and you request flowers waiting at the table to thank her for her hard work.
At the end of the day, you place all of your smart devices on the wireless changing pad on your nightstand and tap your watch to turn off the lights. You both read a little from your tablets before going to sleep and check the cameras monitoring the kids to see if they are safe and sleeping.
You note your son is still playing that game and currently using the dragon you bought him much more aggressively with a huge grin on his face. You do a quick online check of his grades, which have improved of late, and your wife leans over and says, "Let him play — it's Friday."
Tapping your watch to set the house alarm, you power down your tablet and call in a night.
Wrapping Up: We're Almost There
While the elimination of the screen on the smartphone is my idea and not Qualcomm's, everything else was demonstrated at Qualcomm's Uplinq event last week. Its view of the future is one where you are always connected, and the smartphone becomes the hub for everything you do.
Watches, head-mounted displays like Google Glass, tablets, security systems, and even appliances and locks are connected to you through the smartphone hub. You are able to switch as needed, mostly using Bluetooth, between them. The devices you are surrounded by are collectively smart and know what you want and when you want it, allowing you to more efficiently and completely interact with and enjoy the world around you.
In addition, alerts are geo-centric and personal, so that ads are appropriate and timely. Thus you want to purchase goods more often, because the service actually knows what you like and when you'd like it.
It'll be an interesting future world.
Product of the Week: Qualcomm Toq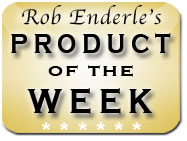 The Qualcomm Toq is a unique smartwatch. A showcase for several of the experiences I noted above — from outdoor viewability to the longest battery life in the segment — this is a technology that doesn't try to be a Swiss Army knife or Jack of all trades. Rather, it's a device that works everywhere you want it to work and can go days without recharging.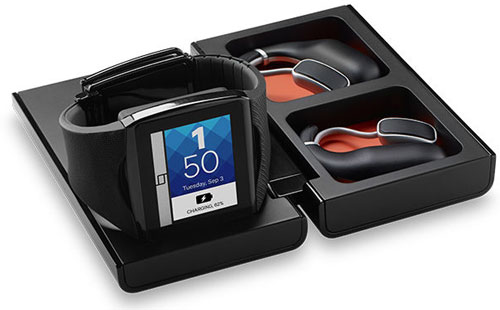 Qualcomm Toq
It is what they hope you'll use to monitor your alerts, play your music, and eventually control your appliances as a super remote control. Because it uses the unique Mirasol display, it actually works great outdoors. That's where the other devices in the segment wash out, which makes the Toq a better watch replacement than the alternatives.
Granted, this is only one part in the coming group of devices you'll eventually wear or place around your home or body. Since this is a technology showcase, like Google Glass, there won't be many Toqs created. It isn't yet where the class will go in terms of personal jewelry, so it targets more of a geek audience initially. But given geek is my middle name, the Qualcomm Toq is my product of the week. It is a little touch of amazing.